Follow #ThinkChat on Twitter Friday, May 1 at 11:00 AM PST, for a live conversation about how the Internet of Things (IoT) is reshaping healthcare!
Join Shawn Rogers (@ShawnRog), Chief Research Officer for Dell IMG, and Joanna Schloss (@JoSchloss), Quest's Analytics Thought Leader, for this month's ThinkChat as they discuss the challenges and opportunities central to analytic driven healthcare.
Tweet with us about how IoT, ubiquitous access to information, and personalized care are inter-related. We'll chat about new data sources, real-time streams, mobile platforms and how IoT is reshaping healthcare and creating opportunities for innovation and enhanced patient care.
Join the conversation!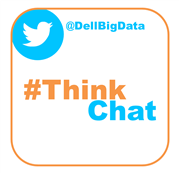 The #ThinkChat agenda includes:

1. Does medical device data create a new opportunity for enhanced healthcare?
2. How is the role of the caregiver changing as data and analytics impact patient care?
3. Do patients have a responsibility to bring their own data (BYOD) to add value to care?
4. How does analytics impact the evolution from population healthcare, to personalized, to precision?
5. Is there a down side or challenge to personalized and precision healthcare?
6. Are most healthcare facilities ready for Mobile platforms that drive patient care?
7. Will data take over for traditional diagnosis processes? Is that good or bad?
8. Is the future of healthcare dependent on data? Analytics?
9. Do hospitals and healthcare facilities need a data scientist?
10. How does the complex data environment affect patient, physician and provider care?


Where: Live on Twitter – Follow Hashtag #ThinkChat to get your questions answered and participate in the conversation!
When: Friday, May1st 2015 at 11:00 AM PST