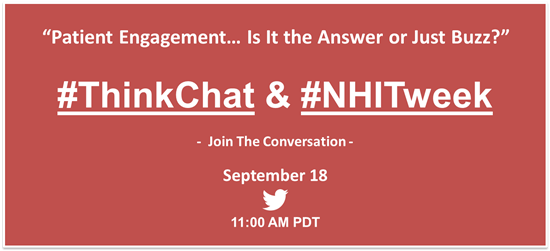 Follow #ThinkChat on Twitter Friday, September 18th, at 11:00 AM PST, for a live conversation exploring the importance of patient engagement.
Patient engagement can mean many things. Engaging patients through new technologies can help facilitate better communication, education, and collaboration, resulting in better health outcomes. When there's an increase in meaningful physician-patient interactions, patients are more likely to get involved in their personal health care. This may be just one step that can eventually lead to patient empowerment. Join the conversation and provide input on your perspective of how patient engagement can lead to better health outcomes
Join Shawn Rogers (@ShawnRog), Chief Research Officer for Dell IMG, Dr. Nick van Terheyden (@drnic1) Chief Medical Officer at Dell; Janice Jacobs (@JaniceJacobs44) Social Media Solution Leader, Dell Services, Stephanie Bartels (@Steph_bartels19) Global Solution Leader - Patient Engagement, Dell Services and Mandi Bishop (@mandiBPro) Health Plan Analytics Innovation Practice Lead, Dell Services for this month's #ThinkChat as we talk with the community about the impact of patient engagement.
Join @DellBigData and share your own personal stories about patient engagement and follow #ThinkChat and #NHITweek!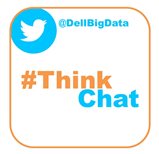 Questions discussed on this program will include:
There is a lot of talk about patient engagement. Is it all talk or are healthcare organizations investing?
What are the barriers to engaging people?
Patient engagement seems like a buzz word, we hear it a lot. Is it a fad or is it here to stay?
What's your point of view on how patient engagement is defined?
Is there real ROI from engaging patients?
Doesn't it cost a lot though to work with patients 1:1? Do hospitals have the resources to do this?
What are the barriers to getting clinicians to do things differently with patients?
What can we do differently to be more successful with patient engagement strategies?
How can we leverage mobile technology to more effectively engage patients?
Where: Live on Twitter – Follow Hashtag #ThinkChat to get your questions answered and participate in the conversation!
When: September 18th, at 11:00 am PDT