Today as I started packing for the SharePoint Conference I realized how I take fewer and fewer things with each new trip. There were so many things to carry with me on my first trips overseas, "just in case". Now I'm down to a half-empty cabin size stroller: I simply stopped taking things that I hadn't used in the previous trips.
Wait a minute. Isn't it the same with SharePoint? It is not uncommon that companies first install SharePoint without much experience and hence lack of strategy. SharePoint may start simply as a new file sharing place. But as user adoption grows and SharePoint deployment matures, IT and business eventually come to review what's being used and what's not. By this time, SharePoint may already be home for some tens or hundreds of gigabytes of content, quite a few internal projects and possibly even a bunch of business workflows and custom applications. While SharePoint is a great platform for all these use cases, are all of them relevant to what your company is doing? Should you continue to build upon all of these use cases? Is it worth to start planning how to transfer all of the data and apps to the new SharePoint 2013 when your company rolls it out?
It's great if these questions arise early, they are all good signs your company is on the right path to properly governing information you've got in SharePoint. But governance is not only about good questions and decisions, it's also about relevant info to support these decisions. SharePoint provides some basic analytics for sites and site collections, but does not help much when you need to aggregate data across multiple sites, compare read activity with modifications, identify stalled and unused data. So what can you do about this?
The Halloween post last week showed how Site Administrator 5.0 helps to facilitate security governance in SharePoint. Now, look how Site Administrator can also help with site and content usage analysis: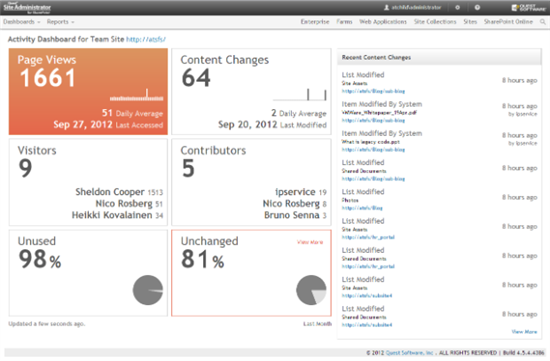 Site Administrator's 5.0 activity dashboard allows SharePoint administrato rs and business sites owners to quickly assess site usage and update patterns at a glance. Data is rolled up from all sub-sites to show complete picture to support business and IT decisions. The dashboard shows how the site has been used in the last 30 days:
Aggregated total number of page and document views
Aggregated total number of any content modification events (add, modify or delete)
How many users accesses any content within the site and how many actually modified the content
Most active viewers and contributors
How much of the content has not been accessed, how much has not been modified
Finally, a log of recent content changes is also visible in the dashboard
As usual, all of the dashboard areas allow to drill down for more detailed reports.
Stay tuned as we plan to continue posting about how Site Administrator 5.0 helps organizations in different SharePoint governance areas. And make sure to stop by the Dell booth #319 if you're in Vegas for the SharePoint Conference next week and see it live!