Last month, I authored a blog on Direct2Dell outlining the great momentum we've seen in the advanced analytics space since acquiring StatSoft back in March. If you haven't read it yet, it's a good way to understand the synergy that exists between Statistica and the broader Dell portfolio, and it outlines the many integration points Dell's customers can look forward to in the months ahead.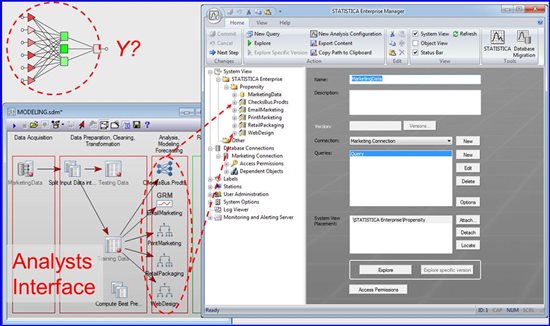 But don't let all of the exciting things we have planned for down the road obscure the fact that Statistica is already one of the market's leading advanced analytics platforms, and that right now – today – it should be at the top of the list for anyone looking to invest in an advanced analytics solution in order to facilitate better, faster decision making. Here are 10 of the many reasons why:
1 – Predictive capabilities. When it comes to performance and capabilities, Dell Statistica takes a back seat to no one, offering a comprehensive set of data mining, predictive analytics and data visualization capabilities that companies need to better understand their businesses, predict change, increase agility and control critical systems.
2 – Ease of use. User surveys confirm that simplicity has long been a hallmark of the Statistica platform. It's simple to install and administer, features a user friendly interface, and doesn't require proprietary coding skills.
3 – Low TCO. In keeping with Dell's heritage as a company that makes innovative solutions attainable to the masses, Statistica is a cost-effective solution that fits the budgets of small and mid-sized companies.
4 – Scalability. Just because it's simple and affordable doesn't mean it's not scalable. Statistica offers the scalability and high-performance technology needed to work on the enormous datasets common in enterprise accounts.
5 – Integration. Statistica easily integrates with existing data stores, including traditional RDBMS, distributed file systems, and data services, as well as emerging data storage technologies. It also embraces open standards, seamlessly integrating with R, PMML and other industry standard protocols.
6 – Role-based support. Statistica was built to accommodate users of differing skills and roles, all of whom collaborate across different parts of analytic operations. The platform offers personalization options that ensure user groups have access only to the data, interfaces, and workflows relevant to their areas of responsibility. In this way, Statistica deftly manages business processes and increases data security.
7. Real-time monitoring and reporting. Easy-to-use dashboards and Live Score™ functionality makes it possible for organizations to support of on-demand business needs, even when faced with thousands of simultaneous data inputs from line-of-business applications.
8 – Vertical and LOB prowess. Statistica is designed to meet the specific needs of customers across a variety of verticals and lines of business. It has a long, successful track record with customers in manufacturing, healthcare, pharmaceuticals, banking, and marketing. Statistica is used to aid fraud detection, personalize marketing offers, and improve patient outcomes in the healthcare industry.
9 – Track record. Speaking of track record, Statistica has been around as long as Dell itself, and over the course of its 30-year history, has been trusted by world-class businesses and academia alike.
10 – Validation. Statistica has repeatedly been recognized as one of the leading advanced analytics platforms by top industry analysts, most recently having been recognized by both Hurwitz & Associates and Dresner Advisory Services for the significant value it delivers customers.
With more companies – including more of your competitors – than ever before now leveraging predictive analytics to gain an edge in the marketplace, there's never been a better time to get to know Statistica. We have a team of experts ready to help you better understand how predictive analytics can drive your business forward.
Just interested in chatting about advanced analytics? Drop me an email or send me a note on Twitter at @johnkthompson60.