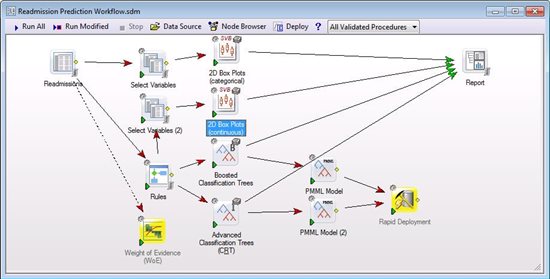 Marketing uses it to personalize offers. Finance uses it to detect fraud. Healthcare uses it to improve patient outcomes. Pharmaceuticals use it for product safety. Manufacturing uses it to monitor suppliers.
It's advanced analytics, and we've put together an on-demand webcast about the top 4 strategies for improving how your organization uses them. Whether you're still trying to figure out what to do with all the data coming into your company or you're well on your way to making Big Data work, you'll take away new strategies in four categories:
Agile environments – Agile has gone far past software development to extensible, open, flexible analytics handling real-time data.
Open platforms – To break down the silos that impede complete analysis of data, you need a "data-agnostic" analytic platform that is open and diverse, from databases to relational databases, from SQL sources to NoSQL sources and from public clouds to private clouds.
Templates and wizards – With their potential for encapsulating the expertise of a data scientist, your wizards and templates can share accumulated knowledge and insights with others, effectively distributing those skills across your organization and equipping even novices to analyze much more deeply.
Business alignment – If they start every project at the end, analysts will ask particpants, "How do we know we're done? How do we evaluate whether we were successful?" When you show other people what the desired results look like, everything else flows from there.
Join three experts from Quest for this 60-minute on-demand webcast: David Sweenor, product marketing manager for analytics; Thomas Hill, Ph.D., executive director of analytics; and Joanna Schloss, Dell subject matter expert.
Here are a few takeaways from the webcast:
"Analytics is not just analyzing data. Analytics is the process of embracing data as an organization and verifying and validating that the numbers are computed and generated as intended." This applies to everything from the expiration date on a prescription to the composites in the wings of a Dreamliner.
"R today is really the Wikipedia of the analytics." R continues to grow as a robust platform for analytic processes, for analytic validation and for analytic libraries of content. Some vendors support proprietary versions of R and proprietary versions of NoSQL sources. That locks down your ability to be agile in exploring your data.
"One of the biggest risks in any surgery is infection. It is an extremely expensive risk, especially to the patient." If, while performing surgery, the hospital collects information, observations and tests, and then integrates them with electronic medical records and your personal and insurance data, it's possible to reduce that risk.
"If you lend money to someone and you're not getting paid back, you have a big, big problem." In the financial context, the essence of all analytics is accurately assessing the risk involved in our loan portfolios. That assessment includes modeling, wizards, flexible and heterogeneous data from sources as novel as Web-based lending, and even the application of business rules.
"The data scientist does not scale." When finally done right, analytical tools will be automatic, easy to use and accessible, and they will generate predictable results that stand up to scrutiny.
The on-demand webcast is ready and waiting for you. Enjoy it, and send me any questions in the comments below.