This week we're showing our latest Site Administrator for SharePoint 5.0 here at the SharePoint Conference 2012 at Dell booth #319. What makes me really excited is what I hear from our current Site Administrator customers stopping by – nothing can better confirm we're doing the right things than customers asking how soon they can upgrade!
So what makes Site Administrator 5.0 stand out? I believe, it's how we expose important data and management functions in an easy to use easy to understand UI. This makes it a great tool for both the IT administrators and the business content owners. We already blogged here about how Site Administrator 5.0 helps with SharePoint site usage analysis and SharePoint permissions management. Let's now take a look at one of the other common challenges with SharePoint – site growth.
SharePoint makes it easy for users to actively collaborate, create and share more content, involve more people in conversations. All of this has a side effect – it brings closer that sad moment when site owners get warning email about getting close to the size quota. And when it comes to cleaning up site contents, users need to know how the site's been growing and what is contributing to the growth.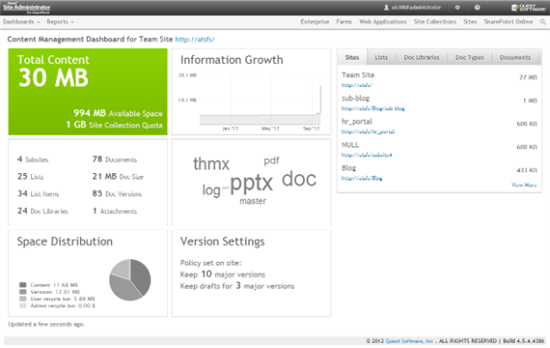 The screen above is the new Site Administrator 5.0 content management dashboard that gives a comprehensive view of site storage growth and distribution, and allows to govern out-of-control propagation of document versions. With this dashboard, SharePoint administrators and site owners can:
See aggregate numbers for the site or site collection, including total content size and how many sub-sites, lists and libraries, items and documents are there
Analyze the content growth over time
Reveal document types taking most space in the site or site collection
Identify largest lists, libraries and documents
Review storage space distribution between current data, older document versions and recycle bins
Clean up older versions, propagate version settings for all libraries within the site or site collection, and enforce these as a policy to prevent accidental changes by users
The dashboard is also an entry point for a number of detailed drill down reports that can help content owners and administrators make informed decisions regarding site storage, quota, cleanup and disposition of older content.
Site Administrator 5.0 is coming out in just few weeks. If you are at the conference now, please stop by the Dell booth #319, take a look now, and tell us what you think!