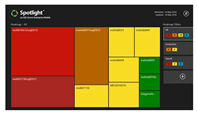 Database administrators have a lot on their plates. When we talked to DBAs about the amount of data under management, almost half responded that they manage more than 25 database instances each and almost 10 percent manage more than 100 database instances each.
As the number of instances increase – usually without management resources growing at a commensurate rate – admins need to figure out a way to work smart and faster. Efficiency is about determining which "fires" are burning most rapidly, putting the most data or applications at risk.
Spotlight on SQL Server provides three categories of database management capabilities to help boost efficiency:
Alerting and notifications – to flag that a fire is burning
Database diagnostics – to determine what has started the fire
Reporting and trending – to determine steps to prevent future fires
Here are a few tips to help make the most of Spotlight's alerts – the first critical management functions to ensure that databases are running smoothly.
Turn on built-in and custom alerts: Leveraging more than 100 common database management alerts as well as custom collections, DBAs can take comfort in knowing that they'll be aware of any issue within the database environment in nearly real-time.
Set alert rules: Maximize the value of alarms by instructing the database to take action when a threshold is tripped. Already a Spotlight on SQL Server user? Before you do anything else today, set at least on rule. The SQL Agents Jobs Failed will signal an email alert to the administrator of your choice.
Turn on mobile monitoring: To gain 24x7 database monitoring capabilities and the ability to remotely diagnose issues directly from your mobile phone, check out the Spotlight mobile apps for IOS, Android and Windows Mobile.
Put the alerts to the test yourself. Download a free 30 day trial of Spotlight on SQL Server today.
Want to learn more about managing SQL Servers? Next Tuesday we'll have more tips for using Spotlight. In the meantime, watch an on-demand webcast, "Get Your SQL Server in Shape This Spring with Spotlight on SQL Server," where Quest's Peter O'Connell demos the product to identify and fight database fires.