I often get great feedback from new and existing customers on the power of vFoglight and its ability to provide the information they need, literally at their fingertips, to manage their complex virtual environments. If fact, I just received the following comment from a vFoglight customer:
"Also, as I say all the time, reports are a huge selling point that I don't see pushed. All people in upper management love to have details in reports, and us in IT love to give it to them so they leave us alone J"
I agree with the above statement, reporting has always been a crucial component to the vFoglight solution, but none of our marketing literature really gives it the justice it deserves. In fact, vFoglight is the only virtualization management solution that provides unique reporting capabilities such as drag and drop, wizard driven and out of the box report generation all from one, single downloadable product. We recently ran a webinar titled ""Drag & Drop" Capacity Planning, Simplicity for Managing Your Virtual Environment with vFoglight" (replay available @ http://bit.ly/9nMpYd) which really delves into the power of vFoglight reporting, capacity planning and custom dashboards. The power of vFoglight easily leverages data into meaningful information, in fact I often get feedback from users who really like the ability to provide custom dashboards allowing visualization of an entire service, giving users (from ops to management) a clear and meaningful view of the health of a service that is virtualized in their environment – Chris Walker, co-presenter, did a great job demonstrating this – note that this screen was built for this presentation within minutes!
Also refer to the blog "Simplifying dashboards with background images" for more information on how to customize dashboards in vFoglight. https://www.quest.com/community/products/.
Chris Walker also did an outstanding job in creating a reporting add-on cartridge called the "vFoglight vBundle-1" (https://www.quest.com/community/products/) which extends the reporting capabilities of vFoglight driven by contributions from many vFoglight customers (power users). But also know that vFoglight reports, available right out of the box, include fast access to data such as cluster stats (customers are asking for this all the time) and numerous others that run the gamut of operational, cost and across capacity and trending information.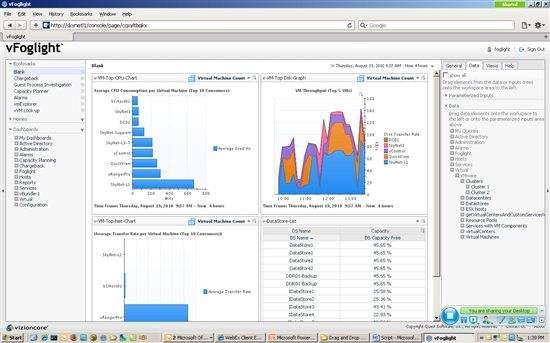 These reporting capabilities also extend into the critical application infrastructure with the new vFoglight support for Microsoft Active Directory and Exchange.
Keep dialed-in for more information on the vFoglight monitoring / reporting solution for virtualized and underlying physical infrastructure.
Oh yes, and come visit us @ booth 113 @ VMworld San Francisco!