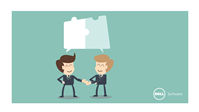 Effective collaboration can help your teams work smarter, faster and more productively. Collaboration is not difficult, but it does require a conscious effort to create a way of working that promotes cooperation between different parts of the organization to achieve their shared business goals.
Improving communication and changing behaviors are important for fostering good collaboration, but so is technology. A white paper by John Weathington, president and CEO of Excellent Management Systems, shows how technology can help you take your collaboration to the next level. It outlines a three-step process for getting a team — in this case, data architects, developers and database administrators (DBAs) — thinking as one, moving as one and governing as one.
Thinking as one:
Effective collaboration starts with getting everyone on the same page. People are busy. They have their own work domains to worry about. Technology must make it as easy and convenient as possible for people to interact and share. The tools must be intuitive to use, provide features for communicating effectively and integrate well with one another. According to Weathington, Dell Toad products can help teams think as one – with a multiple features that enable team collaboration.
Moving as one:
Getting people on the same page is just the beginning of the collaboration challenge. The real trick is staying in sync as changes are applied, especially when multiple people are involved.
Weathington notes that Dell supports continuous integration by integrating its Dell Toad for Oracle database software with Git, a popular version control system. Not only is Git open source, it is also a distributed system, so it allows team members to develop code without locking it. Two developers can work on the same stored procedure at the same time. When developers are ready to commit, they just push their changes to a distributed repository and the changes are merged in.
Governing as one:
Governance is about creating rules, policies and standards — and making sure people adhere to them. Without proper governance, team members will adopt their own style and rules.
You can avoid this chaos by having the team collectively create its own guidelines and best practices, and then leverage technology to make sure everyone abides by the group's rules. According to Weathington, Dell Toad code analysis capabilities can help keep a data team on track. You can use preloaded industry best practices or configure your own rules. Many organizations use this feature to ensure data governance and bring together their architects, developers and DBAs to perform as a cohesive, unified team.
(click to enlarge image)
To learn how Dell Toad can help you achieve world-class collaboration: