vFoglight has a local user management system but can also be configured with an external user management system over LDAP such as Active Directory (AD).
To configure this, go into Dashboards - Administration - Users & Security - Directory Services Settings, see below.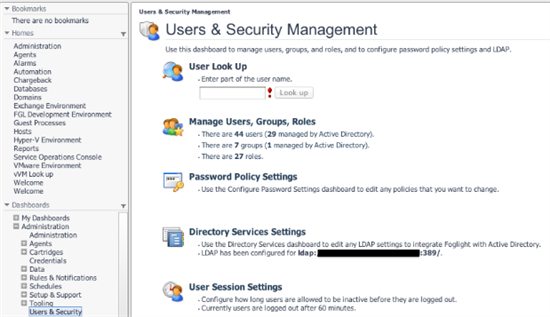 Then you need to configure LDAP Locations and Settings.
For more details on these steps, take a look at the video by Quest Software´s Arthur Gressick.
Double-click to open in full screen
Arthur used the ADSI Edit MMC snapin to retrieve the settings. There are other tools you can use as well. See this blogpost for more tools.
When integration is done you can login with your AD user and password. The first time a user login they will see a message that they have no permissions.
During the initial login their user is imported to vFoglight and you need to assign roles and groups. Once that is done you are all set!
Update: You can further enhance the user experience by enabling Single Sign On: http://link.brightcove.com/services/player/bcpid921711326001?bckey=AQ~~,AAAAuIVrAck~,krN9qiM0opYKYoALdOyviwVlUVll0IOF&bctid=1207086624001