We all hear how AppAssure can get your data back up and running fast when disaster strikes, but how does AppAssure do it? This blog is the first part in a series of blogs designed to help you use AppAssure to its full potential. In this blog I explain how to setup a Virtual Standby VM. There is also a full length document with details on preparation, documenting, testing and other information here. There will be other blogs as well designed show how to do Virtual Standby when there is a remote site involved and how to fail back over after a disaster.
Creating the Virtual Standby
Setting up and performing a Virtual Standby is a very simple task. To perform a Virtual Standby all you need is the following:
An AppAssure 5 Core version 5.4.x or higher ( Previous versions will not support Oracle Virtual box)
A supported hypervisor
Sufficient space on the hypervisor for Virtual Standby VM's
An AppAssure SmartAgent installed inside of a supported Windows or Linux machine
At least one snapshot of the machine to be exported
To setup a Virtual Standby log into the AppAssure Core server and browse to the Virtual Standby tab as shown below (see Figure 1). If you plan to setup a Virtual Standby at a remote site you must first configure replication between the primary and secondary Core. After replication has been established you can then connect to the secondary Core as show in Figure 1.
Figure 1: AppAssure Virtual Standby tab

Once on the Virtual Standby tab click + Add to start the Export Wizard. The wizard will allow you to select a machine to export, a target hypervisor and the appropriate settings tied to that hypervisor. In the image below a VMware virtual machine (SQL-2k14-001) will be exported to a Hyper-V instance located on a Dell DL4000 appliance.
Figure 2: Export to local Hyper-V server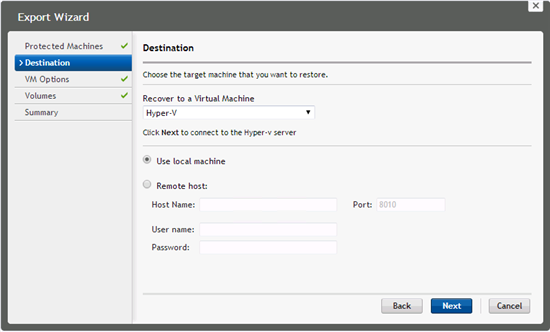 The VM options available will depend on what hypervisor was chosen. The VM's name has been set to SQL-2K14-001-VS to signify that it is a Virtual Standby VM. The Preform initial ad-hoc export option is selected in order to tell AppAssure to create the standby as soon as the wizard finishes (see Figure 3).
Figure 3: Hypervisor VM options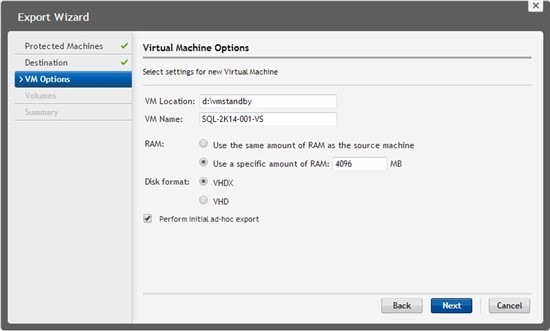 The Export Wizard will allow you to choose what volumes are exported to the Virtual Standby.
Figure 4: Select volumes to export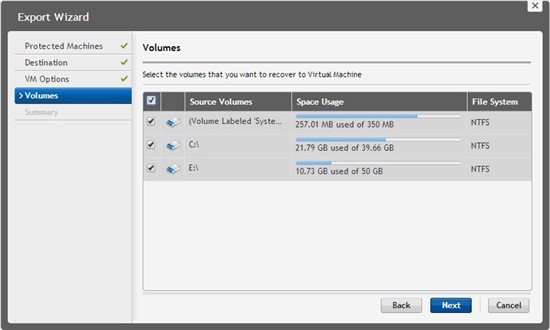 Upon completing the Export Wizard the machine will be added to the list of Virtual Standby's and the export process should begin immediately. After the first export subsequent exports will take place every time a snapshot takes place. AppAssure will update the VM incrementally writing any new/changed blocks to the VM while writing a new configuration file for the VM in some circumstances. It is important to note that any changes made to the VM's configuration file will be overwritten. Thus changes to the VM's configuration should only be made via AppAssure if they are intended to be permanent.
Figure 5: Virtual Standby task

Please see Virtual Standby with AppAssure - Part 2: Testing the Virtual Standby. Let me know what you think of this post in the comment section below.