Vizioncore offers all of our products, including vRanger Pro, downloadable in full versions with 30-day trial keys. We do this so that you can try our solutions and see how they operate in your environment.
You don't have to take our word for it. You can see for yourself how our vRanger Pro 4.5 product performs. Make sure that you try real scenarios, the tasks and activities that you'll need to do frequently - with realistic numbers of VMs and systems.
Here are some test cases that we would encourage:
Suggested Test 1: Backup multiple VMs - more than 10 - with 2 or more hosts - over fiber or network - turn ABM and CBT on; you'll see how our multi-streaming assists you in real-world deployments
Notes:
We only need a single job, but it doesn't matter how you configure vRanger Pro -- with multiple jobs or just one -- it's completely up to you and you'll see the better performance results along with ease-of-administration benefits no matter how many jobs you decide to use.
You can also play with the resource management capabilities in vRanger Pro in real-time while jobs execute. Out of the box, vRanger Pro is set for three streams - but you can play with this, and increase or decrease this number through the GUI in the vRanger Tools menu, and see how it works in your environment.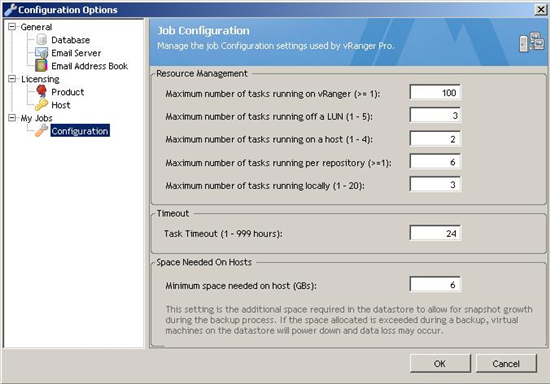 If you test vRanger Pro on ESXi over network, then you may see a slight performance advantage to Veeam because of their virtual appliance model. However, most environments today run ESX where our current solution outperforms the competitor by a long way, on either fiber or network. vRanger Pro also out-performs our competitor on ESXi on fiber. We plan to offer a virtual appliance of our own, as well, to improve our performance on ESXi over networks as the market moves in that direction.
Suggested Test 2: Backup to a Data Domain device - turn our compression off - turn ABM and CBT on; you'll see how optional compression enables you to use a de-dupe appliance effectively with images while still performing incremental backups to maximize performance
Notes:
Make sure that you perform a series of backups of the same test environment, to really see for yourself how much better vRanger Pro operates with Data Domain. If you perform just a single test pass, you will not experience the performance degradation that occurs with our competitor's Synth Full implementation over time. If you force a full with them, then you'll avoid the performance degradation - but the performance penalty of having to perform the full will be as bad or worse.
Suggested Test 3: Restore multiple VMs - more than 10 - to 2 or more hosts; you'll see how our multi-streaming assists you - you'll also see how much easier our restore process is to operate
Suggested Test 4: Test backup of a VM guest with SQL Server - make sure it has been active so that you can see how SQL Server creates and deletes files during normal log operation, and how that affects your backup
Test with compression on/off with CBT
Test with compression on/off with both CBT and ABM
Notes:
If you don't have a set of SQL Server test data, you can clone it from your production environment with vRanger Pro.
For more information and a list of the capabilities in vRanger Pro's architecture that makes it better on performance, efficiency, scalability, and ease-of-operation, see our recent blog posting.
We would also invite you to try vRanger Pro in combination with other offerings in our portfolio, which are implemented to be mutually-aware to work together in managing images.