vRanger Pro 5.0 is officially in internal beta, and set for preview at the upcoming VMworld event at the end of this month.
Previously, we've commented in public podcasts and in press interviews on features that are coming in this exciting new version of the product. For example, we've made known that this new release will converge vRanger Pro and vReplicator into a single product built on DPP. This will include:
Shared GUI console - for central manageability
Shared deployment and configuration process
Shared DPP processing engine - for maximum scalability and distributed processing performance
Shared scheduling, reporting, and event logging
DPP is our Data Protection Platform, which is optimized for image handling. DPP is what enables vRanger Pro to scale to protect many VMs in parallel, with Direct-to-Target efficiency, and with common modules for image processing - like encryption, compression, ABM, and CBT - soon to be shared between vRanger Pro and vReplicator. This platform of common modulesis more efficient to deploy in virtual environments because the processing components are shared. This platform of common modules also provides faster development and delivery of new technology innovations to our customers going forward.
Notably, vReplicator 5.0 will also continue to be available as a stand-alone product - still tied into the DPP platform - for those of you interested to start with replication.
We've also got some additional new features and capabilities coming. One of these, is an exciting new capability that we're calling FlashRestore(tm) for vRanger Pro 5.0.
What is FlashRestore?
Image-based recovery of entire Virtual Machine (VM) images takes time because the entire VMDK file must be copied from the backup repository to ESX or ESXi storage over the network. Depending on the size of the VMDK file and your network traffic, the recovery process can take many long minutes and even hours of time.
Until now.
FlashRestore(tm) for vRanger Pro 5.0 reinvents image-based recovery, making VM images immediately available as soon as you need them by booting VMs directly from the vRanger Pro backup repository.
FlashRestore of images means that applications are immediately available, and end-users have immediate access to get back to work. End-users continue to be productive while the VMDK file is relocated as a background task. vRanger Pro will be integrated to use Storage VMotion to move VMDK files from the backup repository to the primary storage location at which you need it, without any disruption in use of the running VM.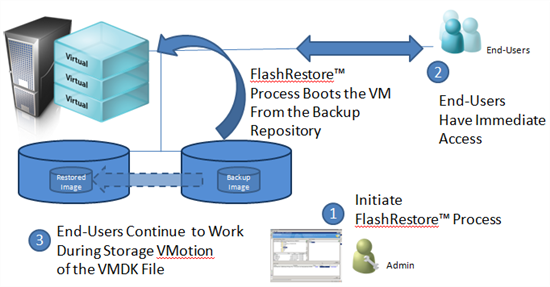 Here are the benefits of FlashRestore for customers of vRanger Pro:
Reduce VM image recovery from hours to seconds
Raise application availability and end-user productivity
Reduce administrator burden
Leverage VMware capabilities - in this case VMware Storage VMotion - to better advantage
Reactions to FlashRestore
Here's how one industry analyst reacted, when the vRanger Pro team briefed him on FlashRestore last week:
"In-place recovery technology, the ability to resume operations while data is being copied back to the primary storage location, is the next critical need in the virtualized data center. Image-based backups have simplified the data protection process - and now dramatically simplify the recovery process by eliminating the time required to restore the VM across the network. The ability to resume operations from the protected copy while the original VMDK file is being restored can eliminate RTO windows, providing the ultimate payoff for investments in Backup 2.0."
George Crump, Lead Analyst, Storage Switzerland
If you are interested in FlashRestore capabilities, make sure that you stop by our booth at VMworld and ask to see the FlashRestore demonstration.