If you haven't already heard the news, vRanger 5.4 is now generally available. This release further extends vRanger's market-leading capabilities with exciting new enhancements. In this post, I'll briefly touch upon 2 of the major enhancements areas in this release.
1. Integration with EMC Data Domain Boost software
As you may have seen if you attended EMC World this year, we partnered with EMC to integrate Data Domain Boost software with vRanger. With DD Boost, parts of the deduplication process are distributed to the vRanger server or virtual appliance, enabling it to send only unique data segments to a Data Domain system. This dramatically increases the aggregate throughput, and can reduce the amount of data transferred over the network by 80 to 99 percent. Integration with vRanger is very straightforward – once you have your Data Domain appliance set up, all you have to do is create a DDBoost repository in vRanger as shown below: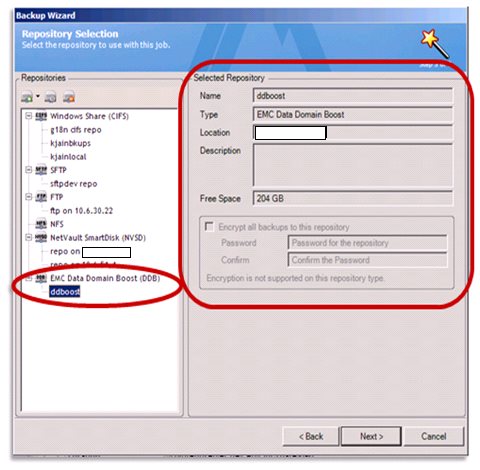 You can find a high-level description of the joint solution right on EMC's site: https://www.emc.com/collateral/hardware/solution-overview/h9715-datadomain-boost-quest-vrangerpro-so.pdf
If you're looking for more of an in-depth look, check out our technical brief on Efficient Deduplication for Backup and Recovery in VMware Environments. You'll find tips on best practices as well as some real results on how much faster backups ran in our test environment. You can find the paper posted here:
https://www.quest.com/documents/
2. Virtual Appliance Enhancements
We've seriously beefed up the Virtual Appliance in vRanger 5.4 for even greater scalability and usability. You can now use a deployed Virtual Appliance for both backups and replication. When used for backup, vRanger will automatically use the best transport: Hot-Add if available or LAN if not.
You can choose to associate a Virtual Appliance either with a host or with a cluster, so you can determine how to best use the resources in your environment. If you associate a Virtual Appliance with a host, all jobs for that host will run on that specific Virtual Appliance. If you associate the Virtual Appliance with a cluster, the Virtual Appliance is shared between all hosts in that cluster. vRanger will automatically pick the host-associated Virtual Appliance over a cluster-associated Virtual Appliance if you have both that apply to a particular host. Virtual Appliance deployment is now a snap – simply use the deployment wizard as shown below: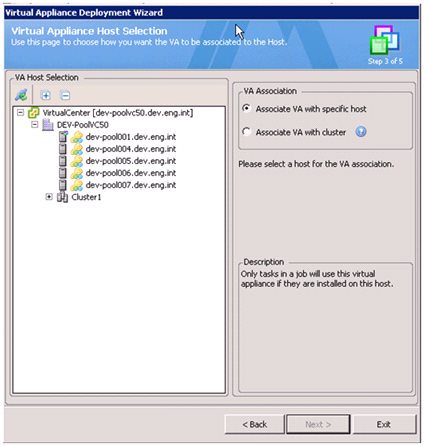 There are also a host of other enhancements in this new version of vRanger such as email notifications, VSS automation, and Storage vMotion locking – so if you haven't done it already, make sure you check out this latest and greatest version of vRanger today.