The other day I spent finding out that although I had a working AppV vReady environment for ChangeBASE, I hadn't actually been following protocol. Hence my upgrade to v5 proved to be a little "sticky". As a result I've then spent some time with team members in the US and EMEA trying to sort out their environments - and although I'm not the vReady expert for ChangeBASE I'd like to share my experience in the hope to ensure your transition is a little smoother!
I've a draft post written for setting up a new VM from scratch; that will go online later this month. This post however, assumes you already have a working AppV Win7x64 machine and you're one of the people keen to install ChangeBASE v5. As a result, you have VM ware Workstation (version independent, I use 8), ChangeBASE v5 installed too.
.Net 4.0 Full
First, you'll need to download .Net 4.0 Full installation - this is technically the only "new" requirement. You're looking for a file called: dotNetFx40_Full_x86_x64.exe https://www.microsoft.com/en-us/download/details.aspx?id=17718 It's not so easy to find so I've added the link - please let me know if it changes, as you know it could. If you're a trainer, make sure you update your "training files" which is distributable to candidates during the session. Previously I provided the client profile; at 49MB the full install isn't much bigger to squeeze onto your portable media devices.
I'd love to have the skills to explain the differences between the client profile and the full version, but as I'm not that smart, I'll leave it to https://blogs.msdn.microsoft.com/jgoldb/2010/04/12/whats-new-in-net-framework-4-client-profile-rtm/ Jossef Goldberg. Thanks dude, saved me a lot of typing.
You need to install this inside the VM.
VM Mount Point
Now if you've read the User Guide, it explicitly advises the reader to setup a second disk inside the VM. This allows vReady to use it as a mount point, therefore you should have labelled it Q: - or whatever drive letter you had assigned in options. Now is a great time to let you know, if you've not checked it out, the Options -> Virtualisation has been revamped too: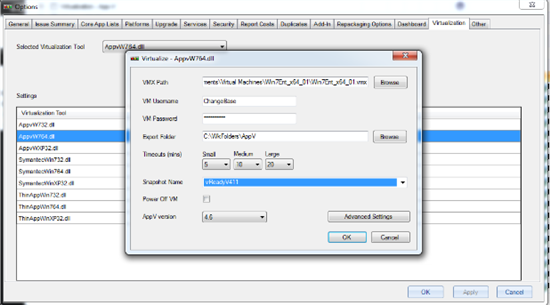 Cool innit?
So one thing you'll notice is that we now have the ability to call a specific snapshot - we'll be coming back to this later. The eagle eyed out there will also spot there's no Mount Point or FB1 setting. This is not hidden; it's just under Advanced Settings: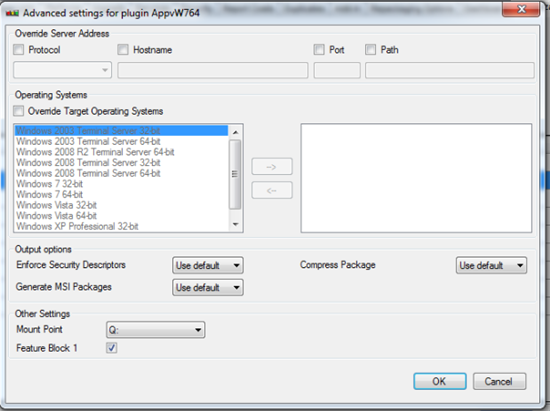 Granular enough for ya?
Most of the upgrades I've seen have carried over all the settings from Version 4.1 so you probably don't have to change anything in this screen. So let's crack on...
Make sure you add a second disk to your Virtual Machine, there is no hard and fast guide to what size this needs to be; however you know your environment and the apps you're working with better than I. I've gone for 10GB; as I'm not short on disk space and I think my laptop can handle it. You most likely have to power the machine off to add this.
Once added - this machine can be powered back on. You'll need to then format it (quick is fine) and assign a drive letter. Assuming the value of Mount Point in the screen above is the same as mine, then make it Q. You'll get a nice popup once it's all done; that looks like you just attached a USB drive or inserted a CD. Congratulations!
VM Settings - Reminder
I am completely guilty of this and I've noticed that some others had Shared Folders set.
The reason why (and here's the excuse I'm using; patent pending); when I tried vReady v5 with my v4.1 VM, it failed. I did some fixing in the VM and snapped it. I then did all the other stuff above, and kept snapping it as I went along. Little did I remember that vReady switches on Shared Folders during its "magic working".
So just in case it's not me, and the other machines I've looked at recently; make sure you delete any shared folders before you snap, and DISABLE Shared Folders.
SnapIT Baby
Hold those horses cowboy/girl. One thing that we instil on everyone in the training course is "leave it alone" What do I mean?
With Windows 7 there's a heap of services; all optimizing the experience and performance of your lovely Windows 7 machine. These include indexing and something that watches how you use the machine so it can load the apps you use often or most routinely. Again, I've another post to write on this but for now; please just trust me. Leave the machine logged in and running for AT LEAST 10 minutes. I recommend 15 for some machines.
If you like watching paint dry you can instead start task manager and wait for the Performance tab to level off the ram and CPU usage. I've seen this take anything from 8 to 13 minutes on freshly built machines.
Now create your new vReadyv5 snap...
Options -> Virtualization
Remember I said we'd come back to this? Well you're now ready reader. Head into options and select the snap you need. Notice I said select, and not type? Well that's right folkes while your snap is completing ChangeBASE reads in the values and populates the drop down for you - saving the need to type it exactly. How cool is that?
Test
My vReady or Virtualization candidates are Orca & 7zip (Vendor MSI). I recommend you try one of these first; import them into ChangeBASE and click the new Virtualize link, rather than right click. Make sure the only apps selected are the ones you want to virtualize! Yes that's right, you can multiple select. Batch virtualization - do you think this is an awesome feature?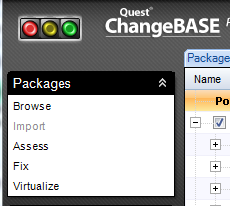 I predict you will right click on at least 5 occasions before programming your brain to go here!
Anything I missed? Please comment below about your experiences. And if you like the post then ditto - I accept funds in all manjor currencies too.