Register for this free webcast to learn what's new in Foglight™ for Virtualization, Standard Edition 7.0. This release provides new capacity management and planning functionality that helps to drive data center sustainability and reduce power consumption. It does this by analyzing existing VM workload requirements against the entire environment and identifying the minimum number of host servers required over time to safely support workloads. Attend the webcast to learn more about how to put this new functionality to work in your business, along with other powerful enhancements, including:
· Enhanced User Interface for a more intuitive approach to capacity management and planning
· Capacity Planning features to prepare for host server refresh, upgrade, or expansion projects by finding the optimum configurations and minimum number of new or existing host servers to maximize VM performance while minimizing server cost, space, and power needs
· Power Minimization feature to reduce costs by determining the minimum number of host servers needed over time to safely run workloads, and estimating potential cost savings by powering down unneeded servers
· Optimization to automatically adjust virtual machine disk sizes up or down, based on actual use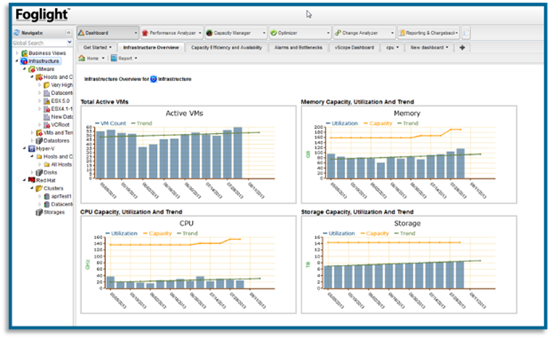 Don't miss this opportunity to learn more on the new functionality in Version 7.0. Register today!
Dell's virtualization operations management solutions help IT Administrators better manage the performance of their virtualized data center. We help you simplify infrastructure complexity and operations to help your IT team keep costs as low as possible while delivering the highest possible service levels. Foglight for Virtualization provides the insight to know now, with end-to-end performance monitoring, and the flexibility to do now, with powerful operations management. Learn more or download a free trial by visiting https://www.quest.com/.