Two weeks ago I had the opportunity to travel to Netherlands, the country known for its tulips, windmills, canals and for being the heart of virtualization. The country is pretty small in size (area and number of people) but there is a very high adoption of virtualization and lots of virtualization expertise, probably one of the highest per capita in the world.
As part of my role at Quest being an Evangelist and also being part of the vFoglight Product Management team this was an excellent opportunity for me to meet with customers, partners and also attend the Dutch VMUG, one of the biggest in the world.
I met with two vFoglight customers (a global law firm and a local hosting provider) and two partners and asked them what their biggest challenges where. They all responded:
Too many alarms
-"In large virtual environments that grows quickly we struggle with alarm tuning and not to get overwhelmed by number of alarms".
No End to end visibility
-"We lack the visibility into the physical storage". Virtualization is just a piece in the puzzle, there´s storage, networking and probably physical servers still running that makes up the entire datacenter to host mission critical applications to the end users.
If something is not working as expected the end users start to complain. Does this look familiar?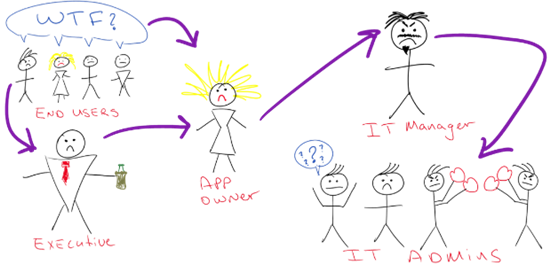 Compliants from end users will go through many levels until IT admins understand they have a problem.
Troubleshooting is often handled in silos and the VM admins get the blame, they can´t see anything is wrong in their virtualization view and blame the storage team. They usually have poor management tools and can´t see anything out of normal so they pass it along to the network team. The wheel keeps spinning and everyone blames each other. Have you been in this situation too?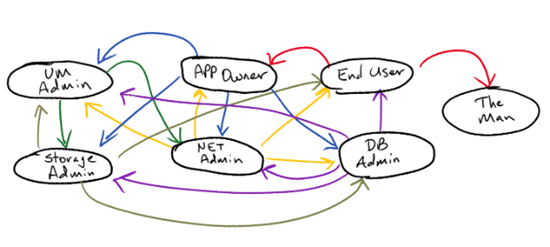 Wheel of blame, not beautiful but a reality for many organizations.
After listening to their challenges I turned the discussion over to what we are doing to help them overcome their challenges and it aligns perfectly with our strategic roadmap.
IntelliProfile which is our advanced analytics engine we have been using since 2006 in other Quest products will be enabled in vFoglight going forward. This is an important topic and I won't go into any details in this post. Stay tuned for more details to follow in the vFoglight Community.
Quest´s (v)Foglight portfolio is capable of managing your virtual, physical, network, storage and mission critical applications. This gives us an unique position in the marketplace today with end to end visibility. It´s time to quit playing the wheel of blame game and start being proactive and in control, as a positive side effect your end users will be happy too [:)].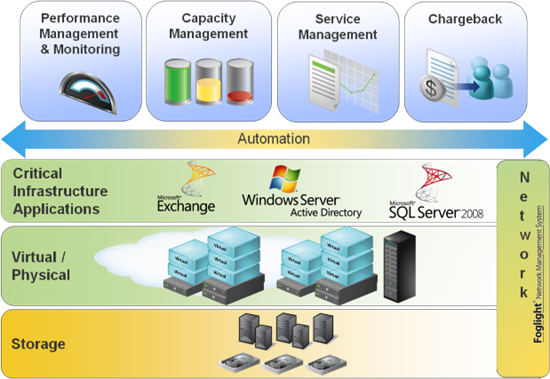 (v)Foglight offers end to end visibility.
After these pleasant meetings it was time for the famous Dutch VMUG.I have attended many VMUGs around the world but this is #1 according to me. The reason for that is that there are so many top virtualization people in the area (no offense if you are not living there [;)]). As I said it´s a small country but the VMware Community is really big and I have many good friends in the area. I did 5 presentations at VMworld US and Europe this year with my Dutch friend Eric Sloof and due to high popularity of all our sessions we where asked to deliver our Mythbusting presentation at the Dutch VMUG too, an offer we couldn´t refuse.
Eric Sloof and Mattias Sundling interview (in Dutch and English) at the Dutch VMUG
We lined up interesting myths like:
Defrag your Guest OS disks for best performance
E1000 is faster than VMXNET3
CBT causes significant overhead on your VMs
HA datastore heartbeats prevents host isolation
LSI SCSI is always better than Paravirtual SCSI
We got around 700 people totally in our two presentations and we got lots of interaction and questions. Thanks everyone that attended our presentation and for all positive feedback we received on Twitter.
Slides, photos and video can be found here.
After the Dutch VMUG was finished I joined a small group of people for a christmas dinner. Santa himself appeared or was it Eric Sloof? Well he gave us all a christmas present anyways [:)].
Many thanks to all at the dinner. It was such a pleasure!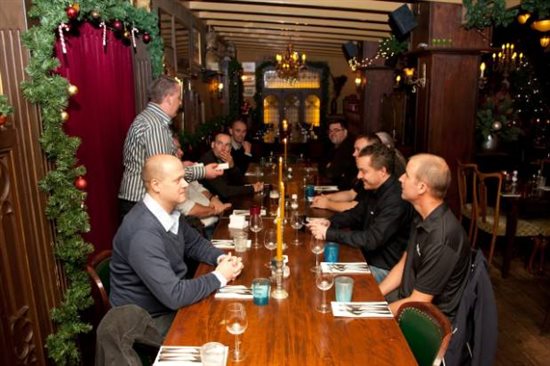 Eric Sloof, Frank Denneman, Luc Dekens, Cormac Hogan, Alan Renouf, Gabrie van Zanten, Duco Jaspars,
Viktor van den Berg, Roy Mikes, Bouke Groenescheij, Mattias Sundling at the christmas dinner.
After being in Netherlands for a week it was time to get back home. Still haven´t got the answer what is up with virtualization and the Netherlands, but I know it is an awesome country with lots of brilliant people there.
If you know the answer to my question feel free to leave a comment. Thanks to Scott Herold for the nice cartoons!