Hi Guys,
We are releasing ChangeBASE v.5.3 today. We've rolled this out to include some changes requested by customers/partners. Here is a summary of what's been added:
NEW AppID Feature for customizing the application name
Customers have been asking if we could:
Provide a way for them to incorporate their own application naming standards to the packages listed in ChangeBASE
Group multiple packages under one application name and provide a rolled up RAG
Allow the application identifier name to be assigned via bulk import AND be editable via the GUI
The NEW AppID feature offers all this and will be visible in most reports.
Here's what it looks like in the Profile Report (look at the column to the left):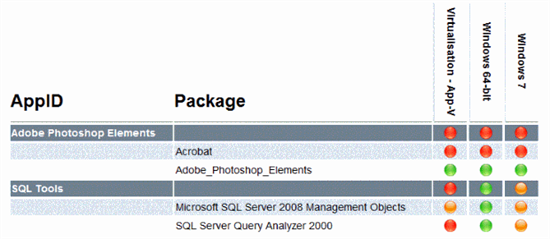 Support for VMWare Workstation 9.0
ChangeBASE now supports the use of VMWare Workstation 9.0 for conversion of applications to MSI/application virtualization formats.
SCCM import list can be exported
The list of packages that can be imported via SCCM 2007/ 2012 can now be exported into .CSV format if desired.
Use Case:
A customer has hundreds of application packages that they want to import via the SCCM repository, but they want to review this list first (as some older packages are no longer needed for migration). This feature allows them to view the package list using Excel rather than having to scroll through the ChangeBASE UI. They can modify the list and then import the list into ChangeBASE and kick off the import.
The SCCM import UI now has buttons that allow you to export/import a .CSV file.
This is how it looks at the bottom of the SCCM import dialog box:

More platforms supported for non-MSI conversions
Added support for auto-repackaging on Win 7 32bit.
Where to get it and complete Release Notes
To dowload and for a complete list of changes including fixes, please refer to the release notes which can be found under the Docs tab --> "Support Docs, Notes and Guides" at this link:
https://www.quest.com/solutions/migration-and-consolidation/
Check out the new and improved user guide to see how to use the new features.
As always, feedback welcome. Love to hear what you think.
Thanks,
Ann