With the launch of Foglight for Storage Management v4.0, we've added two important new features to the product: support for Hyper-V and storage capacity planning. This BLOG will provide an overview of these new capabilities.
Foglight for Storage Management (FSM) provides visibility behind your logical datastores and into the physical storage connected to your virtual environments. Until now, that support has only applied to VMware environments. With the release of FSM v4.0, we now make it possible to monitor the storage connected to your Hyper-V environments, also. That means you can use FSM v4.0 to map out your entire storage datapath and monitor the physical storage connected to your Hyper-V CSVs, logical volumes, and pass-thru disks.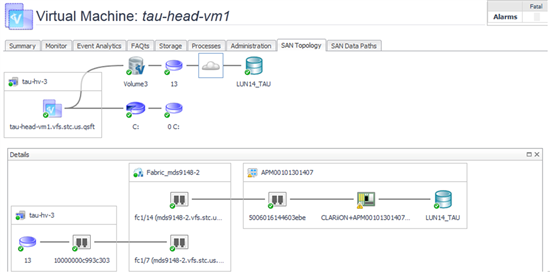 We've also added a storage capacity planning feature to FSM v4.0. Based on your historical rate of capacity consumption, FSM will estimate when each storage pool is on track to exhaust all available unallocated storage capacity. Without available storage capacity, you cannot provision new LUNs or allow thinly provisioned LUNs to grow in size. You can use FSM v4.0 to proactively plan new disk purchases to avoid this situation. You can now create a report to show which pools across all arrays in your environment have the least amount of time remaining before all capacity has been allocated. Or, you can examine the pools in a single array and see the estimated "Time Until Full."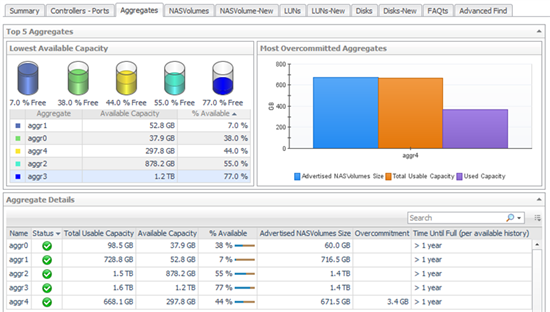 FSM actually generates two estimates: a long-term estimate based on a max of 180 days' worth of history and a short-term estimate based on 30 days' worth of history. The latter is more useful if there has been a recent change in capacity consumption behavior. By drilling down into a specific pool, we will generate a chart that shows your actual historical consumption history, as well as the long-term and short-term estimated trend lines. This gives you an idea of how much time you have before all available capacity has been allocated within that specific pool.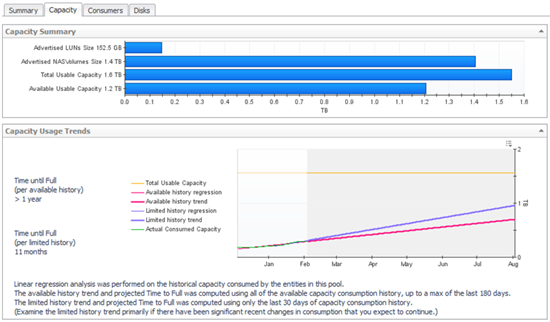 To learn more about Foglight for Storage Management and to download a free trial, please visit https://www.quest.com/.