Have you upgraded to Toad™ for Oracle® 12.5 yet? I posted in May that it was ready for launch, and our team has since put together a technical brief with the plain-talking title of "What's New in Toad™ for Oracle® 12.5." I'd like you to read the entire thing eventually so you can get the most out of Toad, but in the meantime I'm blogging on the greatest hits of version 12.5 in this series of blog posts.
I'll group the news into four separate posts:
housekeeping items about this release
coding
support for Oracle and other data sources
components bundled with Toad
Let's start with...
Free, web-based training
Everybody loves a freebie, so I'll point you to that first.
Included in this version of Toad for Oracle is self-paced, web-based training available at no cost to licensed customers. The course, "Toad Fundamentals," is designed for Oracle professionals and covers topics like making a connection to the Oracle server, working with the Schema Browser, building code in the Editor and visualizing schema objects using the ER Diagram and Code Road Map. Each lesson contains closing questions to check your knowledge. Students who complete the course and pass the accompanying test will earn the Toad for Oracle Fundamentals Certificate of Completion.
Upgrading your current Toad version to 12.5 or higher will entitle you to this free course, which is built around product simulation that guides you through menus, toolbars and windows like this: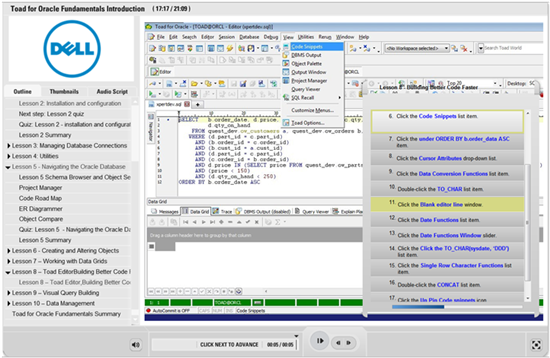 This no-cost training will let you hit the ground running and whet your appetite for the advanced courses for developers and DBAs, which will be available soon.
Do it now: If you already have Toad for Oracle 12.5, you're ready to access your free training session. Simply log into Toad World through the product installer or into Toad World directly. Once you've registered, you can access the training course from Toad World.
Did I mention it's free?
Simplified licensing, increased encryption
Speaking of licensing, in Toad for Oracle 12.5 we're phasing out the old license keys that used to be formatted like this:
1-65005-32214-32812-33744 [SAMPLE KEY]
to keys in the new format we've been using since Toad 10.x:
CS6QPD1ZS64NMN3RT-3FS3NX1GVBWJJE3GS-MNN-111-447-248-48 [SAMPLE KEY]
The new keys, which you'll need to upgrade Toad for Oracle, apply to all Toad products for each edition, plus Toad Suite products. These keys provide more information for asset management systems and a higher level of encryption.
Do it now: You can migrate your Toad for Oracle license key at any time. To obtain a new key, visit the License Key Upgrade web page. We also have a knowledge base article, "How to find the License number in Toad for Oracle," if you don't know where to find yours.
Exporting and importing Toad user files
Have you ever reinstalled Toad on a new computer and had to bring over all your settings? We've made that easy for all editions of Toad now, so you can export and import settings from a menu instead of burrowing through C:\Users\[username]\AppData\ etc., etc., to find and copy the right files.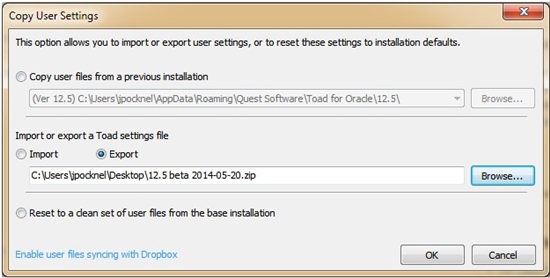 Do it now: In Toad for Oracle 12.5, go to Utilities | Copy User Settings.
Simplified Chinese is here
Need Simplified Chinese UI for your developers or DBAs in China? Toad for Oracle 12.5 now lets you tick that box.
Do it now: Have a look at the Chinese release notes and user guides.
More Toad fare
Can't get enough of Toad? Neither can I. Here are reminders about a few other ways to stay in the Toad groove and, if you're a serious enough DBA, maybe raise your profile in the community.
Spotlight™ Essentials – This project, formerly known as Lucy, lets you upload system performance data, see performance analytics and compare your results against those of other users in the Spotlight Essentials community, at no cost. Access Spotlight Essentials from the Database | Diagnose menu in Toad.
Toad World – More than just a support website, Toad World is a continually growing community of developers, DBAs and users like you, accessible since version 12.0 from inside Toad itself. Among the 3 million people registered in Toad World are industry experts and, of course, those of us who post to this blog and answer your questions several times every week.
Toad Idea Pond – Somebody is going to come up with the next great Toad-thing; it may as well be you. At the Toad Idea Pond website, you can tell the development team what you want to see in future releases of Toad and vote and comment on ideas submitted by others.
Next steps
Next time I'll post on coding-related changes in Toad for Oracle 12.5.