Last time I posted about the simplified licensing, Chinese version and free web-based training in our recent release of Toad for Oracle 12.5 and about our technical brief "What's New in Toad for Oracle 12.5." This time I'll give you a synopsis of several new features in the release that relate to code you write in Toad and how you write it.
Team Coding enhancements
Team Coding is a collaborative code control utility in every edition of Toad for Oracle. You used to have to create objects and register them separately with Team Coding, but starting with this version, once Team Coding is set up and configured, you can now register objects like Functions and Stored Procedures on the fly. In this example, a new PL/SQL function is added to Team Coding automatically: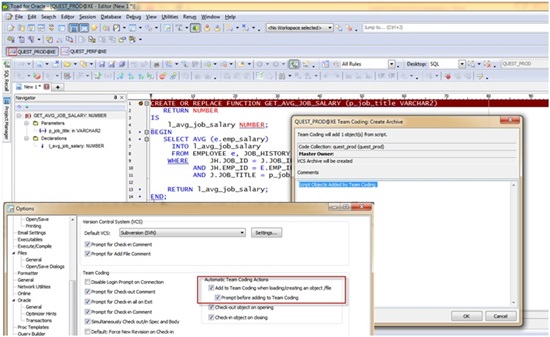 There are also new menus and tabs in the Schema Browser and Editor so that, if you're using Team Coding, you can review objects there rather than opening the Team Coding Viewer.
Do it now: Go to Options | Source Control | Team Coding and select Automatic Team Coding Actions - Add to Team Coding when loading/creating an object or file. Create a DDL script with the new objects controlled by Code Collections (code grouping tool), run the script, enter a comment in the Add to Archive dialog, and click OK. You'll see the newly created objects listed in the Viewer.
Team Coding now integrated with Code Analysis
You can now integrate Team Coding with our Code Analysis feature (Toad Professional Edition or higher) to assess the quality of the development team's code against project or company standards prior to check-in. Once you've configured Code Analysis for your organization's minimum quality standards, notifications inform you of any below-standard code, as shown below: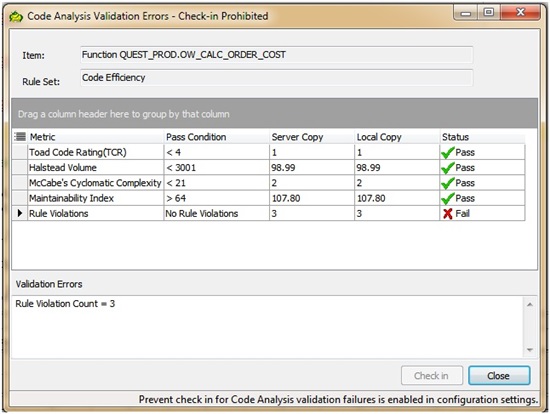 Code refactoring prior to SQL optimization
Trying to make your SQL statements execute faster? How much time do you spend tweaking and tuning them?
In Toad Xpert Edition, you can use the Auto Optimize SQL feature, accessible from the Editor, to take advantage of the SQL Optimizer's rewriting engine. SQL Optimizer generates multiple syntactically equivalent rewrites based on the original SQL – something that would take you hours to do manually.
In Toad 12.5, we've added the ability to refactor the SQL syntax prior to optimization (e.g. convert DECODE functions to CASE statements) to improve the likelihood of faster execution.
Do it now: Select the SQL statement in the Editor, then click the Auto Optimize SQL button in the Editor toolbar (tuning fork icon). Enable the "Refactor SQL before optimizing" option in the popup window so that SQL Optimizer can construct faster alternatives.
Next steps
In my next post I'll describe new ways in which Toad supports the Oracle database.