We've built additional support for the Oracle database into Toad for Oracle 12.5. I'll highlight those features in this post and encourage you to read the entire technical brief "What's New in Toad for Oracle 12.5."
Data generation and Oracle SQL*Loader files
You know those brilliant ideas you lob in to us in the Toad World Idea Pond? Here's one of the many we've implemented.
In this release Data Generator lets you create Oracle SQL*Loader control files for loading data from the command line. It's a new way for you to use Data Generator (Professional Version and higher) to populate tables with synthetic or actual data.
Do it now: Right-click a table in the Schema Browser, select Generate Data, then set your table and field options as shown below: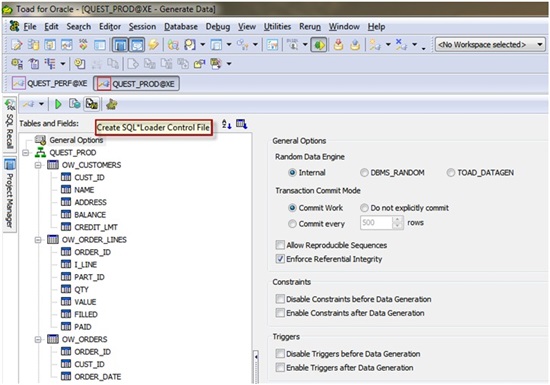 On the Generate Data toolbar, click the "Create SQL*Loader Control File" button. The tool then displays the file, ready for use.
Oracle 12c pluggable databases
We introduced official support for Oracle 12c multi-tenancy (pluggable) databases in Toad for Oracle 12.1. In the DB Admin module of 12.5, when you create a new pluggable database through the Database Browser, you can simplify the provisioning process by adding the new entry to the Oracle TNSNames.ora file, adding a new node to the Database Browser tree and starting the new database. For example: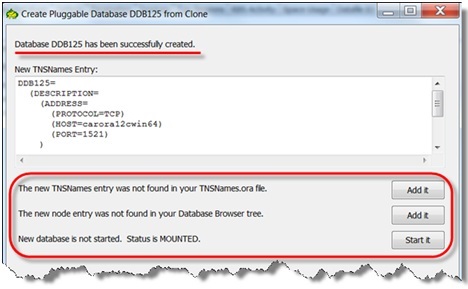 Do it now: When you're connected to your container database (CDB) as SYS, click "Database Browser" on the main toolbar. Select the CDB on the left, then click the Pluggable DBs tab and the plus sign, "Create pluggable database." Hit F1 for step-by-step instructions that take you to the dialogue box shown above.
Next steps
Have you started using Toad for Oracle 12.5 yet? If so, let me know what you think of it in the comments below. If not, let me know what you need to get started.
Watch our 10-minute video "What's new in Toad for Oracle 12.5" if you want to see some of the new features in action.
We cover these and all the other new features in the release in our technical brief "What's New in Toad for Oracle 12.5."