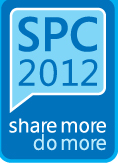 So another SharePoint conference has come and gone,this one just one short year since last year's SPC in Anaheim.
By Friday if your brain wasn't fried with info overload you clearly weren't at the same conference
If you didn't go to the conference its hard to synthesize it all down to a few common threads.
For us it was our coming out party as part of Dell, and we meet a lot of our new Dell co-workers. Look for a whole heck of a lot more SharePoint and Collaboration technologies from Dell in the coming months.
In the meanwhile..here are the top five things I think we all learned at the Conference (besides that Bon Jovi still rocks!)
#1 SharePoint is very relevant
Some folks had their doubts. SharePoint is starting to feel like it has been around for a long time, and it has. But it is still at the center of what makes organizations work and unlike some other collaboration technologies that have come and gone or are still clinging to life, Microsoft continues to make major investments in SharePoint and push it in the right directions. The emphasis on Office 365 is massively impressive and it has positioned SharePoint perfectly as we all move to the cloud world. Office 365 is now a place where an organization of any given size can feel comfortable and the pricing models are well aligned to the market pricing that we see with hosted SharePoint. For those who are staying on-premise tings have never been better. Overall installation is easier, collaboration is easier, office integration is improved, browser support is enhanced, new features like community sites, site mailboxes and the application store add impressive capabilities we can all use. If you are one of the few and lonely not looking at SharePoint 2013 yet, get it now!
#2 Yammer is real and is happening now
This one is in many ways an extension of what I said above. Microsoft knows there are gaps and there are two ways to fill that gap. Build or buy. Yammer is an interesting acquisition for Microsoft and the SharePoint group in particular. It was very clear from the keynote that Yammer is very much at the center of much of what they will be doing with SharePoint and social Enterprise. It is much more than just Twitter for the enterprise, and the roadmap looks impressive. We spend a lot of time with the Yammer team and I came away convinced that this is a game changer. SharePoint was always the best at core document collaboration but left the door open for general or adhoc collaboration. Yammer closes that door and brings into Microsoft a group of super motivated individuals. Well played Microsoft! There is excellent SharePoint integration within Yammer right now and I think future integration will be fairly rapid. This is one hot technology we will all be using soon.
We plan to accelerate our Yammer integration and incorporate Yammer where it makes sense.
Get started with Yammer now at https://www.yammer.com/
#3 The application store will be important
One of the big changes in SharePoint 2013, and Office in general, is the new application model and the app store that goes with it. In the past it could be a bit of a pain to get applications up and running with SharePoint, even if you had the template nailed down. Nobody is saying that this will ever be as vibrant or active as iTunes, but you will find more business and enterprise ready applications that will have an impact on your organization and work with the tools you have today. Have a look at what is up there now and expect a lot more come GA in early 2012. http://officepreview.microsoft.com/en-us/store/apps-for-sharepoint-FX102804987.aspx
Here at Dell we wanted to both understand and push the application model and the application store as it stands now. Thus was born the Quest Social Hub, an evolving hub for all your social feeds. Have a look and give us feedback (right within the store if you can!) and look for fairly frequent updates and future apps as well.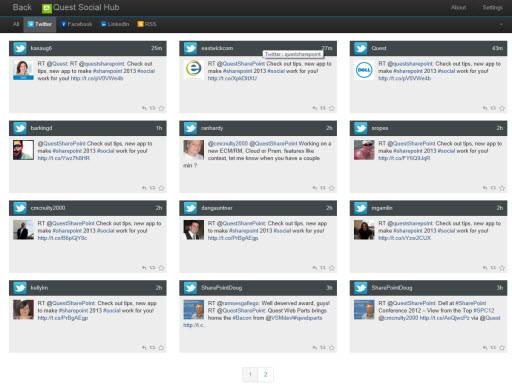 Any ideas on what apps we should look at creating, drop us a comment below!
#4 Microsoft is serious about the Cloud
There were a few missteps, some wonky pricing models. The less said about BPOS probably the better. A lot of stuff you couldn't code for when it was in the cloud. That is very much in the past. Everything is now cloud ready and looks and works great. Over the TAP period we migrated a lot of our internal demos and testing environments to Office 365 and unlike other past efforts by Microsoft this one held firm and soon it was easy just to say put that up on O365. Adding support in our products was easier and Azure is maturing as well. Microsoft is sometimes late to the party, but much like all good parties, sometimes the most interesting guests arrive a bit late and then the party really takes off!
#5 The SharePoint ecosystem is more vibrant than ever
Vendors put their money where their mouth is in a sense. There are lots of areas that folks could be concentrating one but at the SPC it was evident that still are both willing to invest in SharePoint tools and most are making a great living doing so. With budgets the way they are folks will only buy what they absolutely need and clearly they are buying SharePoint tools. These add ons enhance an already great framework but aligns individual SharePoint implementations to exacting needs.
These guys are our competitors, but in most cases they are also our friends. We show up at all the same events and for many of us it has been for years. It's great to see people have success and grow their visions. I spent a lot of time in the vendor showcase and came away with some favorite products and companies, it was interesting that in most cases this aligned with my co-workers thoughts as well and gives us a moment of pause ("Why didn't we think of that!!"). It was an honor to be among these folks again. At the end of the day we are SharePoint people first, competitors second! Few folks were lonely and everyone was dog tired by the end.
If you missed the SPC or just want to relive it, rewatch the keynote here. A lot of relevant information is wrapped into this two hour presentation.
Thanks to everyone who stopped by the Dell Booth, if you are at Dell World Dec. 12-13 I will see you there otherwise until the new SharePoint conference!