You asked and we delivered.
Microsoft Skype/Lync archiving
Archive Manager can archive conversations from one or more Lync servers. The Admin user can search and view all or part of the conversations using the Archive Manager Search Page.
The current Lync archive feature only supports Lync servers which are configured with the Lync Server Archiving databases option. It does not support Archiving using Microsoft Exchange integration.
Skype/Lync archiving includes the following enhancements:
Lync Store Manager: The Archive Manager installer feature select page has a new feature called Lync Store Manager. To use the Lync Archiving feature, select the Lync Store Manager. The Lync Store Manager scans Lync users for archive conversations and exports them so they can loaded into the Dell Archive Manager. See the Dell Archive Manager Exchange Installation and Configuration Guide for detailed configuration information.
Lync Server: The Archive Manager website page allows you to manage each Lync server. You can enable Lync message archiving on specific Lync servers, and when to begin and end archiving.
Lync User assignment: The Lync User Assignment Administration form lets you define which users can access which Lync users. Archive Manager Lync users are synchronized from Lync servers and created by the Archive Manager Directory Connector.
Lync User Mailboxes: Archive Manager Lync user mailboxes work in a way similar to Lync users in Microsoft Lync Server. However, Lync mailboxes are separate and treated like journal messages because Microsoft does not treat conversation boundaries well when users are added or removed from a conversation.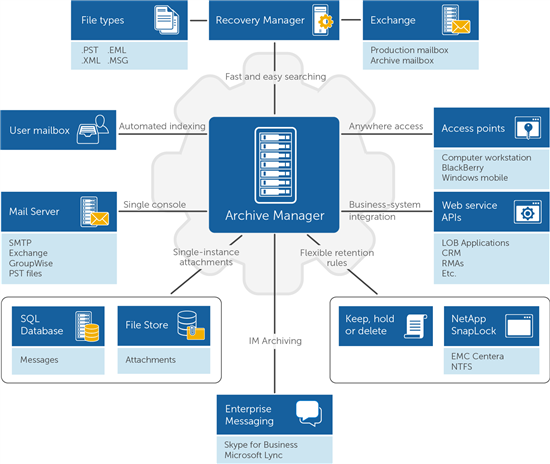 New supported Platforms
Exchange 2016
Outlook 2016
Novell Group Wise 2012 SP4
Novell Group Wise 8.0.3 HP4
SQL Server 2014 SP1
SQL Server 2008 R2 SP3
SQL Server 2008 SP4
Client workstation support Windows 10
Alert Service Policies is more portable
A new "Alert Service Policies website" replaces the "Alert Service Editor" to make it easier for you to manage alert settings without need to install the client.
The Alert Service Policies website includes the following enhancements:
Default Global Settings: The first time you open the Alert Service Policies page, you are asked to set the Default Global Settings. All other controls on this page are grayed out until Default Global Settings are defined. These defaults can be changed later by clicking Default Global Settings on the Alert Service Policies screen.
Add Alert Service Policy: After you set the Default Global Settings, you will go to add alert policy page, click + Alert, specify your alert policy content, and click Save.
Alert Service Policy list: You can add, edit or delete your alert service policy.
Have a look at the Release Notes for more information.
Visit the Archive Manager product page for access to whitepapers and other resources.