If you have been through a SharePoint upgrade before, you know the basic upgrade methods supported by Microsoft. Upgrade to SharePoint 2010 is no different. You can choose between in-place, database attach and a few hybrid upgrade approaches, whichever fits your environment best. With good backup and thorough testing, the built-in upgrade options offer enough flexibility for many organizations.
So why would you care for a third-party solution for upgrade? To answer that, ask yourself a few questions:
Is your organization planning on phasing SharePoint 2010 in by switching sites to the new version in a gradual fashion? E.g.: move the intranet portal site before migrating team sites.
Do your business users need uninterrupted access to their sites and documents?
Does your existing site topology need an overhaul (large sites, intricate navigation)? Do you plan to make changes to it in the new version?
Do you have problems staffing the upgrade project?
Are you on SharePoint 2003 yet?

If you answered yes to any of these questions, you may find that Quest Migration Manager for SharePoint provides a better alternative to the native upgrade tools:
| | | |
| --- | --- | --- |
| | Native Upgrade Tools | Migration Manager for SharePoint |
| Gradual Process | Native upgrade operates at the database level, essentially forcing you to upgrade an entire web application at once. | Migration Manager allows IT to structure migration projects around specific business needs. |
| Business Continuity | Upgrading large amounts of data may take significant time during which sites must be locked down to prevent them from getting out of sync. If you go with in-place upgrade, your whole farm is down while upgrade is in progress. | The automatic one-way synchronization in Migration Manager ensures that users can safely update their documents while sites are being moved to a new SharePoint version or another server. |
| Site Reorganization | With native upgrade tools, you can neither filter obsolete content nor change the site structure when upgrading your farm. | You can implement a new, optimized site structure when moving sites to the new version. |
| Operations | Unless you are doing in-place upgrade (which is not recommended for most production installs), it takes a whole slew of manual operations to upgrade a SharePoint farm. Administrators will use command line utilities, PowerShell commandlets, SQL management tools, SharePoint Central Administration and Windows Task Scheduler to perform, schedule and monitor upgrade. | Migration Manager Web Access provides a single management point for all your migration activities across multiple SharePoint farms. The built-in scheduling controls allow to minimize impact by running heavy migration tasks during off-peak hours. |
| Upgrade from older versions | If you are running SharePoint 2003, you will need to upgrade the farm to SharePoint 2007 first. There is no direct upgrade path to SharePoint 2010 for versions earlier than SharePoint 2007 SP2. | Migration Manager supports direct migration from SharePoint 2003 to SharePoint 2010 |

Quest Migration Manager is a one-stop migration solution that helps you move your sites, settings, content and users to the new version of SharePoint:
SharePoint 2003 to SharePoint 2010
SharePoint 2007 to SharePoint 2010
SharePoint 2003 to SharePoint 2007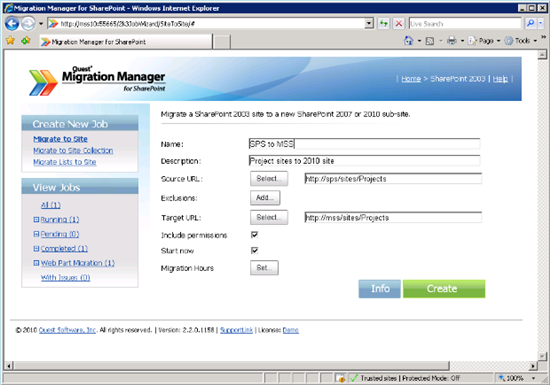 In addition to version-to-version migration capabilities, Migration Manager supports a wide range of consolidation, reorganization and content deployment scenarios for SharePoint 2007. That means you can use the same tool to rationalize/consolidate your SharePoint 2007 environment before upgrading it to SharePoint 2010. Support for reorganization and consolidation of SharePoint 2010 sites is coming in the next version of Migration Manager later in Q4 2010.
Stay tuned!