I am absolutely thrilled to announce that Quest won Microsoft's 2013 Office/SharePoint App Developer Partner of the Year award for our Social Hub app. Social Hub, which was built by the same Quest development team that brought you Quick Apps for SharePoint, provides a central location for Microsoft customers who need to simplify their social media experience. Dell Social Hub provides access to Twitter, Facebook, LinkedIn and RSS feeds all within a single SharePoint location.
You can download the award-winning Social Hub app for free from the Microsoft SharePoint 2013 App Store.
The Microsoft Partner of the Year awards are a prestigious distinction. More than 3,000 entries were collected from more than 100 countries. Quest will be recognized along with other award winners at the 2013 Microsoft Worldwide Partner Conference, the company's premier annual event for industry partners, July 7–11 in Houston. You can read the complete Microsoft press release here.
Social Hub is Dell's first SharePoint 2013 app and demonstrates our commitment to Microsoft's strategic shift to the new app model. With Social Hub, you can:
View Facebook, Twitter, LinkedIn and RSS feeds from within a single SharePoint solution that's updated in real time and viewable on any tablet or mobile device
Aggregate and filter social media content in relevant and meaningful ways
Quickly add social channels to your SharePoint dashboard in a few simple mouse clicks
Keep SharePoint users from having to jump to external sites to get valuable social content
Enhance the user experience and accelerate SharePoint usage and adoption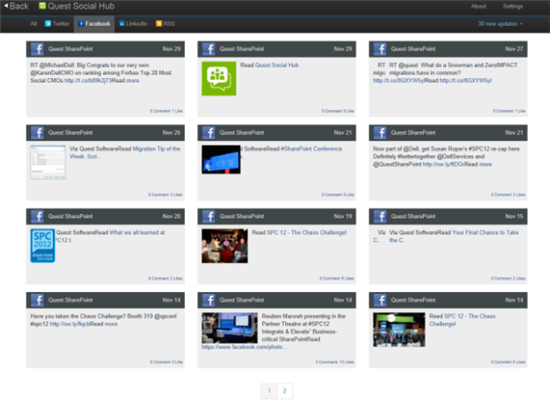 Check out Social Hub today and let us know what you think.