After you have installed vFoglight and configured it to collect from your VMware vCenter Server(s) it will automatically apply our predefined rules and raise an alarm if something is not "normal".
The alarms can be placed into one of following categories:
Best Practices (VM memory limit configured)
Future Predictions (you will run out of datastore capacity in 30 days)
Deviation from "Normal" Activity (suddenly big change in Cluster Disk IO)
Specific Operational Problems (ESX Server disconnected)
The purpose of these alarms is to decrease the Mean Time To Resolution and also help you be more proactive.
Wouldn´t it be nice to get a heads up 30 days before your datastore will run out of capacity leading to a serious outage?
The predictive alarms needs historic data to start learn what´s "normal" and might be to sensitive from the beginning. To change Alarm Sensitivity Level goto: Dashboards - VMware - VMware Configuration - Set Alarm Sensitivity Level
Choose between Essentials, Normal and Tuning (Default is Normal)
For vFoglight 6.6 this can be found under Homes - VMware Environment - Administration tab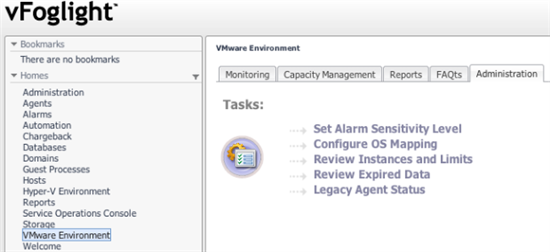 It´s recommended to use Essentials for the first two weeks so vFoglight have enough of data to start calculate trends and abnormal behavior.
During this period you will get most critical alarms such as Best Practices which will help you configure your environment correctly.
After the first two weeks you can change to Normal which will start giving you more predictive and deviation from "normal" activity alarms or you can change to Tuning which will start give you recommendations on how to configure your VMs for optimal usage.
We realize that all our customers don´t have the same environment and very different configurations. In order for vFoglight to work best possible in your environment you might need to change Alarm Thresholds to meet your requirements.
This is done by going to Dashboards - Administration - Rules & Notifications - Manage Registry Variables. In order to only see VMware thresholds you can filter by Variable Name: vmw

As a final step you can disable rules you don´t care about. This is done under Dashboards - Administration - Rules & Notification - Manage Rules. In order to only see VMware rules you can filter by Rule Name: vmw

You can select one or multiple rules by clicking on the left side of the rule you want to disable (use shift or control key to select multiple rules) and then click on Disable Rules button.
If a rule is disabled you will see "!" sign beside the rule.

Rule Management has been updated in vFoglight 6.6 to provide one single dashboard for working with alarms to simplify for you.

Watch this video where Aaron Newsome, Senior Systems Engineer at Quest Software go over this in a live environment:
Double click to open in full screen
To learn more about vFoglight Rules, please see "User and Reference Guide" below: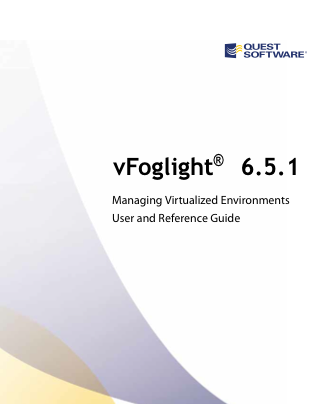 Hope you now understand the basics how to tune vFoglight to your preference.
If you have any questions or comments, please use the comment section below.