Do you know how you would handle a SharePoint disaster? Maybe you've experienced one. But we sure hope not.
Or how about this scenario: you're minding your own business at a SharePoint show and Joel Oleson appears out of SharePoint Land quizzing you with disaster recovery questions. Oh, and you have a camera in your face! How do you respond?
Well, check out this video of Joel Oleson (@JoelOleson) as he hits the streets of #SPTechCon to quiz his fellow SharePoint buddies, gurus and some all-around comedians in this wacky video about SharePoint disasters featuring: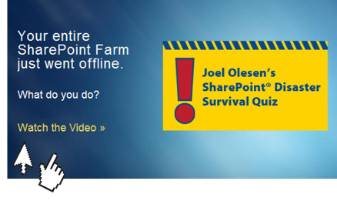 Laura Rogers (@WonderLaura)
Dux Ramond Sy (@Meetdux)
Mark Miller (@EUSP)
John Ferringer (@Ferringer)
Jeff Shuey (@jshuey)
Mark Rackley (@mrackley)
Geoff Varosky (@gvaro)
Chris Schwab (@ChrisRSchwab)
Josh Carlisle (@JoshCarlisle)
Mike Fitzmaurice (@MikeFitz)
Then test your own knowledge of how you would react in a SharePoint disaster by taking the quiz yourself. Checkout the video at www.quest.com/solutions/sharepoint/ and select the first banner. When you're done watching the video just follow the link below the video to the quiz or visit https://www.quest.com/.
Good luck!