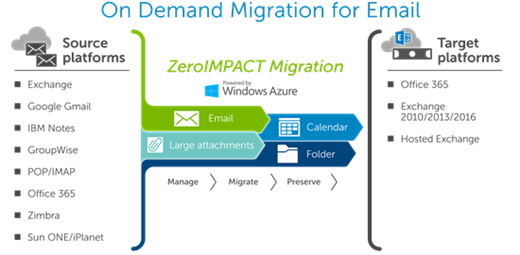 One of the more common areas of inquiry from organizations planning their Office 365 migration strategy relates to large mailboxes and how they should be converted. These concerns typically arise in the form of two questions:
1) What can we do during the data migration to clean up historical data within users' mailboxes and encourage more efficient email management practices within the new environment?
2) How can we ensure that all relevant data, including large attachments in each mailbox, is preserved during the move?
Fortunately, On Demand Migration for Email provides options for automatically addressing these questions as part of the cloud migration plan.
Historical Data
Whether organizations have mailboxes that exceed the 50GB limit of the primary mailbox in Office 365 or they are just looking for ways to help users better organize & preserve critical information, historical data is a common theme to be considered in your migration plan. Data preservation & more efficient data management practices are certainly important goals and migrations offer a great opportunity to take a step in the right direction.
Office 365 (and more recent versions of Microsoft Exchange Server) include personal archive capabilities that offer a second, but connected, storage mechanism for each user's data. Depending on your specific Office 365 plan, personal archives (i.e. archive mailboxes) provide at least an additional 50GB of storage and are technically unlimited* with E3 & E4 plans.
*It is important to note that "unlimited" personal archives actually have a 50GB soft limit, so you need to contact Microsoft for an increase if more storage is required. As described in the footnotes of the service description:
"Each subscriber receives 50 GB of storage in the primary mailbox. Personal online archive capacity has temporarily been limited to 100 GB per mailbox. If you reach this capacity and need additional storage, contact Support for up to 70 GB more. Automatic expansion of personal online archives is currently under development."
Now that Microsoft provides such a suitable location for storing additional data, organizations are looking for easy ways to encourage users to leverage these capabilities and improve their data management practices. Conveniently, On Demand Migration for Email provides a method of automating the move of historical data to personal archives as part of the migration process.
Migration filters can be customized within each plan to select historical data based on the specific needs of the organization or even those of a specific group of migrating users: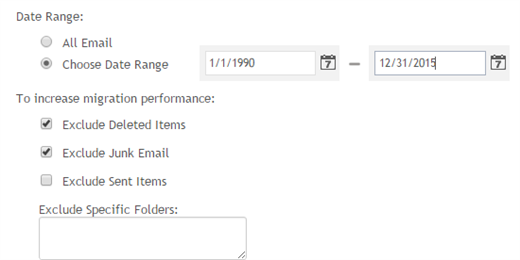 In this example, we have selected to migrate only data prior to 2016 and to exclude certain folders from the migration. These settings, along with many others, are available on the Options screen.
Then, on the Target tab under Options, we can specify to migrate the selected data directly to the Personal Archive within Office 365:

These simple configuration settings allow organizations to implement consistent data policies as part of the migration to Office 365 and enable users to start leveraging more efficient management practices the first time they login to Exchange Online.
Large Attachments
Other data challenges facing organizations as they move to Office 365 are limits on the size of messages and attachments. Organizations that have historically made use of their email platform to deliver large attachments need to pay special attention to these issues prior to their migration.
The message and attachment limits apply to messages sent within Office 365, so organizations must revisit the policies and large attachment practices within their organization prior to moving. Adjustments and education may be needed to avoid confusion and disruptions as users begin to leverage the new platform.
In addition, limits are also placed on the size of attachments that can be migrated into Office 365, so this must be considered during migration planning. Fortunately, On Demand Migration for Email also provides an automated approach for addressing large attachment concerns during migration.
The Target tab within the Options section includes configuration settings to automatically move large attachments to OneDrive for Business as part of the migration process.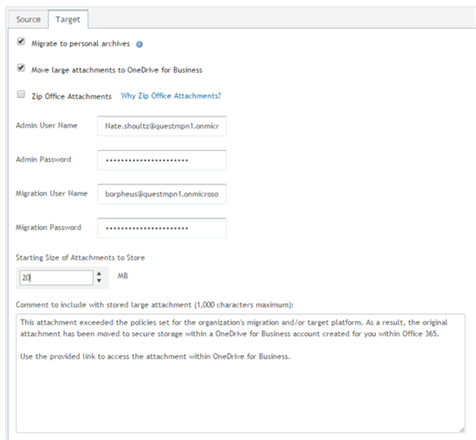 Email messages migrate to the appropriate folder within each user's mailbox and include a link to the attachment(s) within OneDrive for Business.
This automated approach preserves all of the data and context of the original message while adhering to the size limits within Office 365. In addition, data migrated under this methodology provides examples of more efficient data management practices that users should follow to avoid issues as they begin to leverage the new environment.
While data challenges certainly exist when transforming organization to a new platform, proper planning and tool selection can mitigate or even eliminate many potential issues as part of the Office 365 migration process. Most organizations find this provides a more seamless transition rather than transferring data inefficiencies and mismanagement into Office 365 and attempting to address them later.
If you would like to experience the benefits of automated data management as part of an Office 365 migration, I invite you to leverage the free online trial of On Demand Migration for Email today!