We've all accidentally deleted something important before. What if the important thing you accidentally deleted was the Accounting group from your Active Directory domain? One slip of the mouse and suddenly lots of users can't log in to their applications. Before the helpdesk gets overrun by angry accountants, let's open the Active Administrator Console. Recovering deleted Active Directory objects with Active Administrator is possible with just a few clicks.
By default, AA runs an Active Directory backup every morning at 6AM. The latest backup archives can be viewed in the AA Console under the Recovery > AD Object Recovery tab: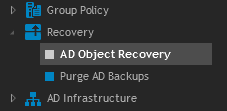 First we need to select the latest backup archive from the list, then click the Restore button: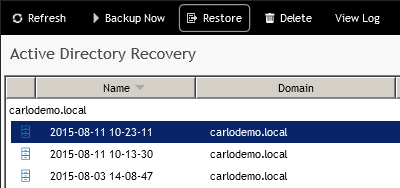 This will open the restore object wizard. You can use the Find button to search your backup archive for your object(s), or use the Browse button to choose the object(s) you wish to restore from a tree view. In this case we'll be choosing the Accounting group: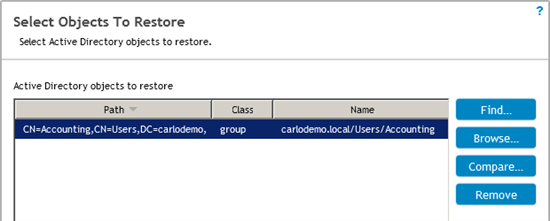 With our object added to the list, we can optionally use the Compare button to view a comparison of the archived attributes versus the current Active Directory attributes. Because the Accounting group was deleted entirely in our example, you can see it does not have any "current value(s)":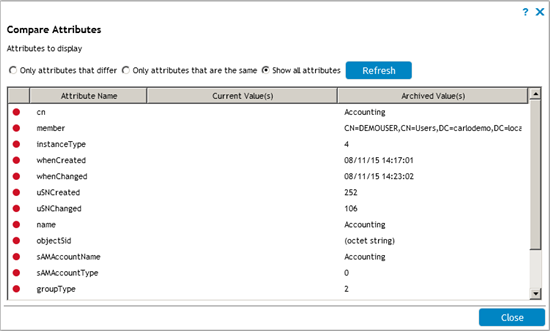 The next step of the wizard lets you selectively choose which attributes to restore, but because we're restoring the entire object we're going to leave the "restore all attributes" selected:

The following wizard step allows you to target a specific domain controller to perform the restore operation on. You know your environment's replication setup best, so choose appropriately: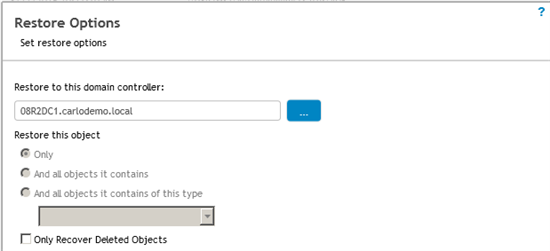 The final wizard step is specific to restoring user passwords, because we're restoring a group we can just leave these options alone: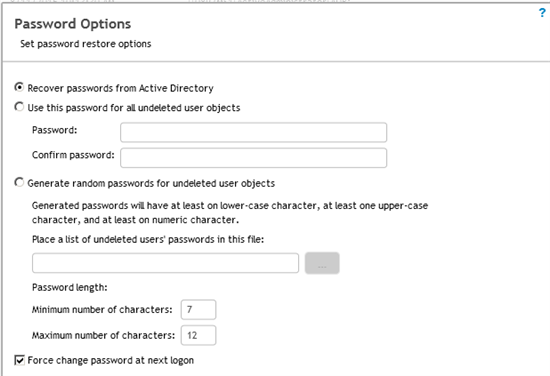 That brings us to the Summary screen, here we can use the Preview button to show us what will change during the restore operation and the Save button to export these changes to a text file for our records: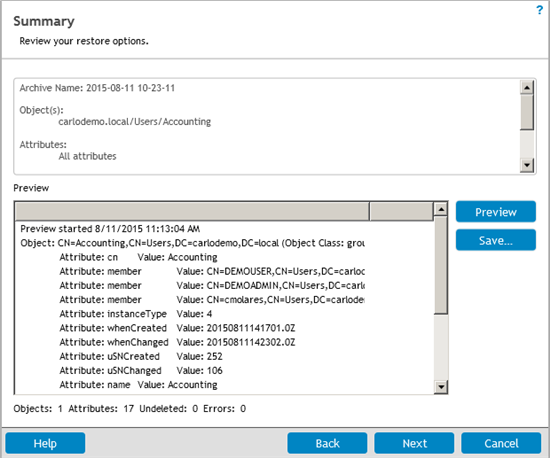 Clicking the Next button on this page will perform the restore operation, and when the operation is complete it will give you a summary page: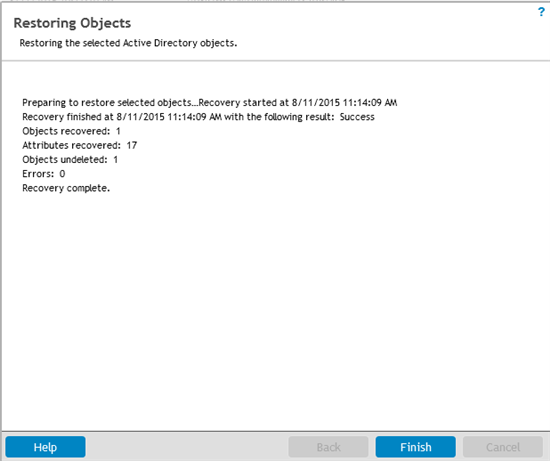 Now our Accounting group has been restored to the domain, and it contains all of the group members from when it was backed up. Crisis averted!
In addition to Groups, AA can also backup and restore Users, OUs, Contacts, and Computers. The ability to restore accidentally deleted Active Directory objects quickly and easily makes Active Administrator a powerful tool for any network administrator's toolbox.
Ready to try it for yourself? Start backing up your AD objects today with Active Administrator!