The KACE Systems Management Appliance is great at automating those everyday administrative chores you face daily. Be it device inventory, patching, reporting, or software deployment, KACE can handle it. With the newest release (v9) of the KACE Systems Management Appliance you can do even more! KACE now has the capability to chain together existing tasks to run sequentially outside of their normal schedules. This is a great feature for times when you may need to run multiple disparate tasks in sequence, such as running Wake-On-LAN against a group of machines before patching. Or maybe you have a script to disable BitLocker prior to running a BIOS update. With task chaining advanced automation is easier than ever.
The process is simple:
Click on Distribution and select Task Chain.
Click on Choose Action, then select new.
Enter a name and description of the new Task Chain.
Select a Device Label to dynamically target the needed endpoints.
Select the appropriate scheduled times to run.
Select New Task.
Add as many tasks as you would like.
Select Save when you are finished customizing your Task Chain.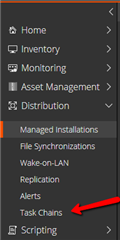 Note: Scripts selected must be online scripts. You may select from Patch, Scripts, Managed Installations, File Synchronizations and Wake-on-LAN schedules.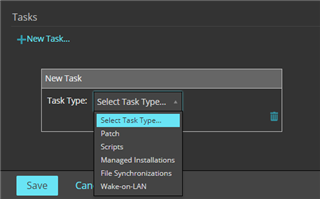 As with anything new it is always a good idea to run your new schedule against a test group first. When you are satisfied with the results, deploy as normal to production. The KACE System Management Appliance is designed to automate the mundane tasks so you have time to innovate. With the new Task Chain feature this is easier than ever. If you would like to take a test drive of the KACE Systems Management Appliance please click here.