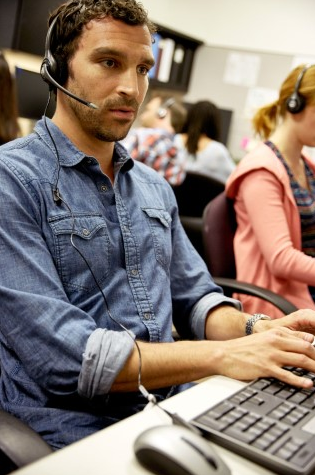 Effective Communication has Multiple Dimensions
Easy and effective communication between users and IT engineers is critical for swift resolution of problems. This communication often starts when users report an issue to the service desk. Support technicians need to be able to efficiently create tickets, prioritize issues, route tickets to the proper engineers, escalate them when necessary, and track them to completion — while keeping users informed about status throughout the process. IT staff members need to be able to pose troubleshooting questions and suggest workarounds, and users need to be able to easily respond to their questions and report back on their success with suggested fixes. Moreover, with today's increasing mobile workforce, both users and IT staff need to be able to communicate no matter where they are.
Good communication, however, extends well beyond the ticket lifecycle. Good communication is proactive, enabling IT to keep users informed about common problems and current outages or other widespread issues, and provide a knowledge base of how-to's, known fixes and workarounds. By offering a self-service portal with this information, organizations can reduce the number of service tickets created while improving user satisfaction and productivity.
Even more broadly, good communication includes easy access to relevant information. When service desk technicians can quickly access up-to-date information about all computer devices and assets on the network, inventory reports, configuration status, and device history — ideally from an integrated console — they can troubleshoot tickets faster, with fewer requests for details from users.
What to Look for in a Service Desk Solution
Together, these components of effective communication can reduce mean time to resolution while improving productivity for both users and IT staff. Therefore, you should look for a service desk solution that facilitates great communication by providing:
Customizable service desk tickets and queues — Look for a ticketing system that enables you to set up multiple ticket queues and tailor them to meet different needs. For example, separating facilities management concerns from IT user issues will streamline communications. Also ensure that you can customize tickets to ensure they include all the information required for troubleshooting, and that the solution can route them automatically to the engineers with the right skills and availability to resolve them quickly.
An intuitive self-service user portal — It's essential that users be able to access an extensive knowledge base, locate hardware and software inventory information for their systems, install IT-sanctioned software packages, and submit and view the status of their support tickets. IT should be able to easily post announcements such as information on service outages or planned maintenance windows; provide links to useful web applications and information, such as pages on the corporate intranet; and enable access to tools for tasks such as self-service password management.
Easy problem reporting — Users must be able to easily report issues and provide supporting information to speed troubleshooting. For example, they should be able to quickly attach screenshots to tickets.
Mobile app — Look for a solution that can serve your increasingly mobile workforce. Technicians should be able review and respond to service desk notifications, examine inventory details, and deploy software and patches from their mobile devices. Likewise, users should be able to access the knowledge base, submit service desk tickets and check on ticket status wherever they are and regardless of problems with their primary workstations.
Bi-directional email integration — The service desk should be able to send and receive information through email in order to automatically create incident tickets, send notifications and export data to other tools.
Other integration — Look for an integrated solution that enables technicians to seamlessly access the full spectrum of user and system information from the service desk, including a comprehensive database of systems management information and best practices.
Everything You Need in One Solution
The Quest KACE K1000 Systems Management Appliance includes an integrated service desk that delivers all of these capabilities and more. With the K1000, you can enable effective communication in every direction to speed issue reporting and resolution, reduce service desk workload, and improve productivity for users and IT staff alike.
To learn more about why effective communication is vital in a service desk solution and what other functionality it must provide to make your users happy and your IT staff more productive, check out our new white paper, The Ten Key Features You Need in a Service Desk Solution.