On April 11, 2017, Microsoft Exchange Server 2007 went End of Life and is no longer supported by Microsoft as mentioned on the Exchange Server 2007 Road Map page.
What is the impact on Quest Unified Communications Analytics (UCA) and how can you use UCA to assist with your Migration to later versions of Microsoft Exchange?
Final word on UCA and Microsoft Exchange Server 2007
Support for Microsoft Exchange Server 2007 will be removed from the upcoming release of UCA version 8.5 scheduled for Spring, 2018.
What this means is if you are collecting from Exchange 2007 and you upgrade UCA to version 8.5, you will not be able to collect and report on detailed analytical data about your Exchange 2007 Environment.
With that said, any version of UCA prior to 8.5 will still work with Exchange 2007 and be fully supported by Quest, as long as it is listed as "Full Support" as per the Product Life Cycle Table.
How UCA can be used to help with your Migration plan from Exchange 2007 to On-Premise or Hybrid/Cloud environments
Included within Unified Communications Analytics (UCA) is a set of Insights (Reports) designed to assist with all of your migration needs.
Note: Quest offers two Migration solutions that support migrating data from Exchange 2007 to a newer Exchange version or the cloud. Migration Manager for Exchange, and On Demand Migration for Email.
UCA can help you answer pre-migration questions such as:
What are my Exchange database sizes? What is the largest database?
How many Exchange users do I have and what users are inactive?
Who are your top senders and receivers?
What are the top Mailbox Sizes?
How many users reside on each of the stores?
What Distribution Groups and Security Groups are used the most?
How many Legacy Exchange 2007 Public Folders are in the Environment, and what are their sizes?
For example, you may be looking to begin your migration with the most active Exchange users in your Organization.
You can run the Insight "Exchange – Adoption", which will give you a list of the active users over a set period (the Last 28 Days by default unless otherwise configured).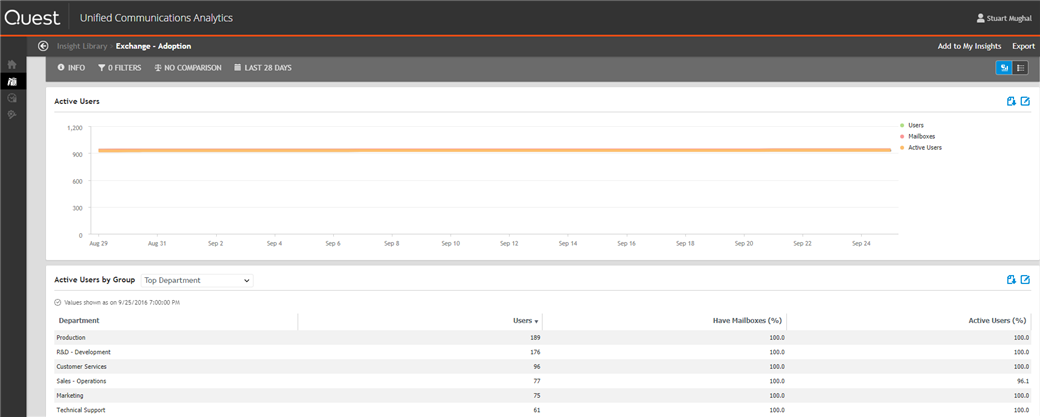 Screenshot displaying the most active users Grouped by Department over the last 28 days. Note: Additional details are displayed by clicking the Details browser button at the top right-hand side of the screen.
From the Left Pane in the Insight Library, you will find a category called "Migration". Within Migration, you will find 43 Insights. The list of Insights has proven to be useful for not only Professional Consultants but also Exchange Administrators tasked with the Migration (shown below):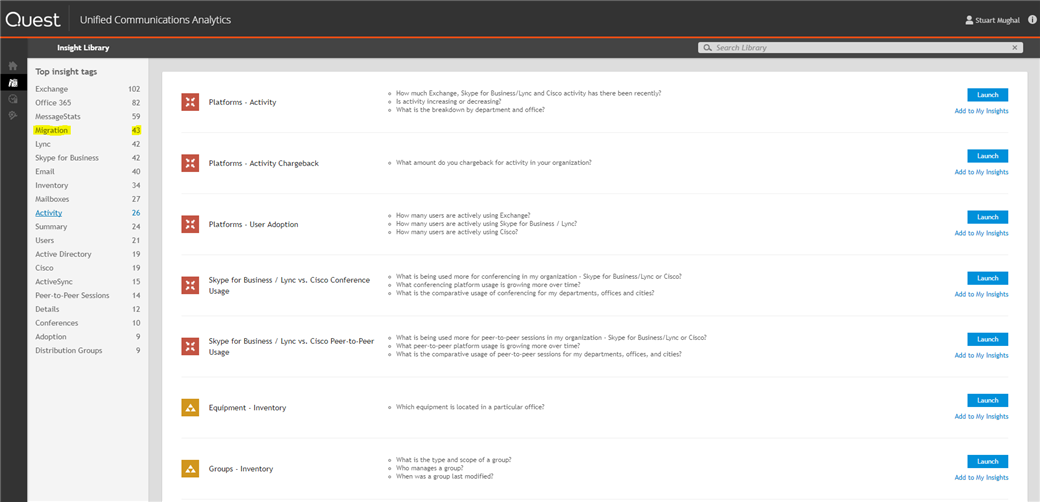 The "Mailboxes – Inventory" Insight can provide you with the size of each users Mailbox in Exchange, which the Storage / Stores Insight will let you know the Database name and Size:

Mailboxes – Inventory Insight, note the Mailbox Size (MB)
The planning is done and the Migration is underway, now what?
Keep tabs on your migration. UCA can easily be configured to collect data during the migration process. The most common migration destination is Exchange 2013 or Exchange 2016 Hybrid with Office 365. The Insights (Reports) in UCA are very versatile. You can add additional columns if need be. An example below is the same "Mailboxes – Inventory" seen above, with the Location Column, added:

"Location" column added to the Mailboxes – Inventory Insight showing the mailboxes location being On-Premise or Office 365.
The provisioning process
As you provision your mailboxes for use with Office 365, you can also keep watch on the licenses you have assigned from within UCA. The Insight called "Office 365 User Subscriptions – Summary" or "Office 365 User Subscription – Details" can help you with that.
Here is an example of the User Subscriptions – Summary (Details page), as well as the license assigned to each user:

From planning, to reporting on a status of an Exchange Migration, all the way to completion, UCA can act as hub of information about your environment to aid you along the way.
Mentioned in this Blog are just some of the examples on how Quest Unified Communications Analytics will help with your migration process.
For more detailed information about UCA and how the Product can help you with your Migration from Exchange 2007, please reach out to your Quest Representative or visit https://www.quest.com/products/unified-communications-analytics/ to try the Product free.