"Call and let me know how much fun you're having," I told my cousin when she went off to college a few weeks ago.
"As if," she said.
"What's the big deal?" I said. "Spend five minutes and tell me how much fun you're having."
"I'd rather spend those five minutes having fun than reporting on it. You're on my finsta; that's all the reporting I'll have time for."
Administrators want to do work, not write reports about it
I had to admit she had a good point. Every minute you spend reporting on what you're doing is another minute you could spend doing more of it.
So, what if you're a system administrator whose job is not only to enforce network access and permissions but also to report on them for security audits and security assessments? That means you have two big jobs and, like my cousin, you'd probably rather spend your time doing the work than fiddling with compliance solutions to report on it.
We've just launched version 3.0 of Enterprise Reporter Suite, designed to provide admins, security officers and help desk staff with insight into their Microsoft network environment, both on premises and in the cloud. While you spend your time tightening up security, adhering to compliance regulations such as PCI compliance, GDPR, SOX and more, performing migrations and keeping your eye on storage capacity, Enterprise Reporter is here to help.
Built-in security reports
A lot of this is already in your head. You have an idea of your company's configuration and security stance because you spend all your time working on it. But that's a far cry from organizing all that information in one place, let alone making it available and accessible for reviewing your security stance.
Enterprise Reporter is a security and compliance solution with ready answers to the most important questions in IT, both on premises and in the cloud:
Security assessment – Where do users have permissions to sensitive data and servers? Who can do what throughout the enterprise? Who has administrative access to Windows servers and workstations?
Configuration status – How are my servers configured? What software is running on them? Which local users and groups have permissions on them?
Pre-migration analysis – How many domains, users and groups do we have? Which accounts, files and groups can we eliminate and clean up prior to migrating? Do we need to consolidate or restructure accounts?
Storage analysis – Am I nearing storage capacity limits? Who are top violators of our storage policies?
Enterprise Reporter provides the answers to dozens of questions like those for your files, network-attached storage/storage area networks (NAS/SAN) and Microsoft platforms including Active Directory (AD), Azure AD, Office 365, Exchange, SQL Server and Windows Server.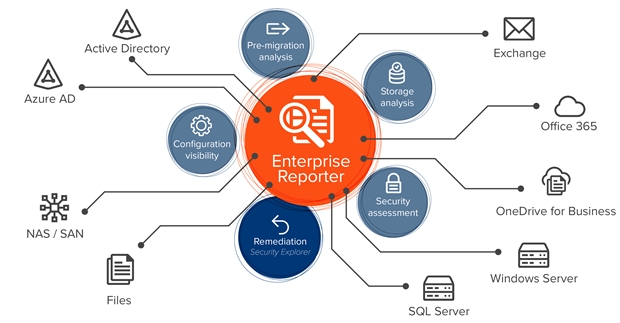 When you find risk, fix it
What's more, Enterprise Reporter is integrated with Security Explorer, our tool for managing access controls, permissions and security across Microsoft platforms.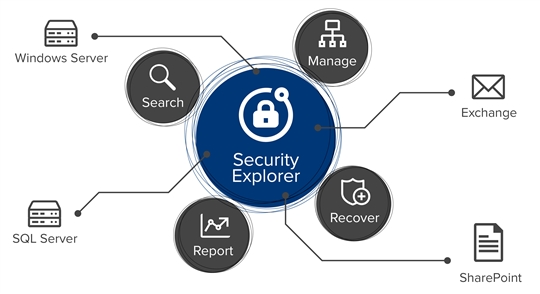 Suppose that a report generated by Enterprise Reporter reveals that the "Everyone" group has permission to access a folder reserved for Human Resources or Finance ("1" in the screenshot). That's a risk you'll probably want to eliminate by changing that permission to a more restrictive group. Because of the tight integration with Security Explorer, all you need to do in Enterprise Reporter is to click the Path: hyperlink in the report ("2" in the screenshot) and change the folder's permissions directly within the Security Explorer interface.
Want to learn more about Security Explorer? Check out this 3-part blog series! Part 1 starts HERE.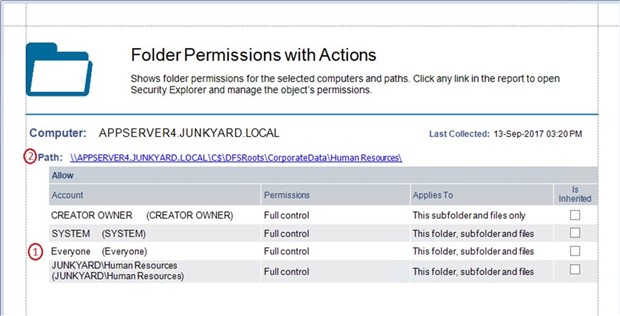 Enterprise Reporter is also integrated with IT Security Search, our intelligent looking glass that lets you use simple, natural search language to perform security incident response and forensic analysis. With the integration, you can expand your search and correlate data from the databases of other Quest® security and compliance solutions.
Download the Enterprise Reporter 3.0 trial version
Take Enterprise Reporter for a 30-day test drive for more insight into the security and configuration of your Microsoft environment. Start validating your on-premises and cloud assets against your security policies to identify any users with inappropriate access, then take corrective action right away.
In my next post, I'll point out ways to use Enterprise Reporter on your Microsoft platforms – specifically, Office 365 – and show how you can get as much insight into your cloud assets as you can get into your on-premises environment.
Enterprise Reporter is an easy way to get security and configuration information for audits and assessments.
Much easier than finding out what your cousin is up to at college.