Overcome Office 365 recovery and compliance gaps.
Quest OnDemand, Whats it all about?
What is Quest On Demand? I hear you ask; Quest On Demand is a Simplified SaaS-based cloud backup, recovery and policy management solution. If you are one of the many orginisations moving to O365 you are venturing into a new and exciting productivity platform. You will be aware of both the benefits and potential risks to venture to Azure AD & Office O365.
What can Quest OnDemand Do for me?
Quest OnDemand Gives you control When (and Where) you need it most, Quest OnDemand Offers a single pain of glass that will enable and allow you to:
Recover Azure Active Directory (AD) and O365 users Attributes and Groups along with Group memberships
Visualize the difference between backup and your live Azure AD environment.
Enforce Exchange Online Policies and configuration
Dramatically simplify Skype for Business Online policy Management based AD group membership.
When I speak with customers the question arises on a daily basis of "What Azure/O365 cloud based solutions does Quest have to offer?" The answer is Quest OnDemand.
As more and more customers are rapidly adopting Azure AD and O365 we have to keep up to date with the demand and look into the future for both Quest and our customers. Offering a SAAS based solution broadens Quest's portfolio and allows us to solve more challenges for our customers.
This is just the beginning, Quest are already working on offering additional modules to be included in the solution.
Did I mention how easy Quest OnDemand is to use? There is no installation required, from a single GUI our consul allows you to purchase only the modules that you need and require.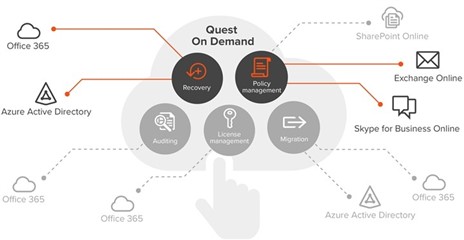 Hands on Office 365 Tech Lab, What I can expect on the day
Date: Wednesday, 14 March 2018
Time: 1:00–4:30 p.m.
Location: Microsoft Technology Centre, Building 3, Microsoft Campus, Thames Valley Park
Reading RG6 1WG
On Arrival you will be be introduced to Quest OnDemand followed by tow hours of Lab work using the machines provided. There will be multiple Quest software Solution consultants helping you with any questions that you may have.
After the hands on Lab everyone will be invited for complementary drinks and canapes in Malmaison hotel. On the day you will be entered into a draw to win a Samsung S3 Smartwatch along with receiving a full 2 months extended trial license.
Sign up today, register now.
Try Quest On Demand today!
We invite you to take a free, 30-day trial of one or all of the Quest On Demand modules. With nothing to download or install, it's easy to get started.
Just register, sign in and go!