Quest® Enterprise Reporter Suite was named the winner of a Bronze Stevie® Award in the New Product or Service of the Year - Software - Governance, Risk & Compliance Solution category in The 16th Annual American Business Awards®.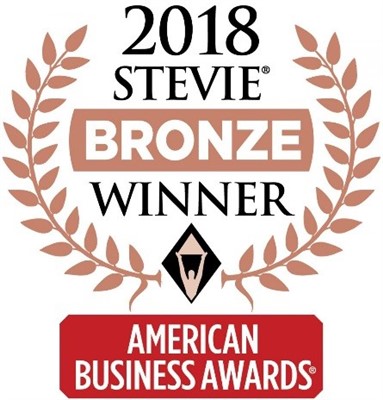 The American Business Awards are the U.S.A.'s premier business awards program. All organizations operating in the U.S.A. are eligible to submit nominations — public and private, for-profit and non-profit, large and small.
More than 3,700 nominations from organizations of all sizes and in virtually every industry were submitted this year for consideration in a wide range of categories, including Startup of the Year, Executive of the Year, Best New Product or Service of the Year, Marketing Campaign of the Year, Live Event of the Year and App of the Year, among others. More than 200 professionals worldwide participated in the judging process to select this year's Stevie® Award winners.
What is Enterprise Reporter?
Insider threats in which malicious insiders or inadvertent actors obtain unauthorized access to an organization's network and the resources connected to it can cause as much damage as externally initiated attacks, as often it involves misuse and abuse of privileges. According to Harvard Business Review, 70 percent of employees have more access than they need and are over-privileged, and the 2016 IBM Cyber Security Intelligence Index report stated that 66 percent of attacks were carried out by insiders. Understanding user privileges, who has access to what data, and the ability to easily remediate unnecessary privileges is critical to organizations maintaining their security posture and protecting their environment against external attacks and insider threats.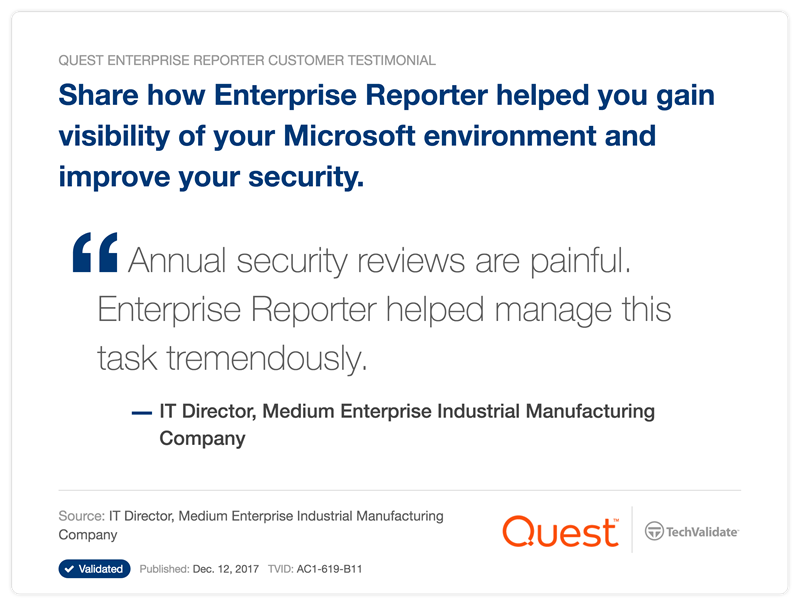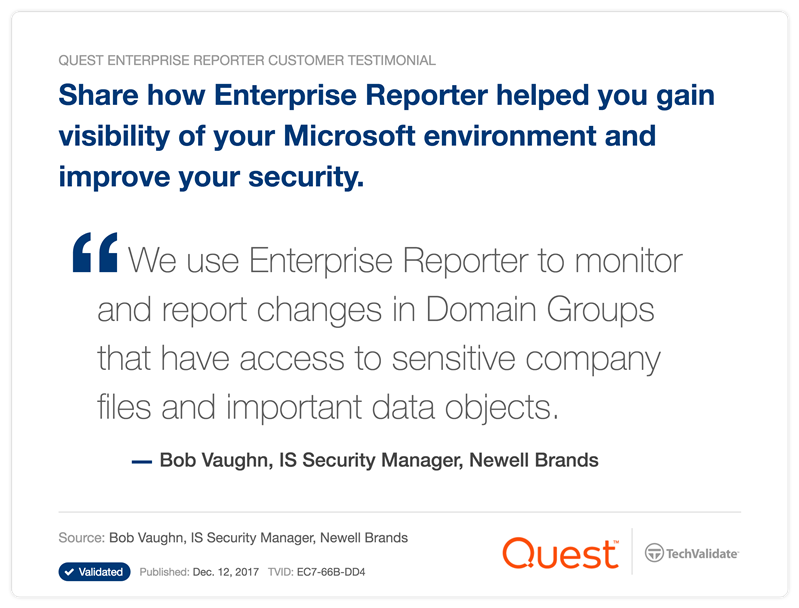 Enterprise Reporter helps customers keep data across their entire Microsoft environments — whether on premises, in the cloud or a hybrid of the two — secure and compliant. Comprehensive access assessments and built-in reporting capabilities give users deep visibility into Active Directory (AD)/Azure AD, Exchange/Exchange Online, Office 365, OneDrive for Business, Windows Servers, SQL Servers and NAS/SAN storage, including users, groups, permissions, configurations and more. This solution enhances compliance with security best practices and internal policies while helping customers meet external regulatory mandates, such as HIPAA, GDPR, PCI, SOX and FISMA.
Innovations in 2017
The New Product or Service of the Year category includes all product management, product development, product engineering and manufacturing functions. New products and services, including brand-new and new-version products, released in the U.S. since January 1, 2017 were eligible to be nominated.
In August 2017, Quest launched Enterprise Reporter Suite, a simplified Microsoft platform security compliance, reporting and remediation offering. Most notably, this product release included the new ability to report on Office 365 — Azure AD, Exchange Online and OneDrive for Business — in one console alongside Active Directory, Windows file servers, Exchange, SQL and NAS/SAN storage. Another notable enhancement was the ability to remediate permissions with Quest Security Explorer®, which was now integrated within the Enterprise Reporter UI and included with Enterprise Reporter Suite at no additional cost.
Security and compliance visibility across multiple Microsoft environments: Report on users, groups, permissions, configurations and more for Active Directory, Azure AD, Exchange, Exchange Online, Office 365, OneDrive for Business, Windows Servers, SQL Servers and NAS/SAN storage.
Hybrid environment reporting from a central console: Reduce time and minimize errors with built-in reporting on hybrid environments, including AD/Azure AD, Exchange/Exchange Online, SharePoint and OneDrive for Business.
Centralized permissions management and remediation: Remediate inappropriate permissions, as well as grant, revoke, modify and more, from within a centralized reporting interface.
Optimize Office 365 license allocation and service plan decisions: Gain visibility into tenants, subscriptions and licensing.
Enterprise Reporter Suite
With Enterprise Reporter Suite, organizations improve compliance with security best practices, internal policies and external regulations with visibility into the configuration of all critical IT assets:
Active Directory/Azure AD — AD users, groups, roles, organizational units and permissions; Azure AD users, groups, roles and application service principals
Exchange/Exchange Online — Delegated rights on mailboxes, mail-enabled users, distribution groups, public folders, permissions and more
Office 365 — Configuration and who can access Azure AD, Exchange Online and OneDrive for Business, as well as tenant, licensing and subscription information
Windows file servers and NAS devices — Configuration and who can access shares, files, folders, printers, registry keys and services, including file and folder permissions
OneDrive for Business — File and folder permissions and access, including whether content can be shared internally or externally
SQL Server — Database security configuration, including users, logins, roles and database permissions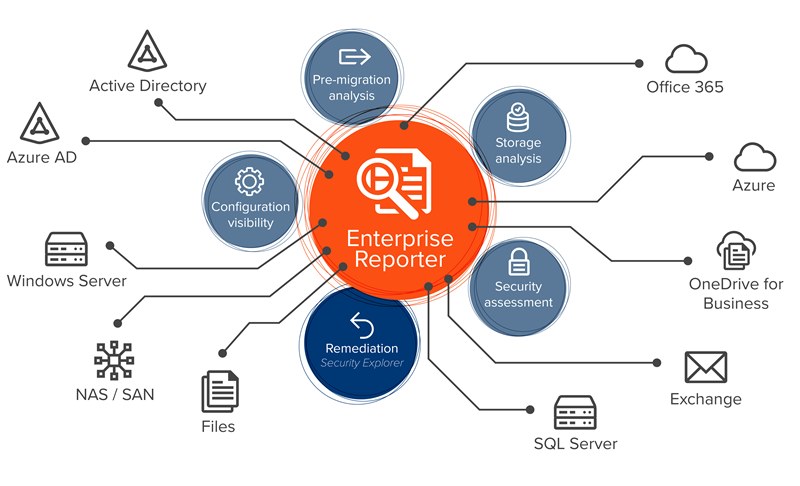 Enterprise Reporter Suite includes Security Explorer, which allows administrators to quickly take action to remove inappropriate permissions. Additionally, IT admins have the ability to quickly grant, revoke, clone, modify and overwrite permissions from a central location. This eliminates the need to manually search each server for permissions. Users can search for inherited or explicit permissions on file servers, Exchange server, SQL Server and SharePoint, and permissions to services, tasks, users and groups. This combination of reporting and remediation facilitates security and compliance, enabling customers to stay ahead of security vulnerabilities to prevent breaches.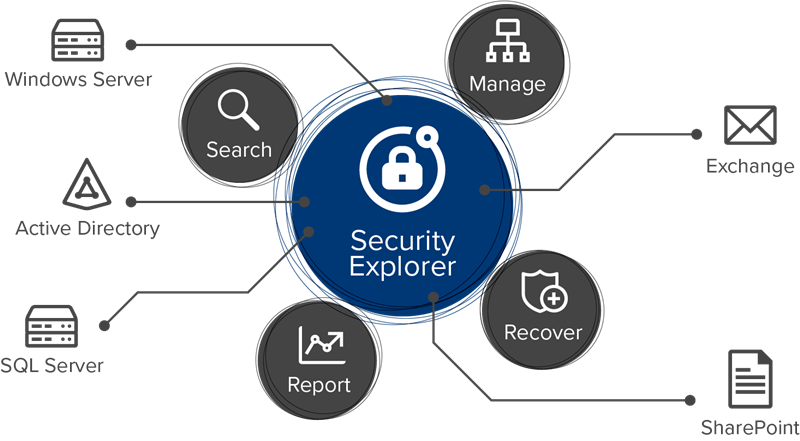 Cloud support and migrations with Enterprise Reporter
As organizations move to the cloud and find themselves in a hybrid world of on-premises and cloud computing, security will be top of mind. With Enterprise Reporter Suite, there's no need to run separate scripts on both on-premises and cloud assets, and results are generated from a single user-friendly interface.
Enterprise Reporter Suite supports Office 365 and provides full insight into users' access and configuration of Azure Active Directory, Exchange Online and OneDrive for Business with permissions reporting. Licensing data — tenants, subscriptions, usage and service plans — allows for easier optimization and license allocation, as well.
Enterprise Reporter automates and streamlines both pre- and post-migration analyses. It ensures a smooth domain or tenant migration or consolidation project by pinpointing user and group dependencies, object matches and potential conflicts, and unused or disabled accounts before the migration starts. Enterprise Reporter also thoroughly assesses data prior to migration to eliminate outdated or non-essential items to reduce complexity and accelerate timelines. Post-migration reports can be generated to make sure that only the users, groups and other AD objects you need are in the new environment.
What's next?
Each year, the Quest R&D and Product Management teams continue to innovate and invest in Enterprise Reporter Suite. Coming in July, customers will see new features, such as (but not limited to):
Azure resource discovery and reporting — Collect and report on Azure subscriptions. Basic information from the tenant (tenant name and full LDAP path), subscription, resource groups and resources are always collected. You can optionally collect information for the following resources:

Virtual machines
Disks
Networking
Storage accounts
Network security groups
You can also optionally collect information on access control and nested members.
AD permissions management — Grant, revoke, clone, modify, delete, export, backup and restore permissions on Active Directory objects. You also can search for permissions, back up and restore permissions, and generate reports.
In addition to receiving the Bronze Stevie® Award in the New Product or Service of the Year - Software - Governance, Risk & Compliance Solution category, Enterprise Reporter Suite also took home the 2018 People's Choice Stevie® Award.
Take a moment to read my other blog where I share why customers love Enterprise Reporter.
Not a current Enterprise Reporter customer? Take Enterprise Reporter Suite for a spin today!