Guys… This year may have been our best VMworld yet! Our amazing staff of data protection and performance monitoring experts came out to Las Vegas and got to really know our customers. We listened to your thoughts on current trends in the data protection and performance monitoring space and had a lot of fun doing so along the way. To recap, here are the top highlights we experienced at VMworld 2016.
This year… We had our own AWESOME booth
Let me start by saying this year we had our own booth just for our fabulous performance monitoring and data protection products. Our event management team did a fantastic job creating our first break-out booth and it really allowed us to talk about data protection and virtualization software more effectively with our friends at VMworld. It was fun to showcase our demos in a freestanding format for the first time and really connect with people at each kiosk.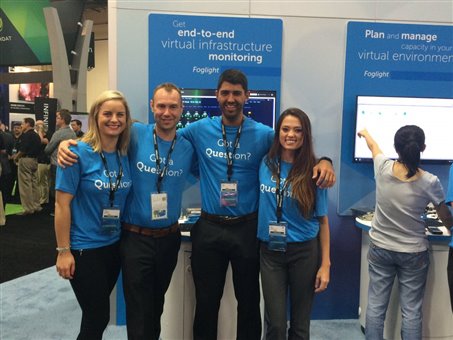 We got to see Fallout Boy and Capital Cities LIVE!
Up close and personal with @falloutboy at #VMworldparty #VMworld! pic.twitter.com/8MExggV3Yd

— Dell Virt Mgmt (@DellVirt) September 1, 2016
Jamming with Capital Cities at #vmworld appreciation party at Las Vegas Speedway. pic.twitter.com/HDqKuh0iSL

— VMBlog (@vmblog) September 1, 2016
Fun Games and Great Giveaways
Who DIDN'T want one of our funny "It's time to hate the game and not the player" t-shirts? Some even wrote a review about how our t-shirt stacked up to the competition. Throughout the night, people kept coming up and asking how they could get a hold of one of our t-shirts because they liked the message and they looked comfy. We let them know that all they needed to do was play our 'It's time game' to win one.
Stop by booth 2111 and play our @DellSoftware "it's time" game for a teeshirt! #VMworld pic.twitter.com/V7aCXCmIFc

— Dell Virt Mgmt (@DellVirt) August 29, 2016
Highest score on our Leader Board went to 'lesterd88' as the fastest player at just 3 MIN and 91 SEC! That's fast y'all. Major props to our second runner–up 'Natasha' who scored 2nd and 4th in our top 5.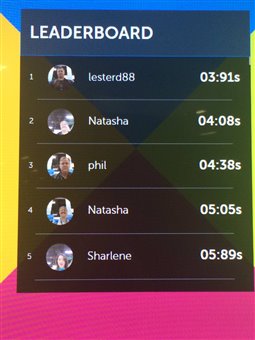 We also had 3 awesome winners in our Samsung S2 Gear Smartwatch Giveaway and had a HUGE crowd for each gathering. Check em' out below.
@andri_ciorba is the winner of our last Samsung smartwatch giveaway! #VMworld #VMworld2016 pic.twitter.com/UjRnT3KT9Y

— Dell Data Protection (@DellDP) August 31, 2016
The winner of our #VMworld day 3 Samsung smart watch giveaway! #VMworld2016 pic.twitter.com/jpPrrPzsJJ

— Dell Virt Mgmt (@DellVirt) August 31, 2016
.@jckjbrown is the winner of our day 2 #VMworld Samsung smart watch giveaway! pic.twitter.com/YzkkUeXaPx

— Dell Virt Mgmt (@DellVirt) August 30, 2016
Our experts, Hassan and Jeremiah spoke about Dell Data Protection and Foglight
During this year's break-out session, Hassan Fahimi, Product Manager and Jeremiah Mason, Sr. Product Manager discussed the top 10 most important IT priorities over the next 12 months.
Improve data backup and recovery
Manage data growth
Increase use of server virtualization
Manage data growth
Using cloud infrastructure services
Business continuity/disaster recovery programs
Our DR appliances, NetVault Backup, vRanger, Rapid Recovery and Foglight products were shown to help IT departments optimize and secure their data so they can save time and innovate more. Many customers stopped by the booth to learn more about our Rapid Recovery software (formerly AppAssure) that helps assure Zero impact from disasters with 5-minute snapshots of backup data and live recovery of VMs. We also had time to cover the new RapidSnap for Virtual and customizable dashboards multi-stream updates, along with the scalability of NetVault Backup v11.1 and upcoming features of DR OS 4.0. people about their virtualization
We also had the chance to speak to booth attendees about their virtualization challenges, and showed how Foglight for Virtualization and Foglight for Storage Management can help improve performance, save on costs, and make systems administrators the heroes of the organization. We also showed some sneak previews of the soon-to-be-released Foglight Capacity Director, which takes virtual capacity planning to the next level, with scenario modeling, automated workload allocation, and forecasting based on real data. The positive response was overwhelming!
See Jeremiah on Wed at 11am - It's Time to Expect More from your Virtual Environment [MGT9948-SPO] #VMworld pic.twitter.com/ldpiVXG1OH

— Dell Virt Mgmt (@DellVirt) August 30, 2016
We heard your thoughts on the event





We got to ride at the Las Vegas motor speedway!
Need for speed on the @LVMotorSpeedway at the #VMworldparty #VMworld pic.twitter.com/U5Z04kOVrS

— Dell Virt Mgmt (@DellVirt) September 1, 2016
By the end of the week, we had a fantastic time getting to know you better and it looks like you all felt the same. We had a record breaking 224 of you sign up to our SIM Community and if you're reading this after having just signed up, we're glad to have you back. Please check out a few more of our articles by experts: Chad Bower, Danalynne Menegus and Kay Benaroch. For questions feel free to explore our community forums and visit our Foglight for Virtualization and Data Protection product pages. We hope to see you next week at Microsoft Ignite in Atlanta! Please follow us on @Quest and see all of our posts live at '#MSIgnite''.