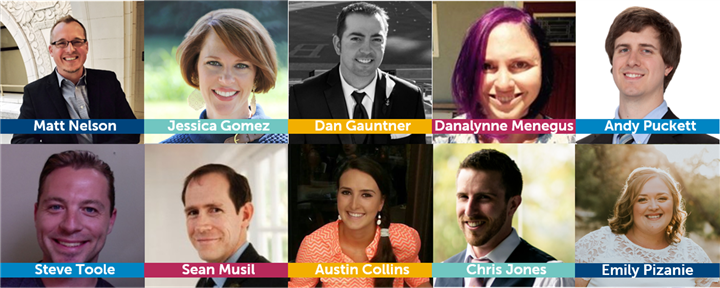 In less than two months, we will be at Microsoft Ignite! We invite you to stop by booth #1210 and meet the staff. But not before getting to know a little more about a few members of our booth staff first. Have other questions for them? Ask in the comment section below.
Introduce yourself and tell us one fun fact about yourself.
Matt Nelson: I live in West Michigan, right near the beautiful beaches of Lake Michigan with my wife and our six kids. Our kids range from 2 years old to 20 years old and they keep us busy all the time. We enjoy all sorts of outdoor activities as a family. A fun fact about me is that that I am a DJ on weekends.
Jessica Gomez: I am a Product and Marketing Director. I enjoy food and beverage A LOT.
Dan Gauntner: I am a Senior Product Marketing Manager. I oversee the positioning and go-to-market strategy for Office 365, Active Directory, Exchange, SharePoint and Lotus Notes migration solutions. My fun fact: I once paid a $100 parking ticket in nickels. I went to the bank to get a box full of rolled up nickels and took it to the tow company. It was a win/win. The tow company got paid and I got the last laugh.
Danalynne Menegus: I'm the Product Marketing Manager for Foglight for Virtualization. I love cats – all cats.
Andy Puckett: I'm a Data Protection Systems Consultant based out of Nashville, TN specializing in Rapid Recovery. I've been here for six years. I am a huge fan of the Tennessee Vols and Titans!
Steve Toole: I am a Sales Engineer on the Microsoft Platform Management team. I provide technical guidance and perform product demonstrations for potential customers looking to manage their Microsoft Active Directory implementations more efficiently.
Sean Musil: I am the Endpoint Systems Management Product Marketing Manager, K1000. For my high school graduation, I received a cow as a graduation gift.
Austin Collins: I am newly transitioned from the wonderful world of sales to join our marketing team as a Product Marketing Manager. Fun Fact: I just got married in April to my wonderful husband, Clay, and we had a real, live Sloth named Sienna attend our wedding! Clay loves Sloths, so it was a surprise.
Chris Jones: I am a Product Manager for Foglight for Virtualization. I cover Hyper-V, Storage and Openstack. Fun fact: Life is about coffee, snowboarding and boutique beer, and in that order.
Emily Pizanie: I am the Social Media and Community Advisor for the Endpoint Systems Management and Microsoft Platform Management teams. One fun fact about me is that my favorite food in the entire world is tomatoes.
What was one highlight from last year's conference?
Jessica Gomez: This will be my first year in attendance.
Dan Gauntner: I wasn't at MS Ignite in person, but I think the biggest highlight of last year was the fact that it was the FIRST one! I am so excited to go this year!
Austin Collins: I didn't attend, but I am so looking forward to all highlights this year!
Emily Pizanie: Last year, I had the opportunity to meet so many amazing people and customers. The energy at the conference was incredible! Probably the biggest highlight for me was our customer appreciation party.
What are you looking forward to the most this year?
Matt Nelson: I am looking forward to hearing about "what's next" from Microsoft and how our software will continue to play a role in the new world of IT.
Jessica Gomez: I'm looking forward to better identifying opportunities to partner with Microsoft.
Dan Gauntner: I am looking forward to all of the new announcements from Microsoft around Windows Server 2016, Office 365, Azure Active Directory and SharePoint 2016.
Danalynne Menegus: I'm excited to be showcasing Foglight for Virtualization's support for Hyper-V, Active Directory, and Exchange and hoping that the attendees find it as compelling as we do.
Andy Puckett: Meeting other attendees and learning about their organizations. Discovering what is working for them and what isn't working. I'm looking forward to showing those folks how we can help solve data protection challenges and where we're going in the future.
Steve Toole: Since this is my first MS Ignite, I am looking forward to connecting with customers/attendees to understand current challenges and how DSG's Microsoft Platform Management products can help solve them.
Sean Musil: I hope to learn how we can best partner with Microsoft to drive our business.
Austin Collins: Talking with customers to understand their thoughts, challenges, and points-of-view on where their industry is going and what they need to get there.
Chris Jones: I can't wait to see the release of Server and Hyper-V 2016 and what Microsoft brings to Hybrid Cloud.
Emily Pizanie: I am looking forward to talking to folks about our brand new community!
What do you think folks will be talking about this year at MS Ignite?
Matt Nelson: Hybrid Cloud security and strategies.
Jessica Gomez: I think most people want to better understand the direction the Cloud is going and how Microsoft will lead the charge.
Dan Gauntner: I am looking forward to the mix of topics this year. Microsoft will make some big announcements about Windows Server 2016 and SQL Server 2016. But most of the buzz will be about the cloud – Azure, Office 365, etc.
Danalynne Menegus: I expect there will be a lot of focus around Azure, Containers, and Windows Server 2016.
Andy Puckett: I'm expecting cloud technologies, specifically Azure, to be a hot topic. It's a big emphasis for products and is only going to continue to be more and more prominent focus of the software industry.
Steve Toole: I come from a Security/InfoSec background, so I am excited to hear about conversations revolving around security and how Microsoft is addressing it.
Sean Musil: Windows 10 Migration
Austin Collins: Cloud and Security!
Chris Jones: Azure and Hybrid Cloud
Emily Pizanie: From my perspective, I believe customers are going to talk about security and Azure.
Do you have any talents or hobbies, outside of IT, that you're passionate about?
Matt Nelson: When I'm not in front of a computer, I am usually fishing.
Jessica Gomez: I like the outdoors, including kayaking, fishing, and camping.
Dan Gauntner: I love to be active. Running, working out, golf, tennis, basketball…just about anything that gets me active and competitive!
Danalynne Menegus: My favorite thing to do when I'm not working is read. I tend to pick sci-fi/fantasy or British mystery novels, but enjoy just about any type of interesting story – the more fantastic, the better.
Andy Puckett: I'm a big music nerd, I play guitar for fun and enjoy going to see as many Phish (my favorite band) shows as I possibly can.
Steve Toole: I love to bike, golf, hike and pretty much anything else outdoors where I can enjoy the nice weather.
Sean Musil: I'm learning to read tarot cards. I spend a few minutes almost every day with this weird old French deck I found.
Austin Collins: I'm really crafty and find myself crafting when I can. I danced professionally for many years so that's probably my top talent and enjoy it when others aren't afraid to bust-a-move on the dance floor with me!
Chris Jones: Outside of IT, coffee. Coffee can be a great way to explore new cities, meet people and learn about a region's food culture.
Emily Pizanie: I have many passions outside of IT, but I am most passionate about Disney. Ask me about my Tsum Tsum collection!