RemoteScan supports the following Fujitsu ScanSnap models, in addition to the standard TWAIN and WIA, enabling these scanners to be used with server hosted TWAIN or ISIS compliant scanning applications:
iX1500
iX500
iX100
S1100i
S1300i
To configure RemoteScan to detect the iX500, iX100, S1100i, S1300i, follow the instructions found on our previous forum post, here: https://www.quest.com/community/quest/remotescan/f/remotescan-forum/28138/how-to-configure-scansnap-manager-to-work-with-remotescan
To configure RemoteScan to detect the iX1500, do the following:
1. Download ScanSnap Home from the Fujitsu website, and install it on the workstation that needs to scan.
2. Install/upgrade RemoteScan Enterprise to version 10.808 or higher. Make sure that check box to "Update to Allow ScanSnap scanning" is checked in the installation wizard. Note: if your scanning application requires an ISIS driver, use the latest version of RemoteScan Universal instead of RemoteScan Enterprise.
3. In the RemoteScan server icon on the workstation that needs to scan, make sure that the iX1500 is selected as a scanner.
4. Open ScanSnap Home and click on Settings>Scan Settings.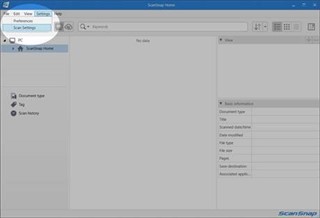 5. With the desired scanner selected, click on Edit Profiles icon.
.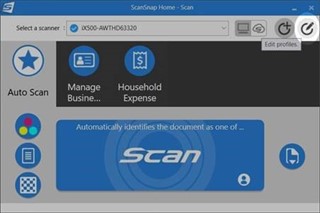 6. Under the Auto Scan tab, modify the dropdown field for "Send To:" Select "RemoteScan."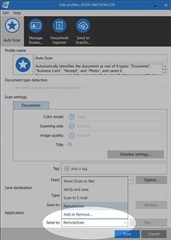 7. Click "Save."
Now that you have RemoteScan and ScanSnap Home configured to enable support for the iX1500, you can get started scanning. You can now, within your Remote Desktop, Terminal Server, Citrix, VMware, or Azure session, open up your TWAIN or ISIS based document scanning software. When you go to acquire an image, RemoteScan will now show up as a scanning choice, detecting your locally attached Fujitsu ScanSnap. The scanned image is immediately transmitted to the server, and can then be saved. It's that easy!
Additional documentation can be found here: https://www.quest.com/remotescan/support.aspx
Need to test it? Get set up with a trial today: https://www.quest.com/register/84201/