Established over 15 years ago, with about 2,000 customers worldwide, and reporting on over eight different Microsoft platforms.
So it comes as no surprise that Quest® Enterprise Reporter Suite is a People's Choice Stevie Award winner.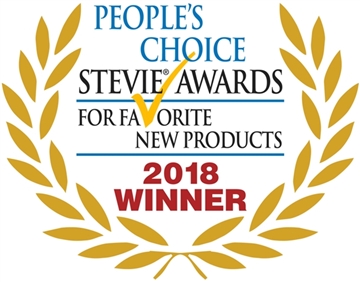 The People's Choice Stevie® Awards for Favorite New Products are a feature of The American Business Awards®, in which the general public can vote for their favorite new products and services of the year. The American Business Awards are the nation's premier business awards program. More than 58,000 votes were cast in 48 people's choice categories this year. All new products and services submitted to the ABAs' new product categories were included in people's choice voting.
So why do customers love Enterprise Reporter Suite?
Well, I interviewed a few of our Quest experts who not only talk to our customers daily but have lived a day in the life of a systems admin. They've been where you are. Read what they have to say.
Bryan Patton, CISSP, Principal Solutions Consultant: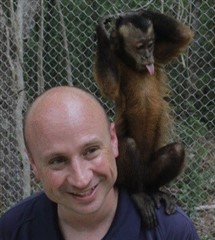 Consolidate groups — Going back to the '90s when NT 4.0 was around, organizations were migrating from legacy NT 4.0 to Active Directory (AD). Over the years, new groups were created for different reasons, yet most organizations have yet to clean up and restructure their AD infrastructure. "With Security Explorer®, you can consolidate and clean up the number of groups you have by creating a new group. Look at old groups that are permissioning data and say for every Group 1 and Group 2 that exists, change it with this New Group A. If there are issues with access, you can simply roll back to the original state," says Bryan.
Manage AD permissions — "Customers often take on a least-privilege-access-type project to enforce the minimal level of user rights needed for the user to perform his/her role; for example, implementing a solution like One Identity Active Roles or a similar AD proxy management tool. But what's going to stop them from using native rights and delegation points in AD? By removing native rights, this forces them to use your AD-proxy management solution, removing any potential back doors that could be left open," says Bryan.
To reduce risk and improve security in your AD infrastructure, you can use Enterprise Reporter Suite to report on AD permissions and identify native delegation points, then use Security Explorer, which is included with Enterprise Reporter Suite, to remediate or remove them, as well as back up the permissions in case you need to revert back.
*Want to go the extra mile?* Our complementary solution, Change Auditor, which also was named a People's Choice Stevie® Award winner, can be used to audit any changes that are made to AD, including if someone is changing native AD delegations.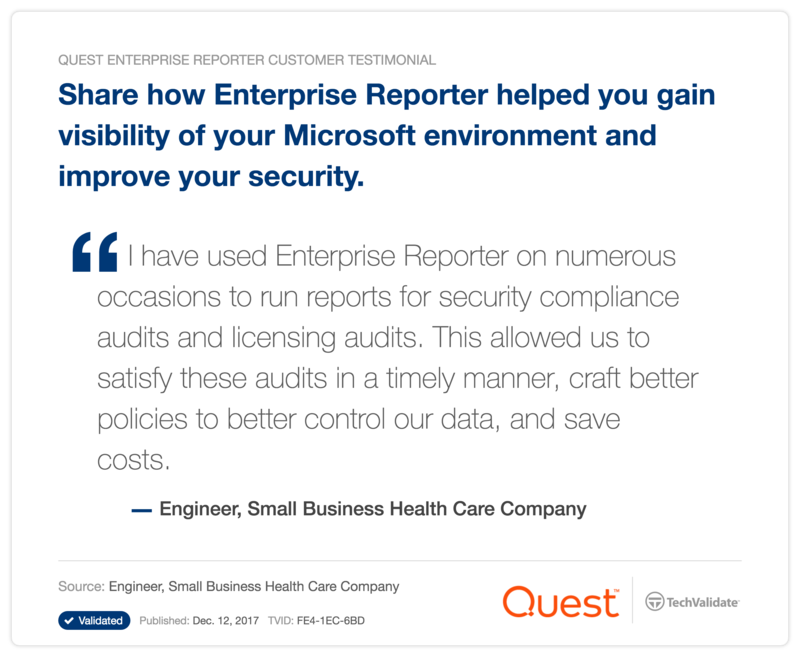 Know where nested groups exist — "A customer was looking at a Group Policy Object (GPO) they thought was cool and applied it to a domain controller (DC) organizational unit (OU). But if you look at some of the GPO's settings, it turns out that server operators are allowed to log in to the DC locally. What you thought was a small number of people that could log in was actually a nested group that allowed a larger number of folks to log in locally to the server, which is a security risk," says Bryan. By understanding nested group memberships, Enterprise Reporter allows you to know who truly has access, and identify if someone has access they shouldn't.
Tri Nguyen, Enterprise Reporter Product Manager: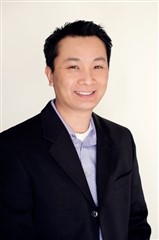 Collect and report against multiple platforms — From a single solution, you can collect and report from Active Directory, Azure Active Directory, Azure, Exchange, Exchange Online, Windows File Server, OneDrive for Business and SQL Server. "The ability to consolidate all reporting into a single UI is huge for customers," says Tri.
Customize reports — "Customers have the ability to modify and add fields to a report as they wish and really customize it to their liking and their organization's needs," says Tri. You don't have to wait for a vendor to create the report you need.
Extend cross-link data — "When companies need to access permissions and do a group membership report, depending on who's the owner, most reports just provide who owns what groups and the members. But many people may want to include other information about the members, such as if the account is enabled, phone numbers, department they work for and last logon. With Enterprise Reporter, you can add attributes to your report — just go to any object where a user group is defined, and extend and add the attributes about the user to the reports," says Tri. Enterprise Reporter enhances permissions reporting far beyond what native reporting can provide.
Neil Belfour, Sr. Systems Consultant: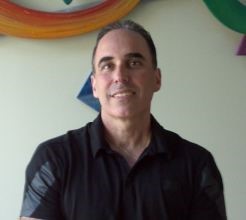 Elimination of PowerShell scripting — Without a third-party solution to gain visibility into permissions and access, there's no way to pull information without PowerShell. "Usually, you have one person who is the PowerShell king, and if they leave the organization, then no one has a clue to their scripts and you're lost," says Neil. Enterprise Reporter enables organizations with information, such as AD reports and NTFS, so they can find out what they don't know — you could be looking at millions of folders, but natively, you'd have to touch each folder.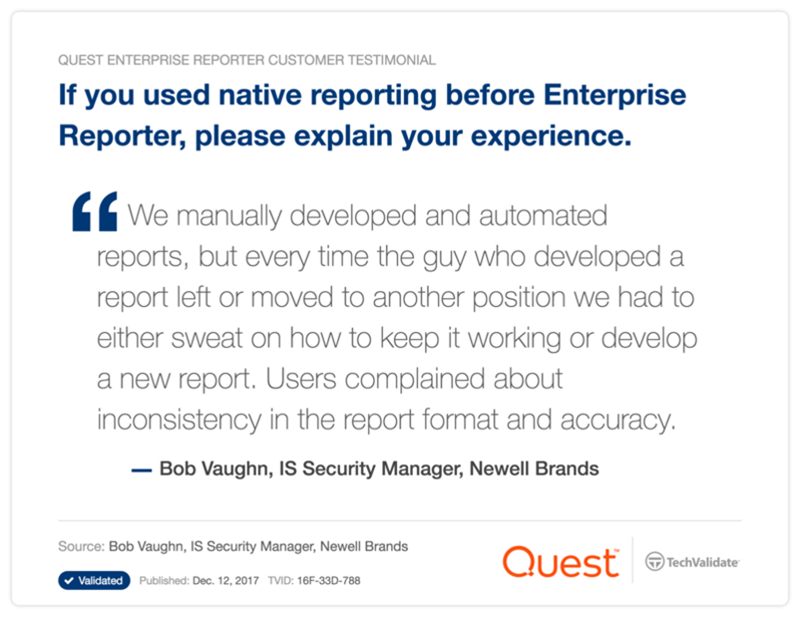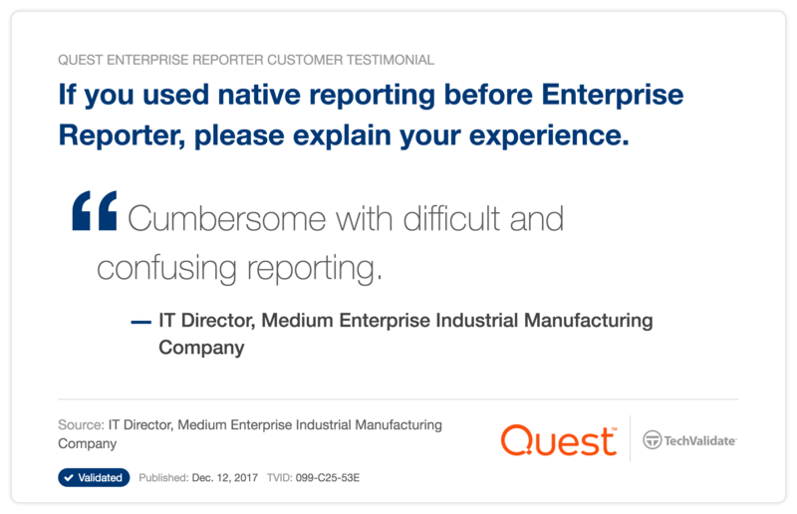 Data retention — Retention of valuable information is an important component to maintaining compliance. Native reporting doesn't give you a back-end database, doesn't allow for scheduled reporting, and doesn't have the ability to do a data set comparison, which all can be accomplished with Enterprise Reporter due to retention capability of legacy data stored within the database.
Attestation — For example, if you are the manager of the marketing department, you can have a report go to you on a weekly basis that shows all the activity in your department — all the groups in the marketing department, members and permissions that those groups have. "The report can also show you the users that are direct reports that haven't logged on in the last 30 days, allowing for departmental attestation," says Neil.
Enterprise Reporter continues to innovate
Each year, the Quest R&D and Product Management teams continue to innovate and invest in Enterprise Reporter Suite. Check out what product innovations occurred in 2017 that also earned Enterprise Reporter Suite a Bronze Stevie. More than 3,700 nominations were submitted to this year's American Business Awards for consideration in a wide range of categories, including New Product or Service of the Year, Most Innovative Company of the Year, Management Team of the Year, Best New Product or Service of the Year, Corporate Social Responsibility Program of the Year and Startup of the Year, among others.
Thank you again
We thank all of our customers, partners and fans who voted for Enterprise Reporter Suite to win this year's People's Choice Stevie® Award, and we also are thankful to our Enterprise Reporter customer base who continue to support and partner with Quest over the years.
Oh! And before I forget, Enterprise Reporter Suite was one of three Quest solutions to be named Stevie® Award Winners; the others were Quest On Demand and Change Auditor. Change Auditor is a very complementary solution to Enterprise Reporter Suite. If you need to report and remediate access and permissions (with Enterprise Reporter Suite), then once you've right-sized your user permissions and know who has access to what, you'll want to audit changes your users are making — what are they doing with that access? That's what Change Auditor helps customers do. Read this blog to see why customers love Change Auditor.