Installing Spotlight on SQL Server
If you'd like to take Spotlight on SQL Server for a spin, this post will tell you what you'll need to do it in terms of hardware, permissions and settings.
First, you're going to need the installer, which you can get from Spotlight on SQL Server Enterprise. Download the .exe file, along with the docs available. The trial software is the full Spotlight product with an embedded 30-day trial key. If you decide to proceed with a purchase, you can simply overwrite the trial key with a permanent one – no reinstall is necessary. During the evaluation period, we encourage you to monitor as many systems as you'd like and to distribute the Spotlight client to as many users as would like to try it out.
To give you a picture of what we're putting together here's, well, a picture: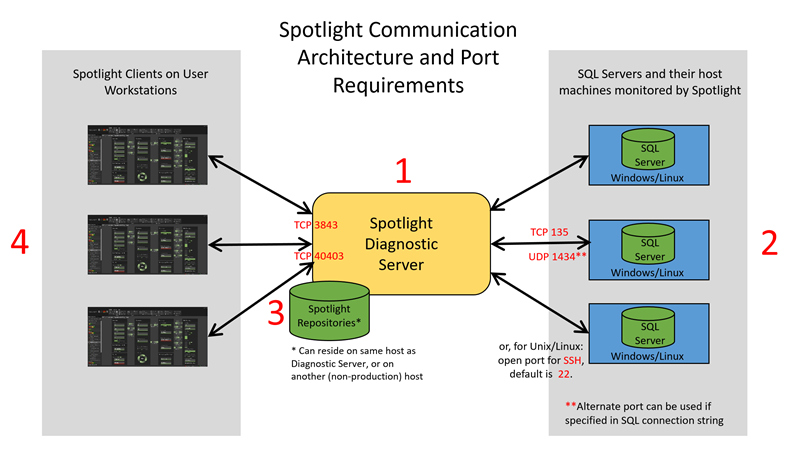 This is the Spotlight on SQL Server architecture in a nutshell. Item 1 is Spotlight's middleware, which collects and processes performance data. It should be installed on a tools server or some other non-production (physical or virtual) machine. 2 shows the SQL Server and Windows systems we'll be monitoring – don't worry – our data collections are agentless, so nothing gets installed here. 3 shows a SQL Server database that Spotlight will use to store historical information – you'll need to direct us to a (non-production) instance where we can create this. It doesn't need to be a dedicated SQL instance for us – but SQL Express won't cut it unless you're only monitoring a couple of systems. 4 represents Spotlight user interface clients – those go out onto each of your users' workstations.
Okay so on to the requirements
Here's what you'll need for the various components mentioned above:
The Spotlight user-interface client will need to live on user workstations with Windows Desktop 7 through 10 or Windows Server 2008 through 2012 R2, and that have at least a 1GHz Processor, 1GB RAM, and 200MB hard drive space.
The machine hosting the Diagnostic Server, the heart of it all, will need Windows Desktop 7 through 10 or Windows Server 2008 through 2012 R2 and at least a 2GHz Dual Core Processor, 300MB RAM, and 4GB of hard drive space.
The Spotlight repository will need to go on SQL Server 2005 or above. It will require about a half a GB of data space per monitored instance.
As far as what Spotlight can monitor, we can handle platforms of the following versions (or later): SQL Server 2000 SP3, Windows Server 2008, VMware vCenter 2.5, VMware ESX Server 4.0 an Hyper-V® 6.2.
Information in this post comes from the Spotlight Enterprise Documentation
Want to give the install a shot?
Once you have those requirements in place, an expert from Quest will be happy to step you through the installation, but if you'd like to give it a go yourself (it's really not so bad), here's a walk-through:
With the Spotlight installer .exe file located on either your workstation or the machine you'd like to host the Diagnostic Server on, go ahead and give it a double-click to bring up the installation wizard: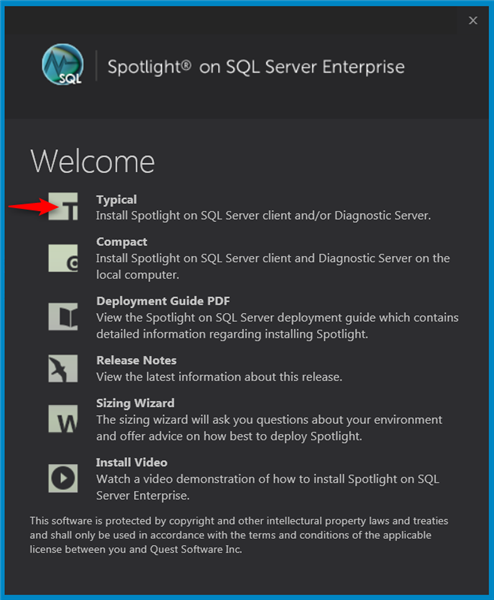 On this first screen, just choose Typical.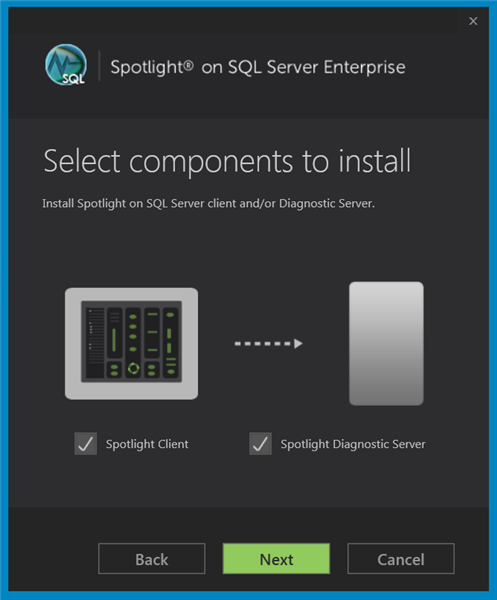 Spotlight will ask if you would like to install both the Diagnostic Server and the user interface client. Feel free to install the client in as many places as you want – we don't charge per seat. When using this installer for client-only installs, be sure to un-check the Diagnostic Server once you already have one so you don't create unnecessary duplicates. We do offer a client-only .msi installer on the download page to help with this.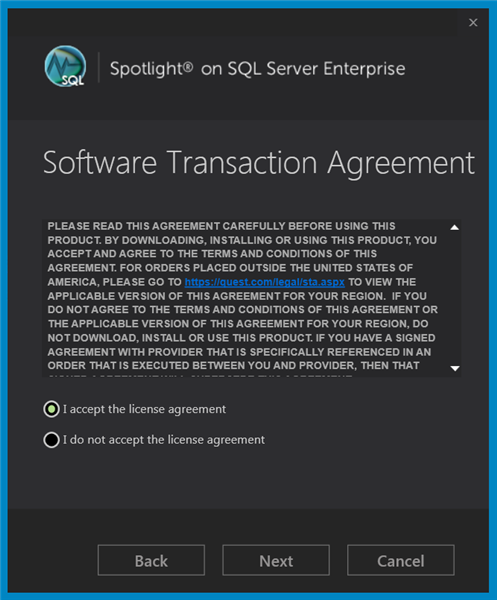 Aaaahhhh Legalease. Someone put their kid through college crafting this wondrous novel (and you gotta love those ALL CAPS), so read it, love it, and recommend it to your friends.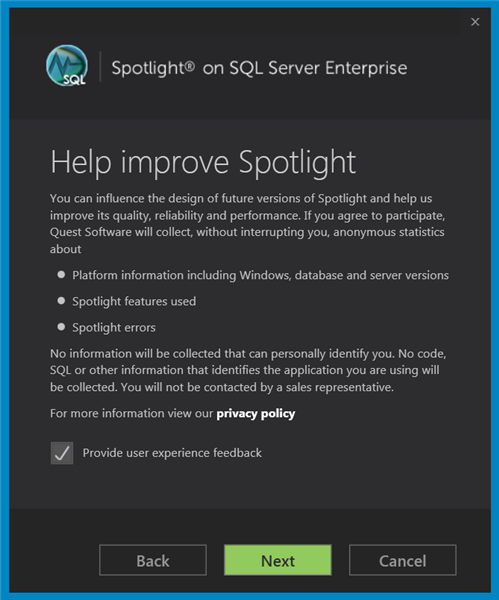 The above is self-explanatory, anonymous and totally optional, so I'll leave it to you.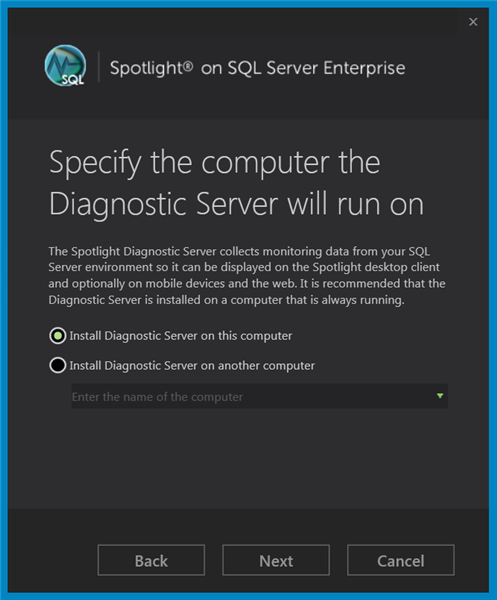 If you're running the installer on the machine that will be hosting Spotlight's Diagnostic Server, choose the first option above. If not, choose the second option and tell us where to put the Diagnostic Server.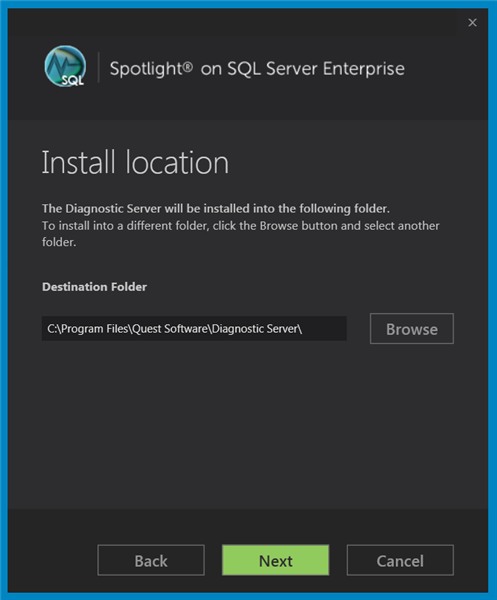 And this is, of course, where on your hard drive we'll be putting the Diagnostic Server files.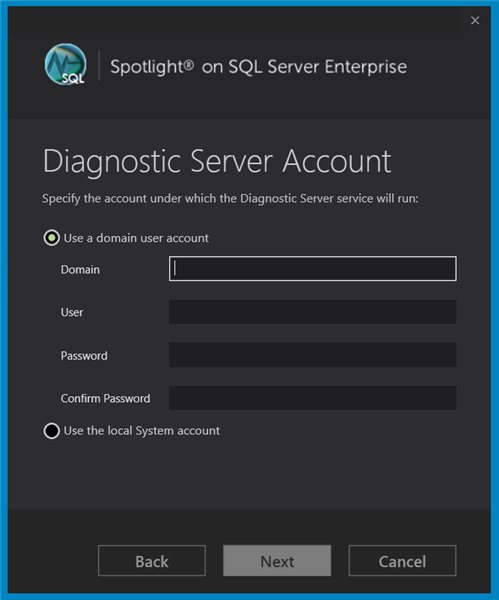 The Diagnostic Server will run as a Windows Service under whatever account you give us here. Notice that you could just use the Local System Account, but you might want to consider the top option. If you give us a domain user account that has the necessary permissions on the systems that we will be monitoring, we can simply use this account going forward to connect to those systems, saving you from having to retype the login and password each time you add a system for us to monitor. Most users give us a service account with SQL and Windows Administrative-level permissions, but lesser permissions can be used, and are discussed in the Deployment Guide that is available to download along with the Spotlight evaluation installer.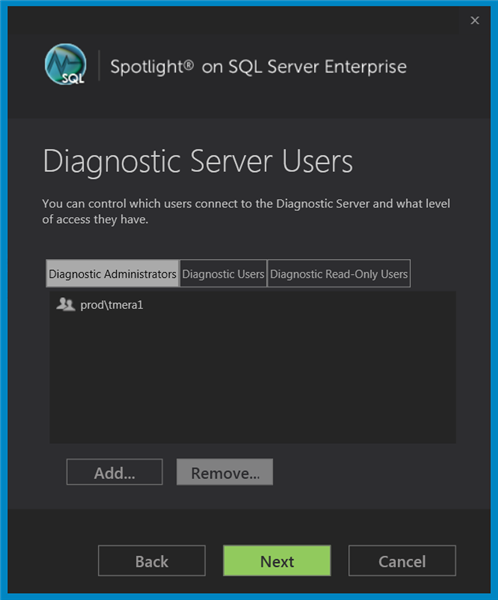 The Spotlight installation creates three Windows User Groups (you can always find them in Windows Computer Management, and they all start with the word Spotlight). Which group a Spotlight user is in determines what they can do with Spotlight. Diagnostic Administrators can configure Spotlight and take a handful of actions on SQL Server through it (such as killing a SQL Server session). Diagnostics Users can configure Spotlight but not take SQL Server actions through it, and Read-Only Users can look but neither configure nor do SQL Server actions through their Spotlight client.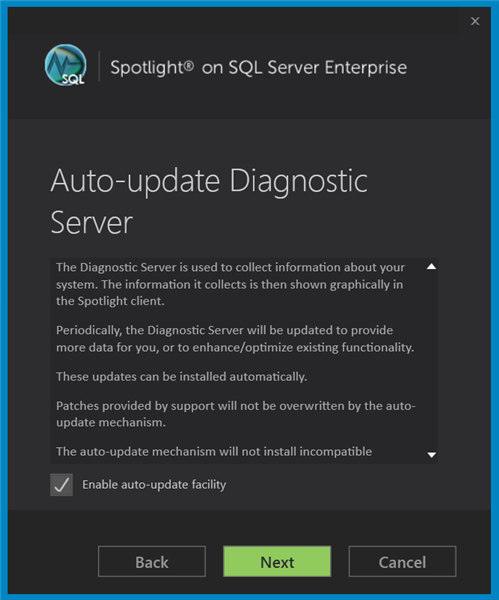 If you'd like us to automatically install patches and minor releases, let us know here.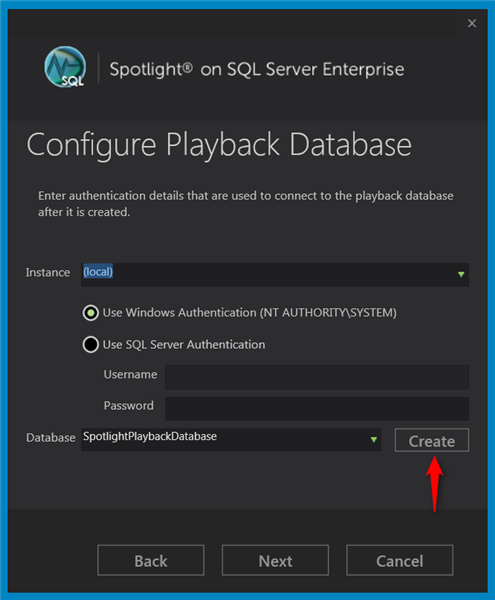 Spotlight needs a database (called SpotlightPlaybackDatabase by default) to store historical data, so choose a non-production SQL instance where we can create this. We don't need a dedicated SQL instance. Once you've chosen where to locate the playback database and the authentication that Spotlight can use to read and write to it, choose Create.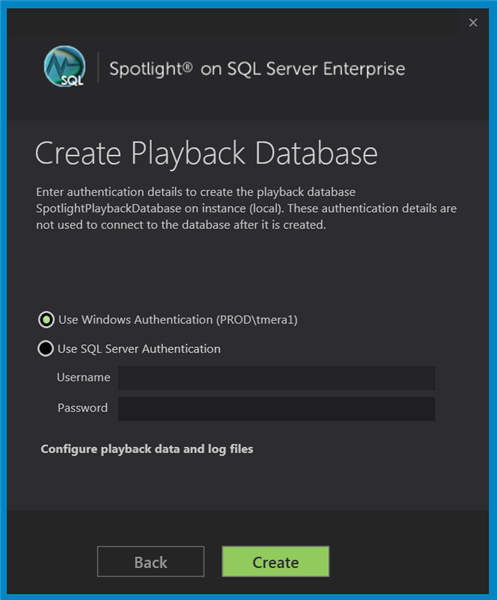 Now we're at a screen where you'll need to provide an account that has permission to create a database. Your account (which you're likely running the installer with) will probably have these permissions, so after reviewing the file locations we're using via the "Configure…" link, you can usually just hit Create.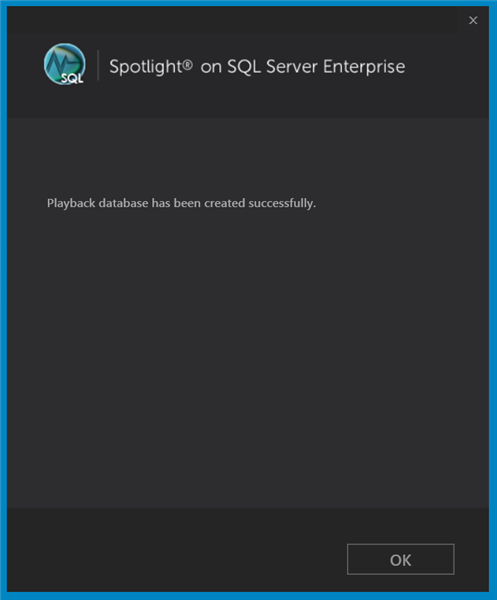 If all is well, you should see this, and you can click OK. What else are you gonna do?!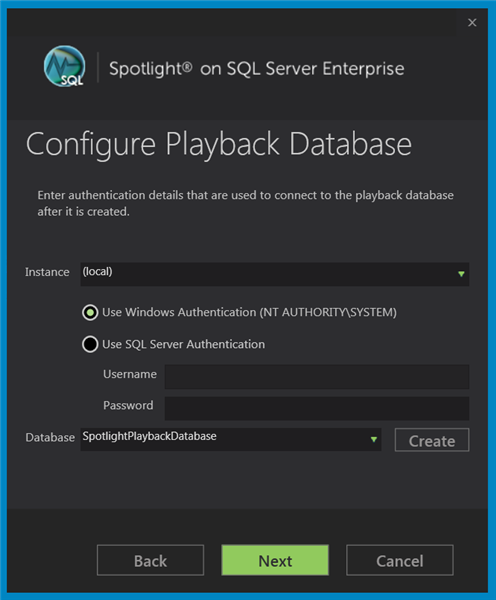 And now you should be able to use Next to proceed.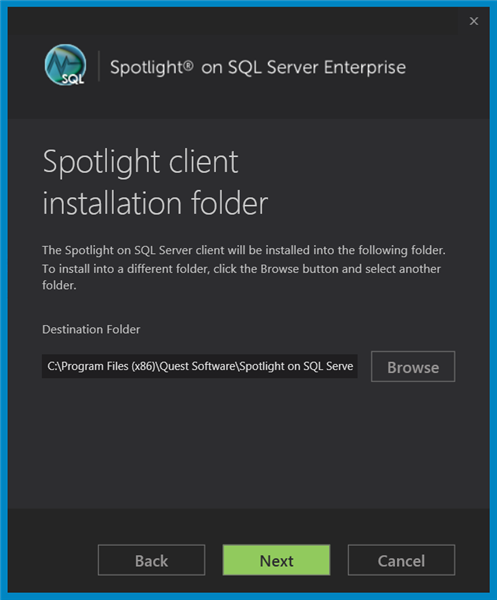 So we've finished choosing the options for the installation of the Diagnostic Server, and we're getting the Spotlight user interface client set up. Drive path is all we'll need here.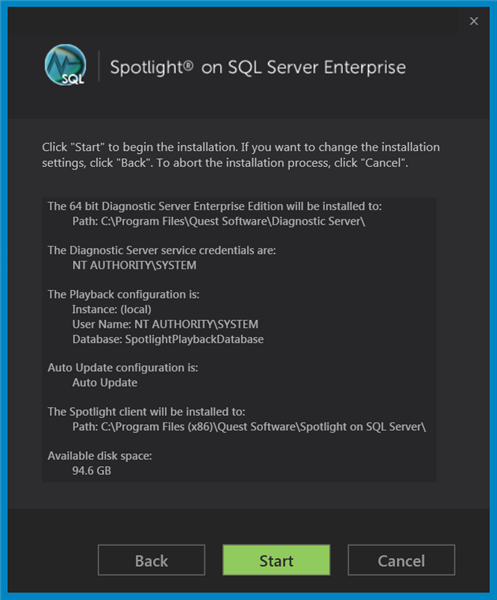 Then we get a little review screen to make sure that we don't need to back up and change anything, and a Start button to set it in motion…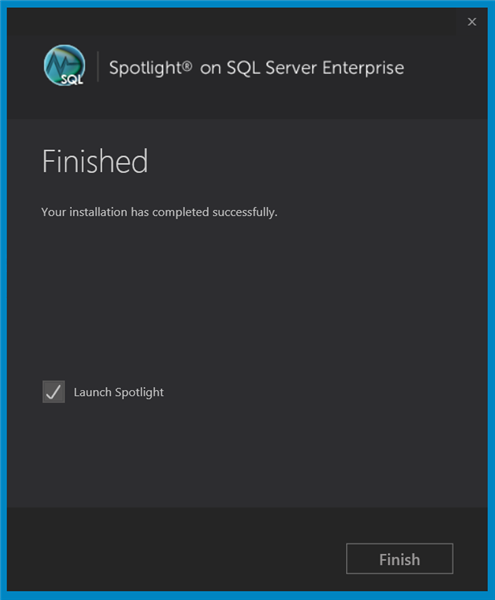 And that's it! Just hit Finish to get the Spotlight client up and running. Next you'll need to connect Spotlight to the systems you would like to monitor.
Now go enjoy Spotlight on SQL Server, and please don't hesitate to contact us here at Quest to get answers to your questions.
All of my Quest Database Performance blog posts can be found here.