An interesting, at least to me, topic surfaced during a conversation recently with one of our Stat customers. The customer has Stat for PeopleSoft, Stat for Oracle E-Business Suite, and Stat for Generic applications implemented in their environment and have been using the solutions for over four years. Needless to say, I enjoy talking with our customers and love hearing how Stat is working in their environment.
I also love hearing any challenges customers face as well. I see a challenge as an opportunity to improve our product, help our valued customers, develop a working relationship, and better understand how they use our Stat solutions. In this particular case, our customer implemented Stat primarily for its object management and migration capabilities. This is not unusual. At the time they implemented Stat they did not configure Stat's workflows to support their end-to-end change management process. They took a minimalist approach to workflows and focused primarily on the developer function.
The customer is now interested in extending their workflows to support more of their change management process including migration approvals, business rules, status rules, and transfer rules. This may sound like a lot of work but it really isn't. In fact, with the latest Stat release (6.1) there are additional capabilities which make updating workflows easier than ever. For example, you can synchronize updated workflow rules with open CSRs. Now, you have the option to update open change requests when you update your Stat workflows. Previously, changes to a workflow were only available on a 'going forward basis'. This meant changes to workflows were only visible on new CSRs.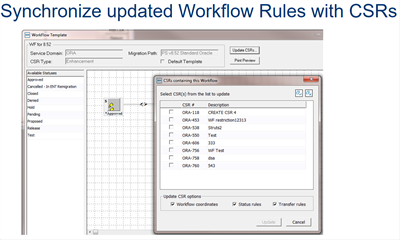 Stat 6.1 release also enhanced the Workflow Auto-Advance functionality by extending auto-advance of workflows based on a migration event, patch apply event, and/or completion of an activity (task) that is part of a transfer rule. Previous versions of Stat supported Auto-Advance when a transfer rule consisted of an approval rule and the approval rules were met.
I can recall several instances when this capability would have prevented a change being escalated because someone forgot to manually advance the workflow. For those of you adopting or having adopted DevOps you are probably as excited as I am when you thing how this one enhancement can help improve your cycle-times.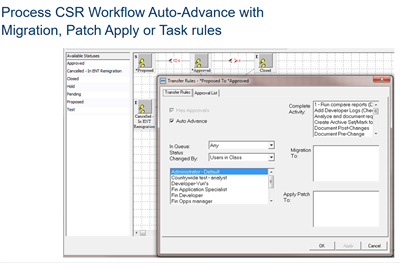 When I was a customer, this is about the time I started reviewing my Stat workflows. My annual audit was typically wrapped up by this time of year so I had the audit results and could address any audit deficiencies around our process. I would schedule a meeting with stakeholders and we would review the Stat workflows, our change management policy, and, if any, audit findings. I would project each Stat workflow and we would discuss what worked and what needed tweaked to better align with our policy and/or remediate any audit findings. The goal was to improve our process and increase our change management control strength before the start of the New Year.
So, I encourage you to download the latest Stat release and check out the new workflow enhancements as well as the other enhancements in the release and plan your upgrade. If you need help planning your upgrade, reach out to your account manager and they will help you scope out a statement of work with our professional services team. If you have any questions about performing a process review using Stat or would like to learn more about our latest release, let me know. I'd be happy to schedule some time with you to discuss your Stat process or share with you more information on our latest Stat release.