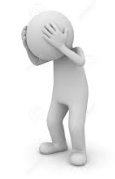 The replication solution that has been recognized as one of the Trend Setting Products of 2017 from Database Trends and Applications now supports SQL Server to SQL Server replication. Originally developed for Oracle to Oracle replication covering many use cases including high availability, off-load reporting, data distribution and consolidation, zero downtime migrations, and more, SharePlex's time tested architecture now is available for SQL Server replication with the same advantages of SharePlex's unique architecture including Fault Tolerance, Data Integrity Checks on every transaction applied, and selective data replication.
Avoid the headaches of constant administration, re-syncing with snapshots, and high latencies with SQL Server replication and give SharePlex for SQL Server a try.
It makes sense to take advantage of these differentiators –
Selective replication - wildcard character matching patterns for selectivity
Simple configuration – one configuration file that identifies schema, tables, even specific rows and/or columns to be replicated
Data synchronization tool – TOAD Data Point
One solution – no add-ons – syncing and monitoring included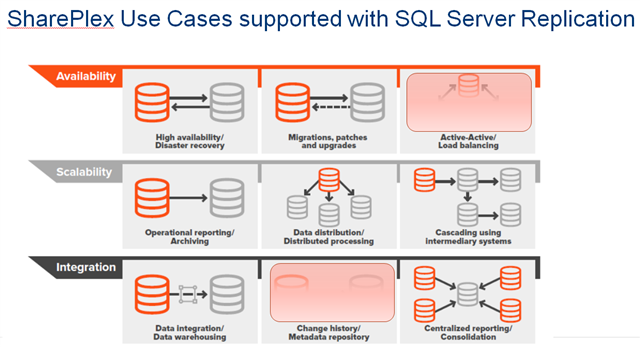 So many use cases with one license per server -
High Availability for planned (maintenance, upgrades) or unplanned downtime
Migration to new servers
Offload data for reporting, data marts, data warehouse
Migration to the cloud
Migration to or from different database platforms
Bringing data to a centralized location from multiple locations
Offloading processing to a secondary real time database for read only access (one primary write and several read only servers)
Refreshing development or test environments
Keeping data in synch in multiple remote locations
Offload data for data archiving
SQL Server to SQL Server or Oracle or SQL Azure
All the advantages of SharePlex replication can now be had for SQL Server, not only replicating from SQL Server to SQL Server but also to Oracle and to SQL Azure. SharePlex for SQL Server takes advantage of the SQL Server publisher to capture transactions from the Transaction Logs but from there, the SharePlex queues and processes provide the Fault Tolerance and Data Integrity checks, and simplicity in administration and configuration that makes our SharePlex customers sing our praises.
Get relief! Or start from scratch! SharePlex for SQL Server for your replication needs.
More information about SharePlex configurations can be found on our Database Replication page.
Download a trial - SharePlex Free Trial