When using Litespeed to run your backups, restores and maintenance plans on your instance of SQL Server, it runs its own stored procedures to complete the necessary tasks.
Whilst Litespeed can also create backups without using its stored procedures, if you wish to take advantage of the great features Litespeed has, such as Log Shipping, the extended stored procedures need to be installed.
When installing or upgrading Litespeed, as part of the install or upgrade procedure, the Litespeed Instance Configuration Wizard will automatically run, so that the stored procedures for the relevant Litespeed version are installed. If you don't wish to run Instance Configuration at that time, the wizard can be run at any time from Start | Programs | Quest Software | Litespeed for SQL Server | Litespeed Instance Configuration
In this blog post, we will go through the options when running on a local repository, for this important step in your Litespeed configuration.

Instance Configuration

The first screen in the wizard will explain the procedure and ask about configuring Activity Logging on your instance. When enabled, this option will record backup/restore activity and can be viewed within Litespeed. (More information on this, can be found in the blog post 'Activity Logging for Backups and Restores in Litespeed'.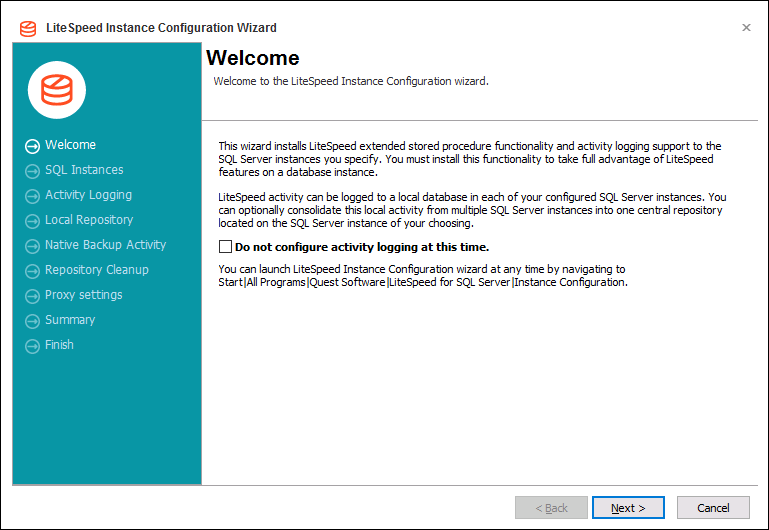 The next screen is where you can choose the SQL instances that you wish to install the Litespeed stored procedures to.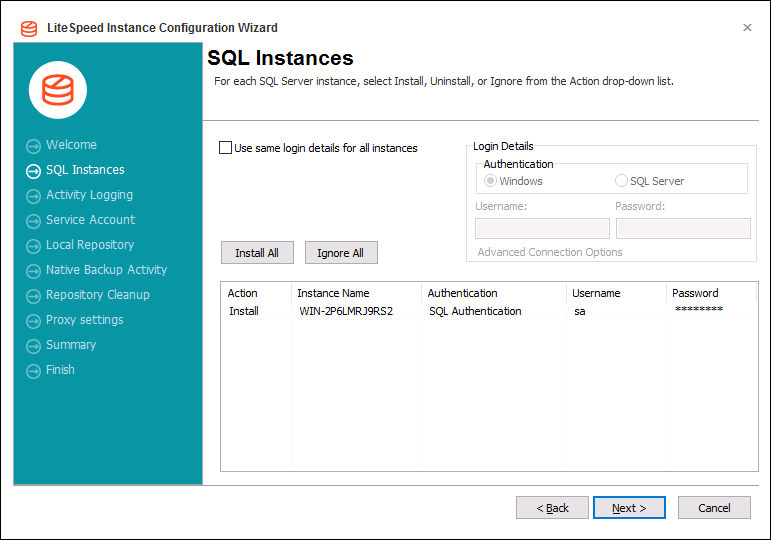 In this example above, there is one instance, but it's possible to see more in your environment. You can choose whether to Install the objects (default option), Uninstall them, or Ignore an instance, leaving it in its current state, by choosing from the Action column: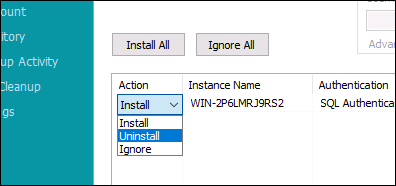 The next step is to determine if you want to configure a local repository to collect your activity information, or a central and local repository: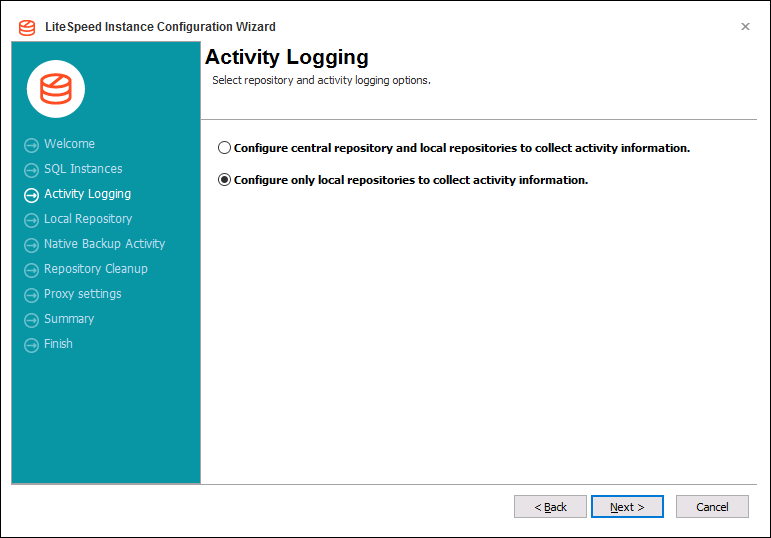 Central Repository creation:

In this guide, we will create a Local Repository, but if you do choose to create a Central Repository, you'll see the following screen, where you can configure the server that the Central Repository will reside upon, and the database name (should you wish to change it from the default name):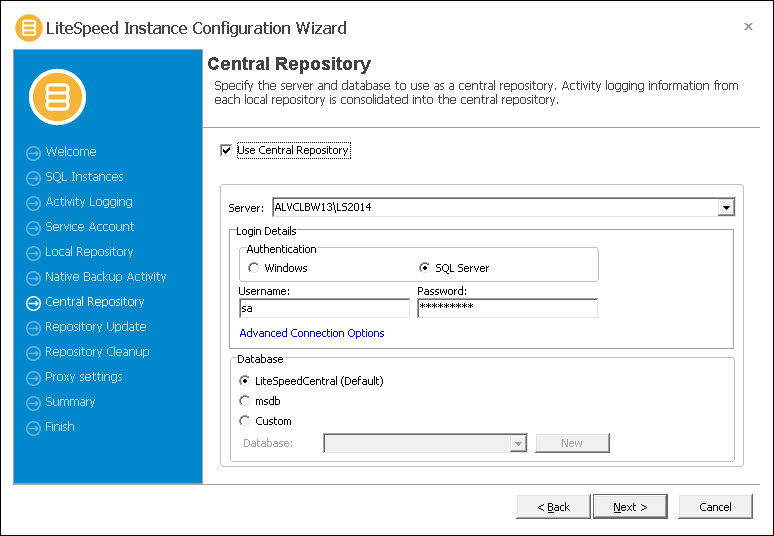 NOTE: If creating a Central Repository, any pre-existing Central Repository will be upgraded if a prior install has not done so already. Once upgraded, older versions of Litespeed may not be able to replicate data to it.
The Repository Update page allows you to indicate when you want the central repository to be updated with backup and job statistics.
You can have LiteSpeed update the central repository:
- Automatically after any LiteSpeed activity, such as after every backup/restore operation (best for real time statistics).
- Via a scheduled SQL Server job (best for minimal network traffic).
- Manually.
We would recommend that you select 'Automatically after any LiteSpeed activity', for both selections.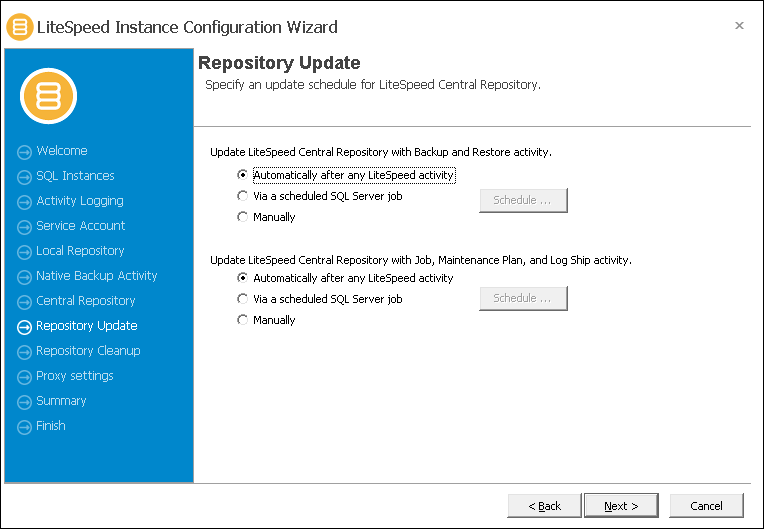 Back to our Local Repository creation, Next, choose the server instance to connect to, to create the Local Repository.
LiteSpeed uses the login details you specify to connect to the server instance, create the database, and add objects to it. This account must have the appropriate permissions.

It is also possible to customise the name of the Local Repository in the 'Database' section in the field below.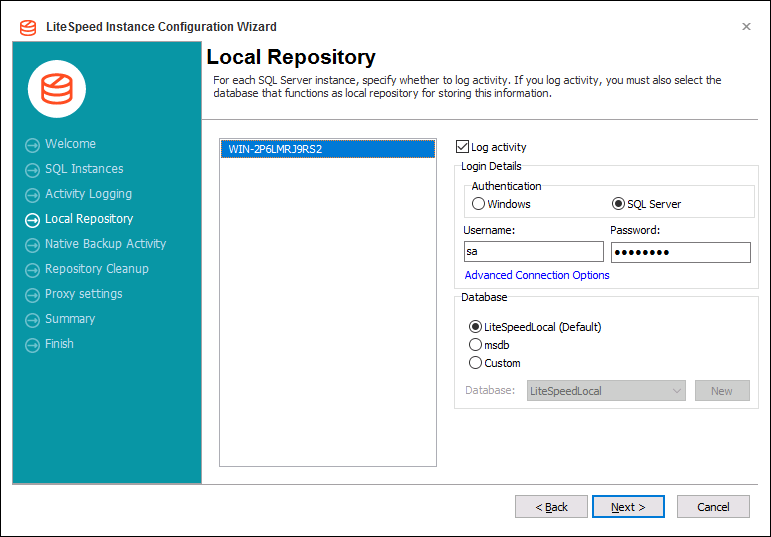 Moving on, you can choose to update the local repository with information about native SQL Server backup activity and view it in the LiteSpeed UI Console. Click Schedule to modify the default schedule.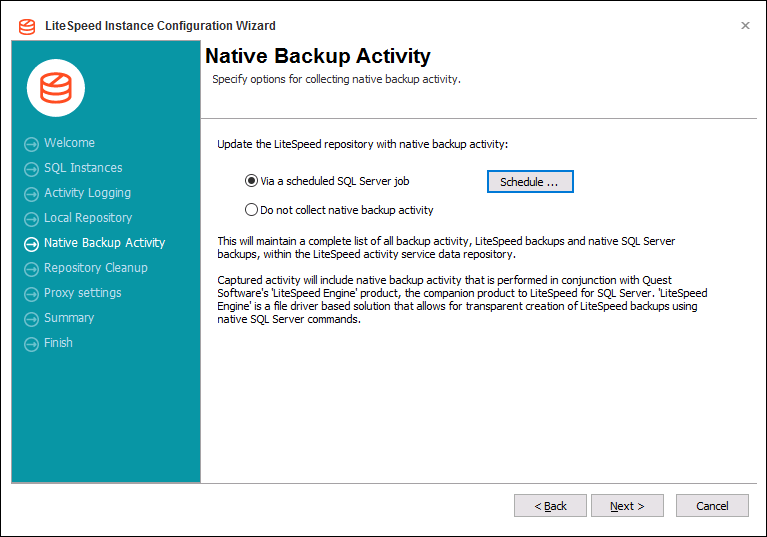 In the Repository Cleanup screen, you can set repository maintenance, including when to delete old data from your repositories, and how much of that data to delete.
Old data can be deleted from the local repository, central repository, or both. The 'Schedule' button opens a screen where schedule information can be changed.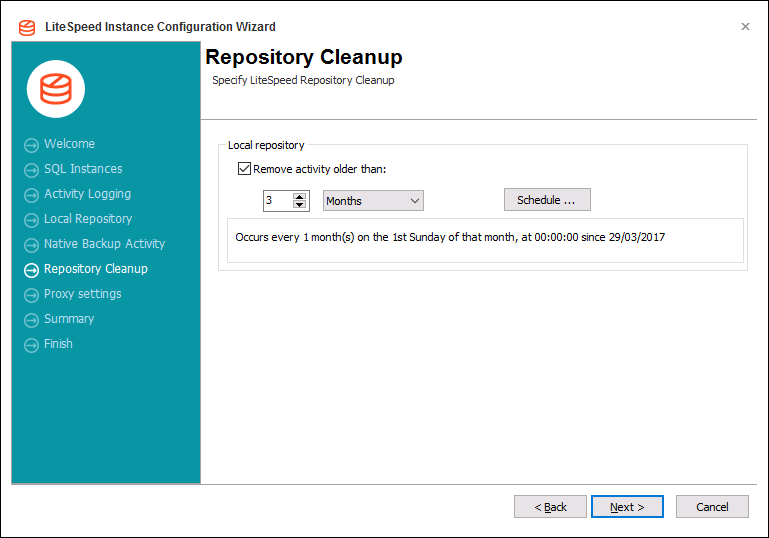 Next, is the option to specify proxy settings if you intend to backup to cloud storage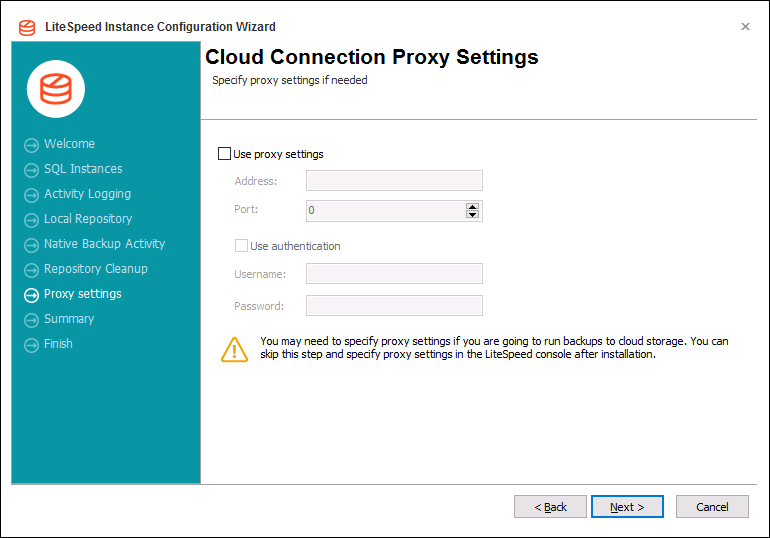 Once the wizard is complete, a summary shows everything that's been configured, and when you're ready, press 'Next' and the Instance Configuration runs.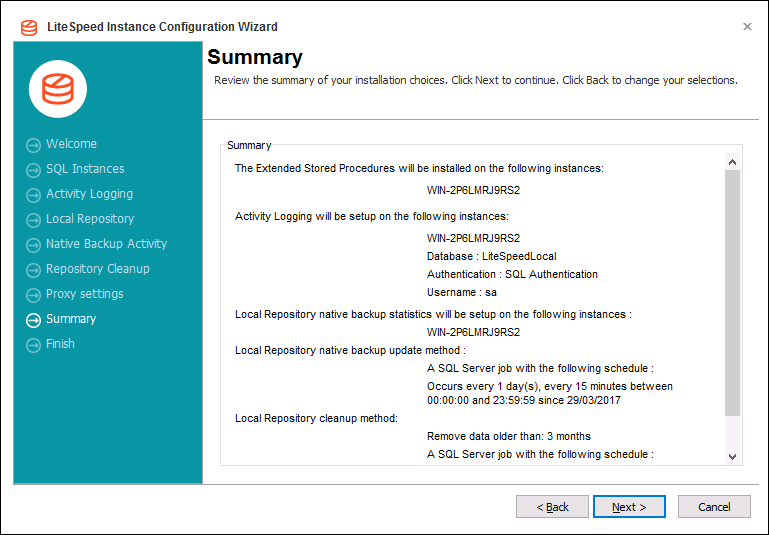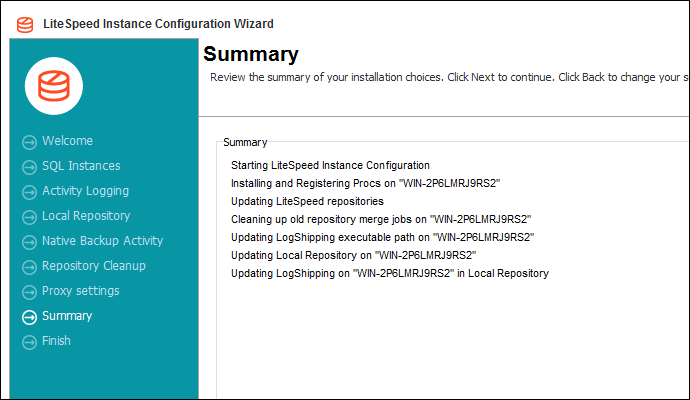 Once complete, you can run the following command in SQL Server Management Studio to verify that everything is up to date:
EXEC xp_sqllitespeed_version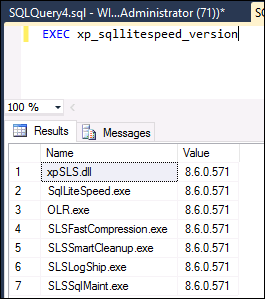 If there is any time where this isn't the case, and some of the values are for an older version, or blank, please re-run Instance Configuration to ensure the installed version of Litespeed will work correctly.
Hopefully this has been a useful run through of this important setup step!
Additional information can be found in the Installation Guide.