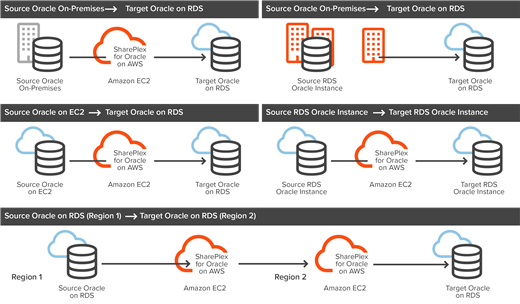 If you've been putting off your cloud migration, we've got good news for you: SharePlex® 9.1 is here, and it makes it safe and easy to get your data to cloud offerings like Amazon Web Services (AWS).
What's AWS?
It's a service that lets you rapidly and easily provision the relational database you want, only in the cloud, so you can scale up or down, depending on business needs. It's a solid, secure option among all the cloud offerings out there right now.
But getting my data there is probably a pain, right?
Not with the new release of SharePlex®. Version 9.1 is specifically designed to migrate data to the cloud – without downtime, data loss, business interruption or all the stress you may have dealt with in the past during traditional migrations. You can even buy SharePlex® for Oracle on AWS on the Amazon Marketplace, making it as easy to buy a hassle-free cloud migration as it is to buy a pair of socks! And the really cool thing about SharePlex is, it doesn't just help ensure uptime during migrations and upgrades, but it helps afterward as well.
How does that work?
With its powerful real-time data replication and integration, SharePlex 9.1 makes it safe and simple to move mission-critical data. Installing, configuring and activating SharePlex replication doesn't require bouncing off your databases or servers. That means SharePlex can migrate your databases to the cloud with zero downtime and zero footprint on your infrastructure. After that, you can use SharePlex to ensure high availability long term by doing things like offloading reporting for BI and analytics. And that's just the beginning when it comes to SharePlex use cases. Pretty cool, right?
Sounds great. Anything else I should know?
You mean like how SharePlex offers award-winning support, around the clock, every single day of the year? We've got your back. We're ready and waiting to help you achieve your migration goals with an all-inclusive replication solution that's a fraction of the price of other tools.
I'd like to learn more about this.
That's what we like to hear! Read more about AWS cloud migration. You'll quickly discover why so many DBAs love using SharePlex to perform fast, easy and affordable migrations to a multitude of platforms. We're talking about Oracle, SQL Server, MySQL, Postgres, Kafka, SAP HANA, Azure and Amazon Web Services. That's some serious flexibility! With SharePlex 9.1, you'll break free of vendor lock-in – because your middleware doesn't have to be the same as your database vendor – and get your data to the cloud, without the risk and worries that may have been holding you back.