Come one, Come all!
#Quest4EDBPostgres Webinar
Your Data is growing and growing and growing as is the cost of your databases and the thought of using an Open Source Database is really starting to look like a sweet way to go…..You're not the only one.
Open source databases have grown and matured into a strong alternative to the usual commercial database solutions. According to Gartner's The State of Open Source RDBMS, 2015, the OSDBMS market is worth $562 million and has grown 31% year over year since 2013. Gartner writes: "By 2018, more than 70% of new in-house applications will be developed on an OSDBMS, and 50% of existing relational DBMS instances will have been converted or will be in process.
According to Eric Raymond, a leading open source advocate, "Open source software is a big win for businesses, which are saving billions and passing that savings along to customers. . . . The open source movement is advancing because of feature-rich, high quality, reliable software with compelling economic benefits."
The DB-Engines.com website ranks the popularity of open source and commercial database management systems. The criteria used to rank the databases includes measuring the number of references for the product on industry websites, Google searches and job postings as well as the number of mentions on professional and social networks. The chart from DB-Engines.com below provides a historical trend for commercial and open source database products. The lines should be converging sometime in 2017.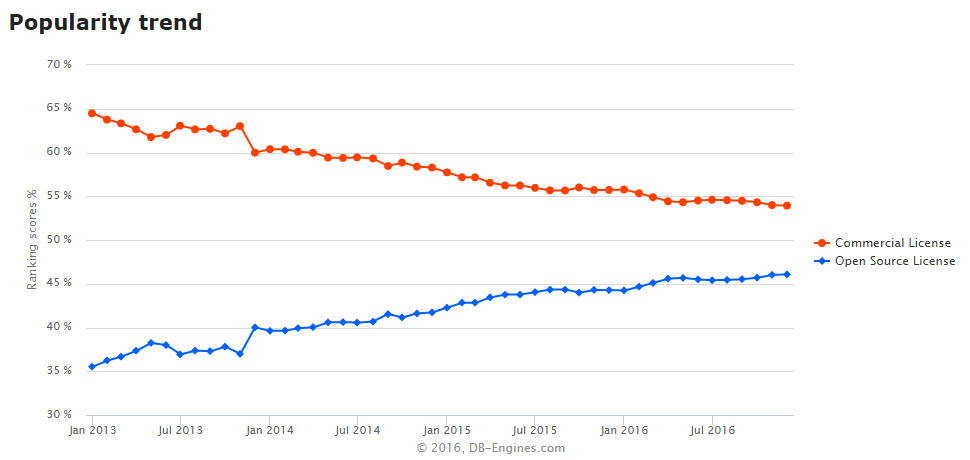 So what open source database are you going to use? And how are you going to get your data there?
Quest's SharePlex and EDB Postgres Advance Server are your answers.
Quest's SharePlex is the leading data replication tool out there for replicating your data from one environment to another. SharePlex can be used for many different use cases including near zero downtime for migrations, HA/DR environments, Offload reporting and many others.
EDB has been one of the leading Postgres database providers for some time offering their Postgres Advance server as a replacement for more expensive commercial RDBMS's that are out there.
When you put the two together you have an unbeatable combination of performance, reliability, scalability that is needed in today's big data world.
Now's your chance to learn about both. Join us on March 23 2017 at 9:00Am PST for a joint webinar showcasing both Quest SharePlex and EDB Postgres. The webinar will be hosted by Quest and yes for those of you who have been following my blog posts, I will be presenting SharePlex and how it can help you save money, time and effort for replicating your data to EDB Postgres.
Register for the Quest 4 EDB Webinar
See SharePlex replication to EDB Postgres in action:
SharePlex the MVP of replication football
Visit SharePlex for more information on replicating data.