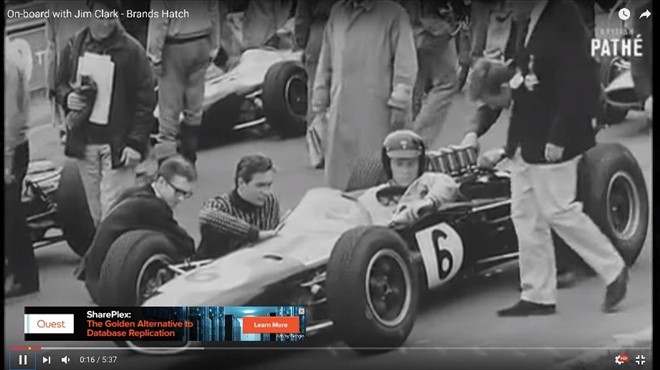 For those of you who don't know me. I love racing. I love Formula 1 racing and even more so I love the "Golden Age" of Formula 1 racing before all the electronics and ground effects. Back when it was driver against driver and you had to know how to drift through a turn at full throttle. Jim Clark was one of those drivers. He was born with the natural ability to control a race car through any type of weather or condition. In one race he was so fast he won 5 minutes ahead of the second place finisher. Plain and simple, he was the best! The other day I was watching videos of Jim Clark and a SharePlex ad popped up. It got me thinking just how appropriate this was.
SharePlex is to Data Replication what Jim Clark was to Formula 1 racing, the best of the best. SharePlex can get your data around your environment as fast as Jim Clark could go around a race track. SharePlex has been around longer than any other data replication tool out there today. SharePlex is easy to setup and use. You can actually get active replication up and running in under 15 minutes in most cases. A race car driver has to be able to drive in many different types of conditions and the same goes for data replication. You have to be able to replicate to many different types of databases. SharePlex currently can use both Oracle, and now with our 9.0 release, SQL Server as a source and can replicate to many different targets some of which include Oracle, SQL Server, EDB Postges, Teradata, Kafka queues and many others. SharePlex is also certified for cloud offerings such as AWS EC2 and RDS and Azure. SharePlex is the one solution with many use cases.
Just as Jim Clark was fast when it came to racing around a track, SharePlex is equally as fast when it comes to moving your data from source to target. One of the advantages that SharePlex has that makes it so fast is our optimistic commit that is built into SharePlex. As the data is seen in the redo logs, we are already moving it to your target database. The advantage of this means that your data is already on your target server and in the case of an Oracle database, it's already inserted. All SharePlex needs, is to see the commit and your data can be seen. We are not waiting for a commit before moving data or files or logs to the target destination.
As great as Jim Clark was as a driver, a driver still part of a team that includes engineers, mechanics, pit crew and many others. It takes everyone to make a driver successful. SharePlex has the same outstanding support that Jim Clark had. Our Support team is a six-time award winner of the Achievement in Customer Excellence. They have a > 75% Net promoter score and a 95% customer satisfaction rating. Not only are they available 24x7 but in such cases where it becomes needed our development team is also on call 24x7. In addition to our support there is our Professional Services Group. They are the pit crew of SharePlex. They will go into your environment and setup SharePlex so that you will get peak performance and speed for your replication. They will also teach you how SharePlex works so that you will self-sufficient and be able maintain your environment.
To be successful as a racing team you need to have the best of a complete package from owner, driver and support. With all this behind you, you will always be the winner. SharePlex, just like Jim Clark is the best of the best when it comes to meeting the data replication needs from software to support to development.
Visit SharePlex data replication for more information about our winning solution.