Sql Navigator gives the Oracle developer a powerful toolset that allows you to deliver better code faster.
With an easy to use interface and advanced drag-and-drop PL/SQL editing and debugging, Sql Navigator helps simplify the complex task of working with your code.
In this blog I will cover, at a high level, some of the features of Sql Navigator. You can always download a trial copy here and test drive it for yourself.
There are 3 editions of Sql Navigator that cover all of the needs of the Oracle developer. The Standard Edition provides most of the features any developer will need (below is a sample of features available in the Standard Edition):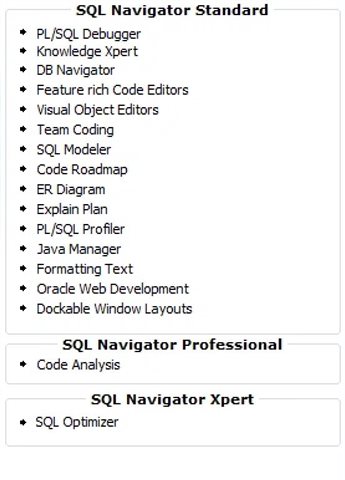 The Professional Edition allows you to analyze the quality and maintainability of your code and the Xpert Edition adds the SQL Optimizer so you can tune your queries and ensure they are running optimally before you move them out of development.
With features such as Project Manager and Team Coding you can organize your code into various projects, which can then be shared with other members of your team. Team Coding allows you to track changes to your code, either by using Team Coding only or by configuring a 3rd party VCS to talk to Sql Navigator and as you work on your code it can be automatically checked-out and checked-in to your VCS system.
These features provide you with a tracking system for your code changes with very little effort on your part.
With Sql Modeler, ER Diagram and Code Roadmap you can get a visual representation of what your code looks like and what other objects it uses in your application and/or database.

The Formatter makes sure your code is formatted to corporate standards and makes it easier for other members of your team to read your code, and you theirs, when you are doing code reviews and troubleshooting.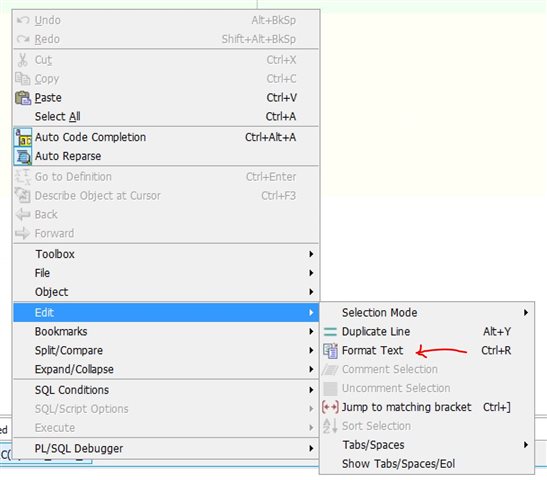 Code Analysis, which is in the Professional Edition, provides you with a way to validate your code against a repository of "Best Practice" rules, again with the goal of helping you write better code faster. You can manage the rules that are run against your code as well as creating a customized list of rules that you want to use.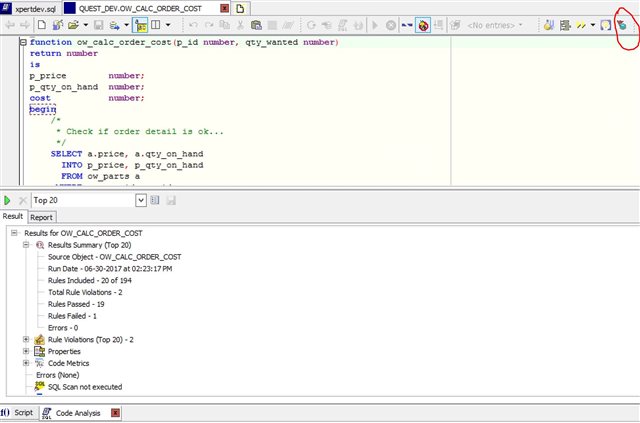 (Code Analysis is launched by clicking on the Red Flag icon in the upper right)
The PL/SQL debugger gives you an easy to use interface to create, edit, and debug PL/SQL objects.

The 'bug' icon on the ribbon turns the debugger on-and-off and the toolbox window on the right allows you to set parameters, break points, execute the PL/SQL code and even walk-thru the code line-by-line.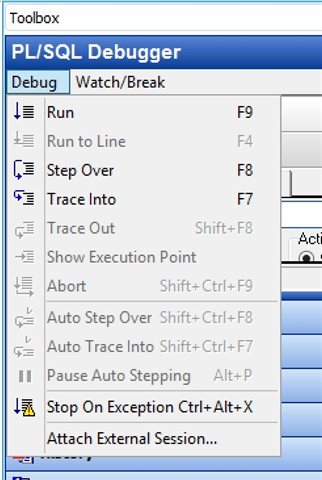 The SQL Optimizer, which is in the Xpert Edition, provides you with a robust SQL tuning tool. SQL Optimizer can rewrite your code and provide more efficient queries, suggest indexes, scan your source code and database objects and identify the SQL therein.

For more information about SQL Optimizer please visit the SQL Optimizer website.
I hope you found this blog helpful and if you have any questions please visit us at www.quest.com