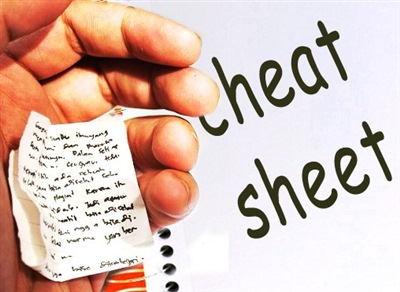 When I started out as a system admin, I wish I'd had a cheat sheet to help me keep track of everything I needed to take care of for each of my endpoints. Now, after years of experience, I've decided to compile some of the knowledge I've gained and pass it along to those who may also be in need of a cheat sheet.

Whether you're a part of a small, medium-sized or large business — or belong to a federal, state or local government agency — having a handy checklist for routine tasks is invaluable to all who work in IT. And even better? Having a digital tool that can streamline all of it, saving oodles of time.
Here's mine for taking care of your endpoints using the KACE Systems Management Appliance:
Deploy patches, including third-party updates, to multiple machines at once.
Deploy updated drivers, firmware and BIOS updates to branded machines.
Create custom software packages and reinstall the software your end users need or want.
Review your software licenses and see exactly how many licenses are in use. Remove software from unused machines.
See which computers need to be replaced, based on age, storage space or memory.
Create and track service desk queues, processes and advanced workflows.
Manage Windows, Mac and Linux systems — all from a single console.
Track and pull back other IT devices networked in your environment — printers, copiers, switches, routers and so on.
Pull into one view your Google G-Suite devices.
Keep track of devices being managed by Airwatch.
Blacklist apps and processes not approved on your machines.
Keeping up to date on networked computers and devices is usually not enough. Most system admins are also responsible for purchasing new equipment from time to time, which means keeping track of OS deployment needs. And that can be challenging. When I was a system admin, I had outdated sector-based imaging, which was slow and inefficient. Capturing system drivers for specific machines made those images only for those models. It was labor-intensive. Manually reinstalling every computer's OS is slow at best, especially when you have hundreds or thousands of workstations in your network.
Here's a checklist of tasks for managing OS deployment using the KACE Systems Management Appliance:
Deploy Windows and Mac operating systems.
Quickly create OS images for the different types of computers in your network — all from one base image.
Deploy operating systems to computers across all segments of your network, right from your IT office.
Configure computers' network settings, domain joining and more right after deploying their OS.
Deploy different software suites to different departments without creating new images each time.
Use deployment appliance tools to capture drivers for the machines you use.
Capture images on remote segments of your network.
Schedule and automate imaging tasks for off-peak hours.
Perform in-place migrations.
Capture user states before deploying a new image.
Perform USB or DVD deployment.
Having a written cheat sheet back in the day would have been great. Luckily today, technology has your back. Let our endpoint management appliances do the heavy lifting for you and your department — and save your time for strategic thinking and for addressing the real problems that need your expertise.