MessageStats had an amazing run as an Exchange reporting solution, but then the product team began adding different elements to it around archiving, OWA (Outlook Web Access), mobile devices and of course Lync. The product changed from an Exchange only reporting tool to something much broader. Customers demanded for more insights and business intelligence. This was pushing the limits of what MessageStats was originally architected to do and it couldn't keep pace with these changes or the changing needs of our customers.
Unified Communications –Analytics is a new solution that has been re-architected and redesigned to match the accelerated pace of changing requirements around unified communications, including insights into workforce activities, business processes and UC infrastructure needs. It supports Exchange, much like MessageStats did, but it has approximately 110 new insights, including enhanced Skype for Business/Lync reporting, Office 365, Cisco call manager, Active Directory and aggregated cross-platform insights.
With UC– Analytics, you're able to improve and protect your business by turning the data trapped in your communications systems into understandable, usable and engaging insight into workforce activities, business processes and UC infrastructure needs. UC– Analytics gives IT and users the intelligence to:
Improve adoption
Increase ROI
Speed up migrations
Enforce communication policies
Meet business objectives
Chargeback Exchange, SFB, and Cisco activity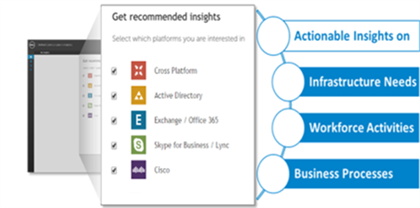 UC– Analytics streamlines the complexity of managing multiple communication platforms and delivers understandable, usable and engaging insights on workforce activities, business processes and infrastructure needs. There are some cross-platform reporting that provides a single pane of glass view across your whole organization.
As of now UC– Analytics includes the following canned insights that could be customized to suit customer's needs.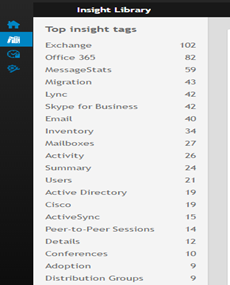 Differences between UC- Analytics & MessageStats
Multiple platforms Support: UC– Analytics provides reporting on platforms that MessageStats did not support such as Cisco Unified Communication Manager (CUCM), Skype for business (SFB), SFB and Lync QOE, DLP Insights, Office 365 Usage support specifically the Exchange Online usage and statistics, and Exchange 2016 support.
More data insights and more flexible data:

MessageStats saved aggregate data – because MessageStats just saves the aggregate data in MessageStats SQL database, slicing and dicing the data based on any grouping of message attribute or some AD attributes was not possible.
UC– Analytics is built on a big data database (Cassandra Database) and doesn't require SQL Server so you save on Microsoft SQL server license fee. In spite of storing so many details (practically almost all the details that Exchange servers saves in their database), the data is compressed and indexed. Based on in-internal testing in our labs, we found UC Analytics requires 5%-10% of the disk space to store the data compared to the Exchange server. This means that there is more data being collected and more flexibility in how the data is collected to bring you better insights:
Saves raw messages in the database with all the details such as To, From, CC, BCC, sender, all recipients, when each recipient received the message, message delivery times, subject (optional), Body (optional).
Collect all data not just aggregate data.
Retrieve the data in seconds from the billions and trillions of messages that are stored in the database.
Filter, sort, and slice and dice the data anyway you like based on Active Directory attributes or any other object attribute.
Some of the Insights have thousands of filters present in the filter panel. These could be used to slice and dice the data any way you like.
Increased scalability & high availability.
Near real-time data collection.

Consistent user interface experience

Create the dashboard that you want
Only the insights you want to see.
Easily search through all available reports in the library and quickly add them to your dashboard with a simple click.
Move around (re-order) the insights/reports on your dashboard.
Easier to find the data you need
Enlarge the insights/report tiles on the dashboard to get a snapshot of the high level data in the report without having to open the insight.
Descriptions for each insight are listed on the tiles.
Have a conversation with the data
Data is live.
Go straight to the report, no filters to apply first.
Once in the report, filter and drill into data with a single click.
No more going to multiple reports to get more insights.

Self-serve Enhanced delegation to other IT folks and line of business managers - so they can use the solution for business intelligence and see only what they are supposed to see.
There are many new insights plus many of your favorite MessageStats reports included:

Aggregated Cross-platform insights (Exchange, AD, Skype for Business/Lync, O365 and Cisco).
Active Directory Insights - Equipment, groups, mail contacts, rooms, users.
Exchange on-premises data leak prevention (DLP) insights
Office 365 Exchange insights - focus on O365 Adoption, summary, activity, chargeback, delivery times, details, external activity, file attachment activity, inter-department activity, inter-office activity.
Skype for Business/Lync insights - Overview, enterprise voice, quality of experience, conference, peer-to-peer sessions, user policies.
Cisco platform reporting - over 19 Insights - Cisco (CUCM).
Learn more about Unified Communications Analytics
UC– Analytics is also part of the broader Unified Communications Command Suite (UCCS) and the only solution on the market to offer both analytics and diagnostics across Microsoft Exchange and Lync. That's probably one of the big reasons why it is the 2015 TMCNet Unified Communications Product of the Year recipient.